Tahiti
I have now realized my life is not like most, and the most important thought I have in my day to day is that this is truly the only life I will have so you had better live it up? It's not rocket science although grasping "the dream' seams so hard for some. Getting stuck in a rut and finding ways to complain about the small stuff is way too easy and common now a days. No bad days I say. Meanwhile I'll just keep rowing my boat and keep my thoughts to my self and continue to live every day like the average CEO's two week vacation. I wonder if the roles were reversed?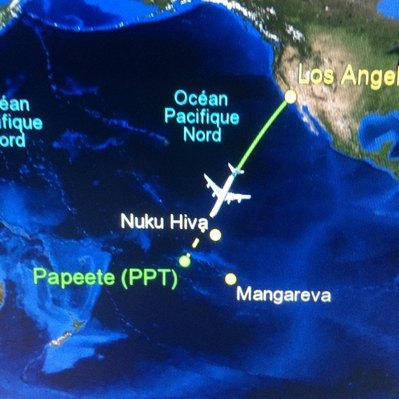 I was so lucky to spend two weeks sailing a 48′ Gunboat catamaran around French Polynesia recently with my girlfriend Ashley Rice who runs the Asymbol fine arts gallery in Jackson hole,  and her brother Travis Rice who has made a career as a professional snowboarder. We had an amazing time with other family members involved as well. We saw four islands near Tahiti and were able to sail to each one. One of the most incredible experiences of all time. I may have to re visit these islands one day as I saw serious potential trough my fly fishing eyes. Don't get me wrong I fished every day and had a few heart stopping experiences with 10+ pound bone fish with in casting range but spooked them while wading because of the dull cloud cover. I also casted at and saw massive GT's, and some really cool black tip sharks that I may or may not have baited while a small grouper was on the end of my line.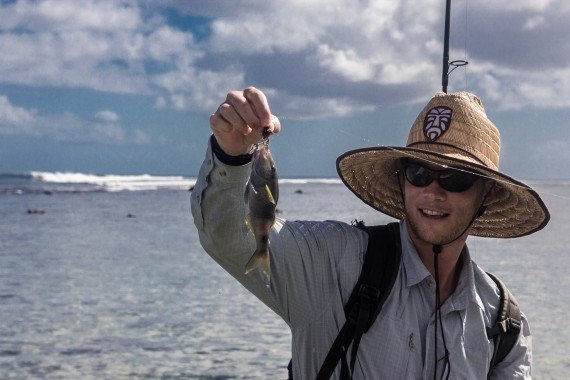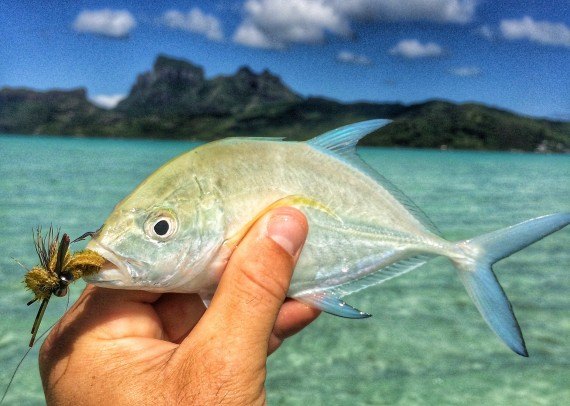 One day we hired a boat to take us out to see Teahupoo, one of the most incredible waves in the world. The power and size of this wave had me contemplating my own existence. It was amazing to see surfers on this wave as they looked like little puppets or midgets either way I was happy to be in the safety of the boat.
When Travis first picked us up I couldn't believe he announced to us that he met a guy in the bar the night before and that we were sailing to his private island to anchor and snorkel and BBQ for the night. I exclaimed to Travis that that would be OK, and that a jalapeno and passion fruit margarita was starting to sound pretty good. After all, the sun was over the yard arm and the hook was in the sand, It was cocktail hour.
During our paddle board/snorkel missions I saw so many Mustache Trigger fish but they were out of casting range and hard to see while wading. I also saw big GT's but it seemed they were really smart and wouldn't let me get with in view or casting range. The oceans beauty, although unique and different from my native alpine environments, allows me to reflect on things slowly. Sailing is contemplation, and lends new ears to the term "solitude."
It seems like there was a love most people used to know. Somehow most people have let it go. Although, fly fishing is something that I cant let go. Almost all of my day is spent thinking about fish and all things associated with the sport. Im crazy about this thing. Keep your eyes open for a huge project my friends Cody Perry and Ryan Sheets have started. Our goal is to create a feature film about fly fishing the american west and to tell a story about conflicts associated with recreating, industry, and agriculture. We intend to use fly fishing as our tool to tell a compelling story. #snakeriverproject here we come! Guide season has been incredible! So excited to get out on the water with all of you and share my passions!