Fishing Nunya creek with Tony Entwistle
I was lucky enough to fish with Tony a few years ago when I last visited New Zealand. Well I returned the favor when he visited Jackson Hole last year. The man is a machine. I watched him and our friend Dennis Butcher boat something like 70 fish. At one point I hiked Tony back into a Snake River side channel, and set him up on a fish. "Do you see the fish," I asked Tony. "I saw it ten minutes ago Josh." Of course spotting Fish in New Zealand is a job in itself. I gave my input on where to land the fly. The problem with this run was this 22 inch fish liked to sit behind a stick  that laid perpendicular to the river. I watched Tony drop his cast and bounce it off the water so that the fly snuck in right under the over hanging bush this fish was feeding under. Now I can cast like that one in ten times, but I watched Tony consistently make that cast and eventually he fed the fish and missed. These cutthroats are pretty slow eaters and you have to really watch the body language of the fish before you set the hook, similar to brown trout in New Zealand. Tony fed the fish two more times and missed both times and eventually the fish spooked. I gave him a good bit of shit after that and we still joke about it today.

We woke up early and had coffee and muesli and got out of the house around 730. We drove a couple hours up to Nunya creek and were hiking by 9. It was unsafe to hike that trail because my eyes were not on the steps in front of me but rather on the beautiful water we were hiking past. We eventually came to a pool where we saw three nice fish feeding right under the surface. Tony gave me permission and I strung my rod up and put on a small mayfly nymph the entire pool spooked on my first cast. Wow this is going to be a long day I thought. After hiking for a while we made our way to the river again and I saw two Blue Ducks which are very rare in New Zealand.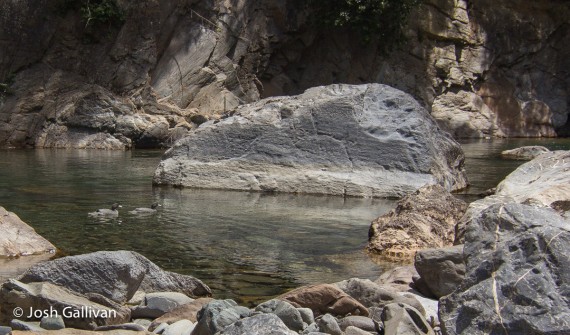 Things started happening at this point. I was pretty nervous fishing in front of Tony as he is the master on these rivers. He has done so much for the sport of fly fishing and has an incredible history guiding these areas. Nobody knows what the life of a guide is like. After a few picky fish we found a few that were very happy. I eventually hooked into one very hefty fish, and broke him off. I hate breaking them off, its one thing if the hook pulls out. I realized today was going to be a lesson on fly fishing. Tony set me up on another big fish and I hooked into him and while scuffling around on the bank I stood on my line while the fish went on an explosive run and I lost that fish too. I threw my rodney down on the rocks and was so pissed off. I just lost two fish that would be only once-a-summer type fish back home. I wasnt going to let it happen again, and the next fish ate my fly I gently set the hook and then everything slowed down and I was able to focus and to use the fishes weight against him in the current and to turn him right into the net.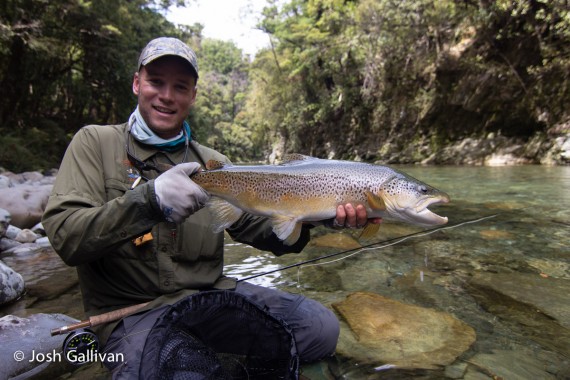 We celebrated this 7.25 lb brown with quite a long hike out but knew we had cold beers in the cooler. It was a remarkable day and one Ill always remember. We made it home and had lamb chops and were glad. So tomorrow morning we will be exploring another river and our friend Peter Carty will join us. I know it will be a good day with these two characters and I will keep my mouth shut and my ears open for sure.