Is this a dream?
I have returned from an awesome few days solo backpacking up a really cool river here in New Zealand. A friend dropped me off on the side of the road and said "Good Luck," with no further hesitation I headed off to now-here, the trout didn't stand a chance. I stuck my music in for a change and put my head down and hiked for 5 hours until I lifted my head up again to look around. I was a little rusty getting back on the ol' trail with my pack and all the necessary supplies for a few days. I settled right in quick reminiscing on other amazing trips I have had with good friends along the way. You think about everything while hiking to pass the time. For example, Who am I? How do I fit in? Am I on the right path in life? I miss my Grandma. Boy that water is beautiful. Cant wait for dinner. My feet hurt. This is rad. I wouldn't be here unless my friend Phil Steck lent me his van for this trip. I love bluegrass. I want all-you-can-eat sushi right now. I'm glad I don't have cancer. Fuck ISIS. And so on and so forth until a couple of hours have passed. But like Kerouac said, no matter how long or short your trip you learn to change your thoughts.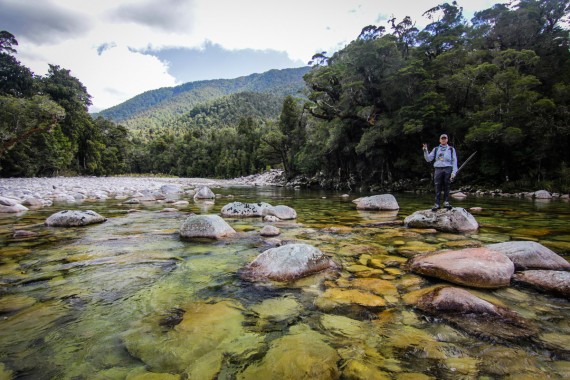 When I finally got to camp I couldn't decide what kind of soup to have that night, would it be chicken noodle or would it be pumpkin and roasted garlic? I had a million thoughts. I started a fire to try to keep the bugs away. I was truly gutted and had little motivation for anything. I filtered 3 liters of water and drank it all and only woke up to pee once during the night. I was so dehydrated. I slept great that night and enjoyed rolling all my things out and organizing my gear for the next day.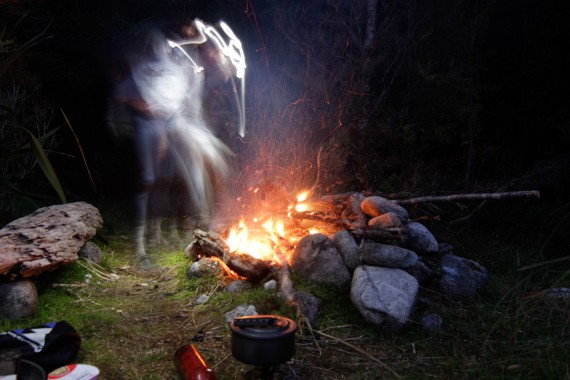 The next morning I drank my first cup of coffee while watching fish feed from camp. Boy life is good I thought and then I laughed out loud. My goal that day-1) To find a fish. 2)To imitate its food source. 3) To hook, play and land a fish, and to take pictures. I also wanted to make it further up the river than I have been before but was not making steady progress because there were fish everywhere. It was one of the best days of fishing I have ever had, and I thought of a hundred people that I wish were there with me. My Dad would have loved it up there. I reckon it looked something like the beginning and the ending of the world.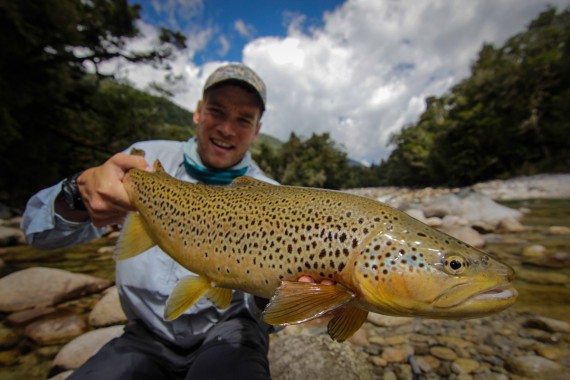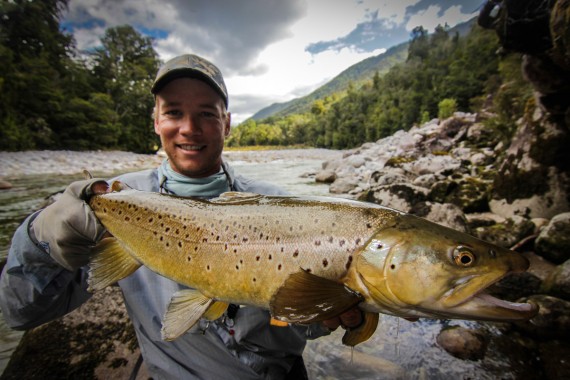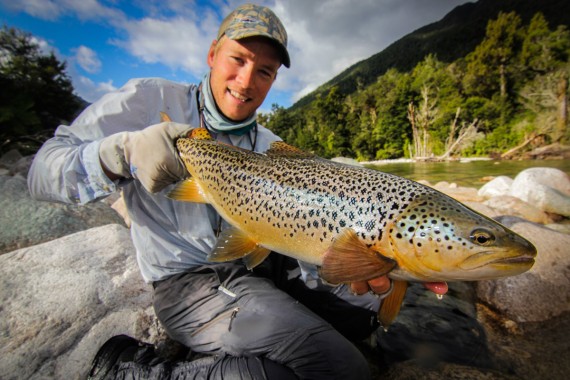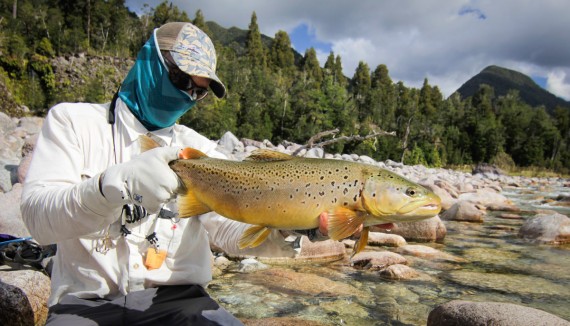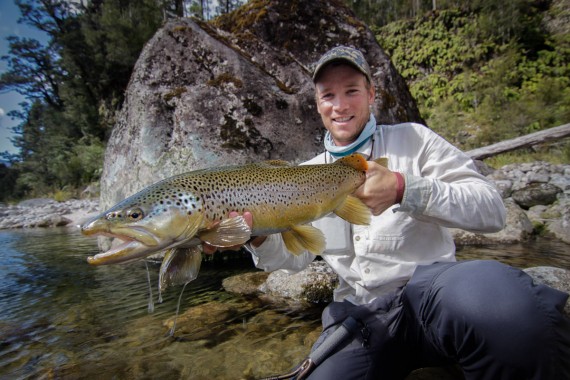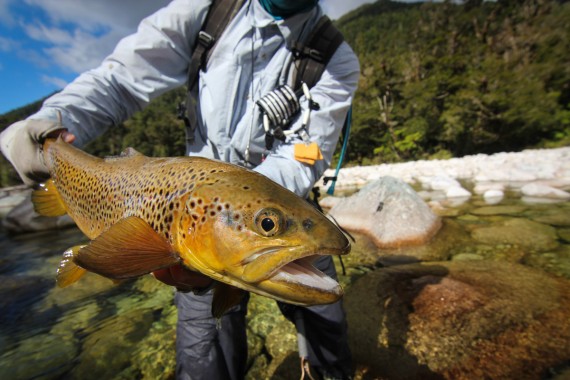 I fished hard that day and caught alot of fish and loved every minute of it. When I spotted a fish I would get the camera all set up on the tripod, confident the fish would eat my dry fly. I got back to camp and got out of my wet clothes and set in to my routine of soup, noodles, water, and my ration of chocolate for the night. You learn to savor things more when you have less. I was so truly tired that night it wasn't even funny and after a few pages of my book had to roll over and turn my head towards tomorrow.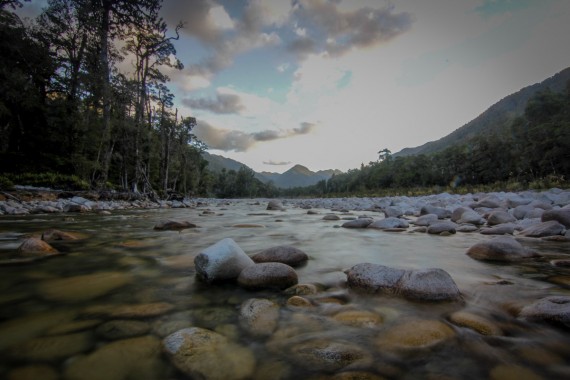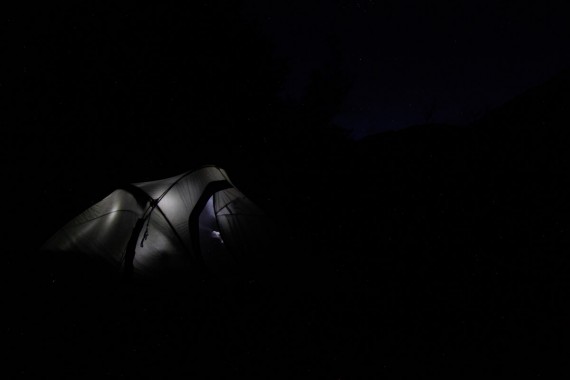 The next morning started a little slower but hiked to where I ended the day previous and started fishing from there. I spotted feeding fish again before I was truly awake. Watching a 24 inch brown trout rising to dry fly's woke me up, but I was quick to wonder, is this a dream? Landed him, and did many others that day.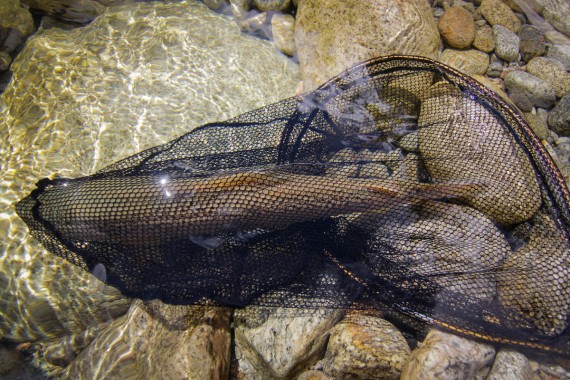 During the hike out I was singing and sometimes dancing deliberately like a goof ball for my trout audience. At one point I walked past a hidden gem you might find on a postcard someday. A babbling little brook with a perfect swimming  pool full of crystal clear ice water perfect for skinny dipping. Being in the mid afternoon I knew I might get away with a small sandfly free window especially with the slight breeze building. So I went for it and had a ten minute swim then sat in the sand and ate two granola bars and read my book. I wanted to sit there forever and take it all in but remembered good things never last so I hit the trail and before I knew it I was in sight of the bridge. Already I had food in my head but none in my belly so I was truly ready to get back to "stuff." I had to hitch hike back to my van which proved to be the most grueling part of the day. Nobody wanted to pick up a crazy looking wild haired maniac and I sat there for an hour and a half then finally had the idea to make my fly rod tube more visible. After all, kids that grow up hunting and fishing don't rob little old ladies. I got a ride from a German couple who have never fished in their lives, and they assumed I had a backpack full of fish. Ha.
-Josh Gallivan