He offered me the universe
I'm sitting here in the Queenstown airport sipping on a Steinlager. I'm worried my flight won't make it in tonight as the flight before mine was canceled and the weather in Queenstown continues to look ominous. Oh well it's not something I can control so I'll kick my feet up and tell a story about my last week in New Zealand.
I have been traveling and fishing with my good Irish friend Ross Finley who is an incredible fellow. After his New Zealand trip he will head back home to Ireland and study for his PhD in Brown trout and Salmon conservation. We were lucky to stay at my good friend Bryan Wilson's house for a week while coming and going and catching every fish in the river in between.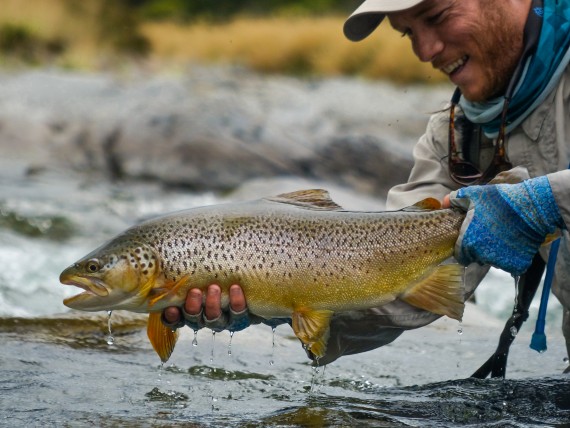 One day we were stumped and didn't know where to go. We explored a beautiful piece of water and didn't see any fish and were totally bewildered. We stopped on the side of the road where a little trickle of a spring creek was creeping by, electric blue and clear with lush green weeds waving back and forth. We stopped mostly to have a look and a piss and started walking up stream and to my astonishment there he was, a big brownie swinging in his lane eating every nymph that dared cross him. It was madness and just like that we began seeing fish after fish. We had an unbelievable afternoon and really couldn't believe what was happening. I fish for this moment alone.
Depression set in one day when I broke two fish off in a row. I was missing my Ashley and was generally over van life for the time being and finally I thought to myself quietly, "Do you even fish Josh, or do you just pretend?" I laughed that thought off, retied my leader and landed the next fish I casted to. I have to admit I was a little gun shy these days following our recent experiences with flooding. Ross would laugh at me during a rainstorm because I saw so worried about the river rising. I can almost guarantee I will never get caught in a flash flood ever again.
Finally, our last fishing day was upon us before I left for America. We were sitting around the fire at Bryan's house like many nights before, after a long day of fishing. Bryan's girlfriend Angie insisted we come home to her amazing cooking and sit by the fire and sip wine and stare at the southern cross into the wee hours of the night. It is times like those that offer the most reflection into my life. A few good friends, a drink in hand and a fish story to tell around a camp fire.
Bryan asked us what our plan was for the following day. We didn't have much of a plan except that we were going fly fishing for Christ's sake! Bryan slowly admitted he wanted to join us and I immediately knew it was going to be a good day. So we got drunk that night and yup you guessed it I was hungover in the morning. But luckily I have people like Ross in my life. At 6 in the morning he woke me up and shoved a coffee in my hand and had already set the table for an early breakfast. Ross was up before any of us going over his gear, cooking a big Irish breakfast and probably pacing around anxiously waiting for us to wake up. He was so dang excited that Bryan offered to take us to his secret spot, he just couldn't help himself.
We had food in our bellies, coffees in hand, and my headache was going away. Now I was the one freaking out. In typical Bryan Wilson fashion we blasted the Waylon Jennings, Zac Brown Band, and Johnny Cash during our two hour drive to Bryan's secret river. We arrived but didn't have an exact idea of what we were going to fish because in New Zealand it pays to know where other people are. We drove up and down and over to the farmers property to have a chat with him and of course he talked about all the big fish he had seen recently and blah blah and I just couldn't stand it anymore. So we finally hit the 4×4 track and luckily Bryan Wilson is a badass Kiwi who is a master of his environment because we hit a point where the river had flooded over the road and Bryan had faith in his Toyota land cruiser and plowed right through it. The river was halfway up my door but Bryan didn't blink an eye so neither did I.
While we drove up the river valley we were so secluded from anyone we had no doubts in our mind that we would see another person. But as we rounded the corner just yards from where we were gong to stop the truck and start fishing, there were two older gentlemen getting out of their land cruiser. Oh shit, was whispered as we thought our day was ruined. We parked the truck and slowly got out and walked over to have the dreaded fly fisherman's talk. To my amazement there was John Kent, author of the New Zealand fly fishing guide books. Now I have looked up to John Kent for a while and you would be hard pressed to meet someone who has covered more ground and explored more New Zealand rivers than him. We told them our plans and they told us theirs and lucky for us they had spent the last two days fishing and didn't catch a thing due to a big rain storm. After shootin' the bull for a bit we shook hands and went on our way. As the truck came to a stop at our first fishing hole we jumped out in excitement and rigged up while Willie Nelson sang "On the road again."
It wasn't a miracle we needed that day but thats exactly what we got. Within the first two minutes Bryan spotted the first fish. I told Ross to set up and listen to Bryan and give it a crack. Poor Ross couldn't handle the pressure and was so nervous. It was greatness. I assured him it was all good and to stand up tall and fish hard. Ross laid down a perfect cast but the fish didn't move. He put another over the fish's head but again no reaction. I was behind the boys quietly soaking it all in when Bryan changed Ross's fly. On his next cast the fish swung to the side, the tiny wool indicator moved and Ross set the hook like a true legend.
Chaos ensued and I was trying my best to keep my mouth shut as Ross and bryan had a heart to heart trying to land this fish. With proper angles to the current and Ross's ability to use the fish's weight against him he was able to land this fish in under 5 mins!! It was a beautiful first fish on the day that I will remember forever.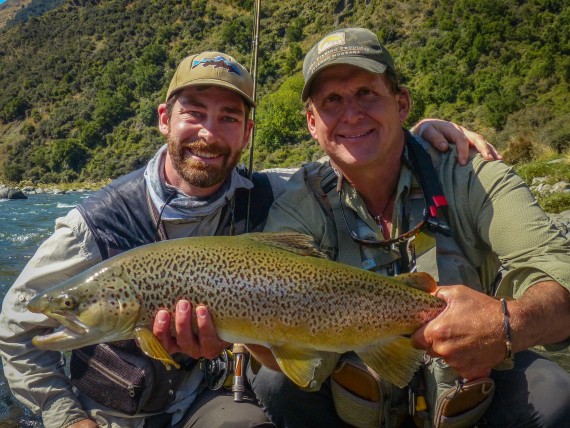 Now my turn came and I was anxious to put a bend in the rod. As we walked up the river I was in the back of the pack which I hate. Part of the fun for me is seeing the fish first and being in the back of the line while slowly walking up the bank is terrible as you have two sets of eyes to compete against. So I started looking across the river to find a fish of my own. In a matter of seconds I said out loud, "What about that one?" As I pointed my rod across the river Bryan and Ross saw what I saw, and just at the perfect moment the fish swung to take a nymph and his tail pushed a wall of water side to side that was seriously a tidal wave meant to erode the banks. It looked like an alligator on the far bank and I was about to cast a tiny fly to it. So we walked downstream way past the fish and crossed then walked up the opposite bank behind the fish. We had marked a rock so we knew exactly where the fish was sitting. As I approached I could see his magnificence. He was sitting on his throne and wasn't letting any aquatic insect past him. I just wanted to catch the damn thing and wasn't about to drag it out into some sort of ceremony, so I stood up tall and casted. My first drift was too far in front of him. Bryan shouted, "Don't lead him so much!" I reeled in about 2 feet of line and casted again. This time the fish reacted like Ross during a potato blight and lunged for the nymph, throwing caution to the wind. The boys on the bank shouted with excitement as I was already quickly lifting my 5 weight to set the hook. The fish took off across the river and I jumped to the nearest rock and lifted. The fish didn't give a shit about me though and was going to do whatever the hell it wanted. It went deep and across the river and held down under the fastest current. I thought it was over when finally as I was applying so much pressure the fish was probably going cross eyed, the fish took off on a wild run and jumped out of the water. From Tarpon fishing I knew with violent head shakes like that you have to bow to the king. This means lean into the jumping fish to protect your fine tippet from snapping due to the tension. I was quick to do so and another minute passed. Bryan crept down the river bank now with the net. I was really playing dirty with this fish and wasn't going to give him an inch. I kept my rod low now and was in control of the fish's head. I kept my rod that way and slowly backed up and the fish did the craziest thing. It swam right to Bryan's feet and basically into the net. I was shouting bad words and ross was freaking out now and even Bryan smiled a little. This was truly the fish of a lifetime.
I held him gently underwater and felt his heart beat. He offered me the universe at that moment only if I was able to listen. I offered him eternal love if only he were able to hear. Time stood still as I had only a moment to make it mine, and with what he had left to make it his.