First day red fishing in Louisiana
Leaving the Jackson Hole airport can be tricky. A serious winter storm warning was in effect and I had a plane to catch and a connection to New Orleans to make. The de-icing always takes longer than you think and I was getting nervous. When we hit the ground I was running to make my flight to NOLA and things just work out the way they should because I was sitting on that plane with a coffee in my hand in no time. When I landed in New Orleans I caught an Uber ride to my friend Jim Dietz's house and let myself in.
I got a call from Jim back in November about red fishing the Louisiana marsh and he told me he always had room for me to come explore this amazing fishery. Jim was guiding that day and was expecting to come home around six so I did some work on my computer and cracked a well deserved beer. When Jim got home we immediately had errands to do to get ready for our next few days together so we hit the road and eventually ended up at an old diner where he introduced me to some incredible southern style cooking. We ate boudin balls and gumbo and fried catfish and all the real heathy options you might find in the South. It was such an incredible feast we went home and crashed.
Jim always has a plan weather he voices it or not you know your in good hands. Jim lives in the city and can't store his boat there so he has to find other options. So we drove to a boathouse where he keeps his boat from time to time, loaded the cooler with ice and headed for the marsh. It was about an hour drive with two stops, one for lunch and one to put the entire rig on a ferry where we traversed the Mississippi River and kept driving.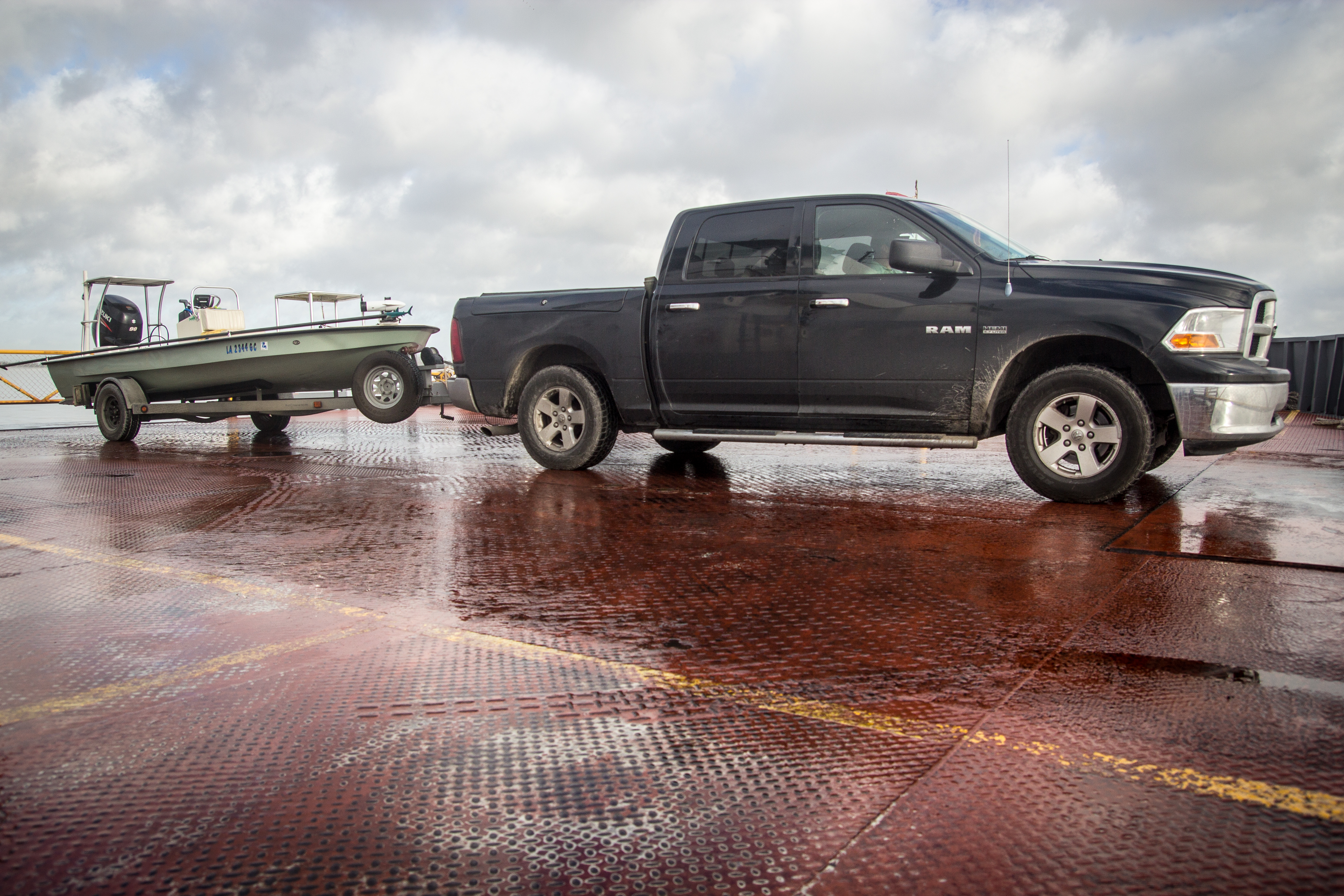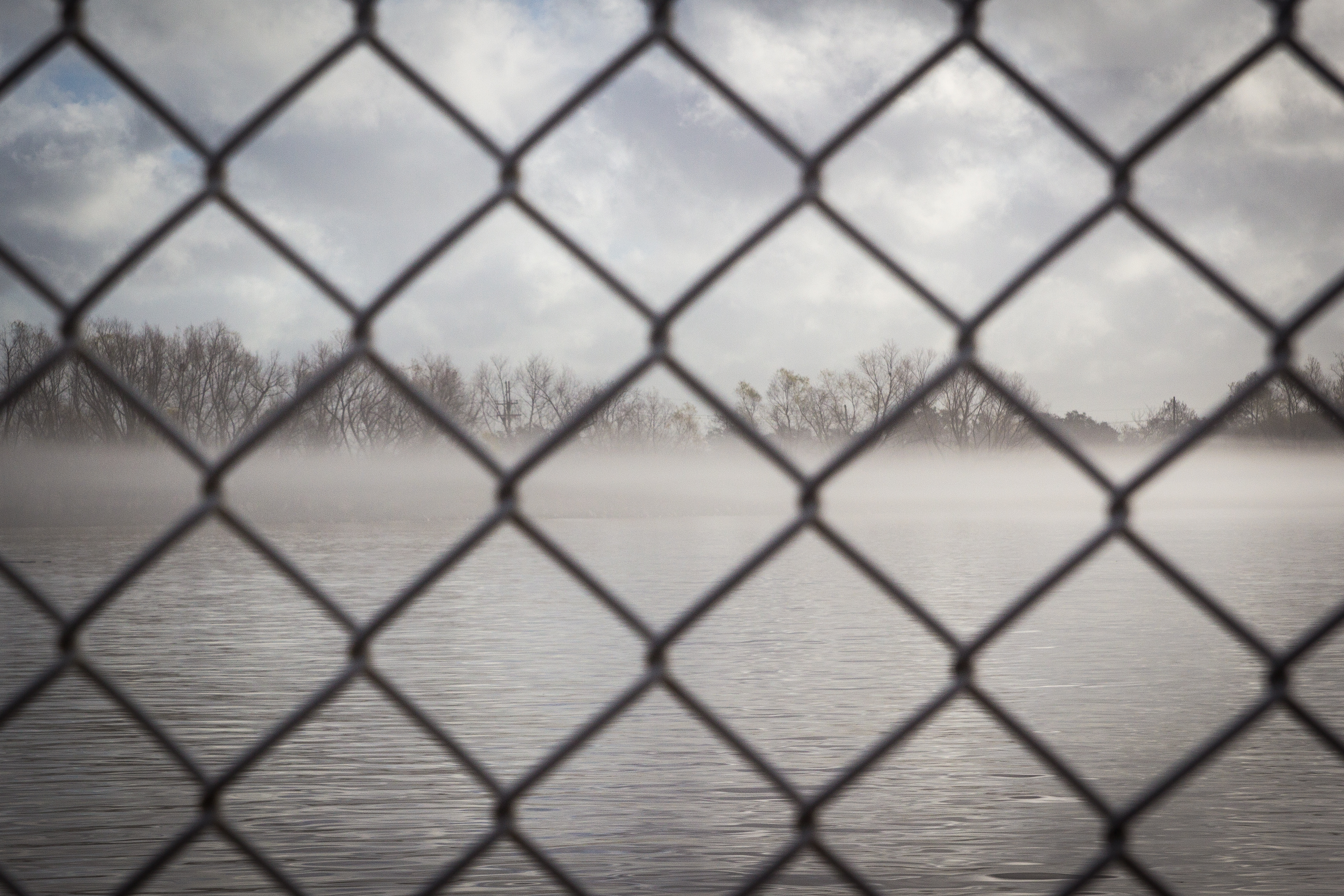 After getting to our destination we rigged up quick as the bugs destroyed my white legs. I didn't even consider the bugs to be an issue as it is the middle of winter here but remembered I wasn't in Jackson Hole anymore. Within 15 minutes of putting the boat in the water we arrived at the most picturesque flat you could ever imagine, the sun was behind us and Jim turned the motor off and jumped up on his platform and started polling. On the drive we had discussed strategy and Jim's way of doing things and how best to communicate when the fish started to show. As you can imagine when a 30 lb. fish is within casting distance you want to make sure your both on the same page. As we polled I couldn't wait to see what these fish looked like. How do they feel in my hands? Are they easy to tail? What will they look like on the flat? How will they eat the fly? All these questions were answered quick enough when the first two redfish showed up 15 feet away from us. Jim's position is about 7 feet higher than mine so he can really see every movement on the flat. He called out these two fish and I wasn't quick enough on the draw and they spooked. My heart sank as naturally I thought that would be my only chance for the day but then again we were only 15 minutes into our day. A few minutes later Jim's voice changed and he pointed out another fish, this one very easy to see as he was cruising between the shadow line of the bank and stuck out. I saw him, noticed which way he was pointing as his tail and dorsal were sticking out of the water then I only false casted once and landed the fly just two feet in front of his head. I let the fly sit for a second then gave it a little bump and the fish got excited and I knew I had him. I slowly tightened my line, felt tension so gave him a firm strip set with my fly rod tip down in the water. I was fighting this fish like a champ and didn't give him too much leeway. I couldn't believe I was hooked into such a beautiful fish and the circumstance in which I caught it was incredible.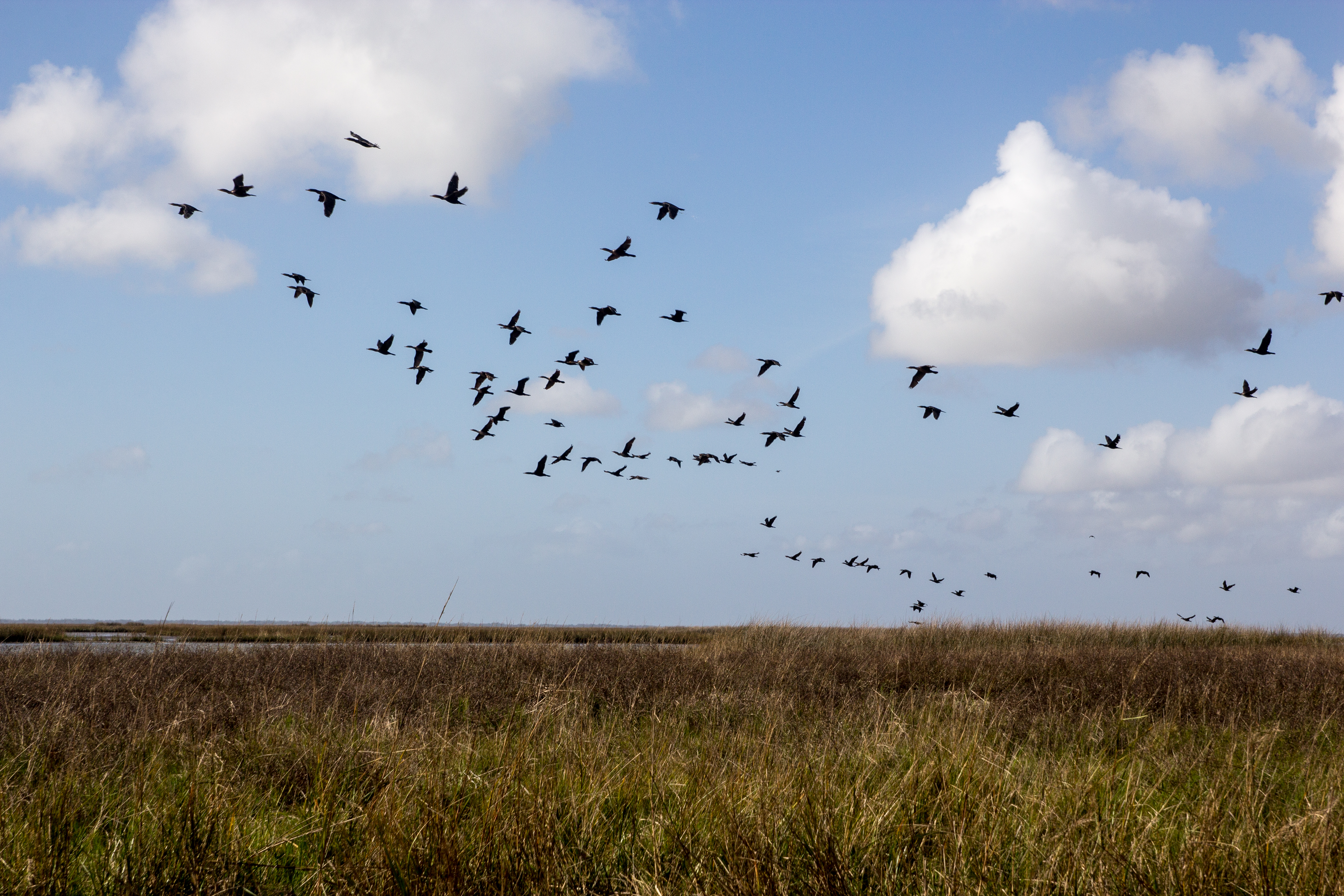 As we sat and drank a beer there were thousands of birds flying over us. I had never seen anything quite like it before so we just sat there and watched it all go down. Then all of a sudden Jim noticed a random bottle or "jug" floating around but moving against the current in a weird way so we put the rod down and pushed over to it. When we got close the jug disappeared and popped up again 20 feet away that's when Jim started laughing with excitement. I was scared for my life as I knew what was about to go down. You will find all sorts of creatures here in the marsh and the local fisherman are fishing for food so they will put bait on a hook tied to a jug and you never know what you're going to catch. Jim told me to grab the jug the next time we neared it and again it took off out of reach. I had visions of a 15 foot alligator getting ahold of my arm the next time I reached for the jug but went for it anyway. I lunged and got ahold of the rope underwater and held on for my life. I of course felt a thrashing under the water and kept pulling only to find a big ass redfish attached to the other end!
It was chaos for a minute and we were both laughing uncontrollably as we found the boga and lipped this 26 lb. red. We cut the rope, snapped a quick photo and let her swim away. The day was coming to an end after a few more shots at a few reds we decided to call it a day. That night we went out for one of the most delicious dinners of my life which included 36 oysters, alligator sausage, shrimp po boys and all the fixins in between. It was an incredible night of celebration as I had caught my first red fish on fly adding another new species to the list!