"Savado"
After an epic time peacock bass fishing we had to eventually say goodbye to our friends. We had a new plan to head Southwest along the coast line to try to fish somewhere along the Pacific Ocean. Our goal was to ultimately pull up in a neat town, probably crack a beer, and most likely start chatting with the locals and find out who the fisherman of the town is.
After a serious travel day navigating over half of the country we came to an epic little place right on the beach. It was late in the night and there was loud music coming from a nearby bar. We walked in and ordered a few beers and Desi started talking Spanish with a guy who seemed to be a fisherman. We sat down with them and had a fun night ordering beers and talking fishing until one of the guys offered to take us fishing in the morning. He had pictures of massive Mahi-Mahi, snapper, wahoo, and others. The picture that caught my attention though was a photo of himself holding a big dead and bloody tarpon or as they call them "Savado". Many of you may know that tarpon are an Atlantic fish. Through the building of the Panama Canal, tarpon have now been found on the Pacific side as well. I was intrigued when I saw that picture on his camera. He said he knows a river right up the road where he goes fishing for them. He said the river is very overgrown and very small (even more intriguing for a fly fisherman). So after many more beers we made a plan to meet behind the bar at 7 am sharp. He was very serious about taking a couple gringos fishing and we were even more serious than he will ever know. To make the situation even more appealing the bar owner was sitting in on the conversation and had now offered us to park the van behind the bar and just camp out for the night. So we did just that and made a late night dinner of rice and beans and laid out all of our gear and were totally organized for our early morning.
When morning came we had lunches packed and hot coffee in our hands. We sat around and waited and waited and waited. Our fishing guide was a no show. We sat around for another hour hoping he had his time mixed up, but he never showed. To make matters worse we got the van stuck so here we were in the blazing heat with a stuck van and we weren't going to chase jungle tarpon. Within no time we were successfully towed out, trailer packed, and on the road to our next adventure.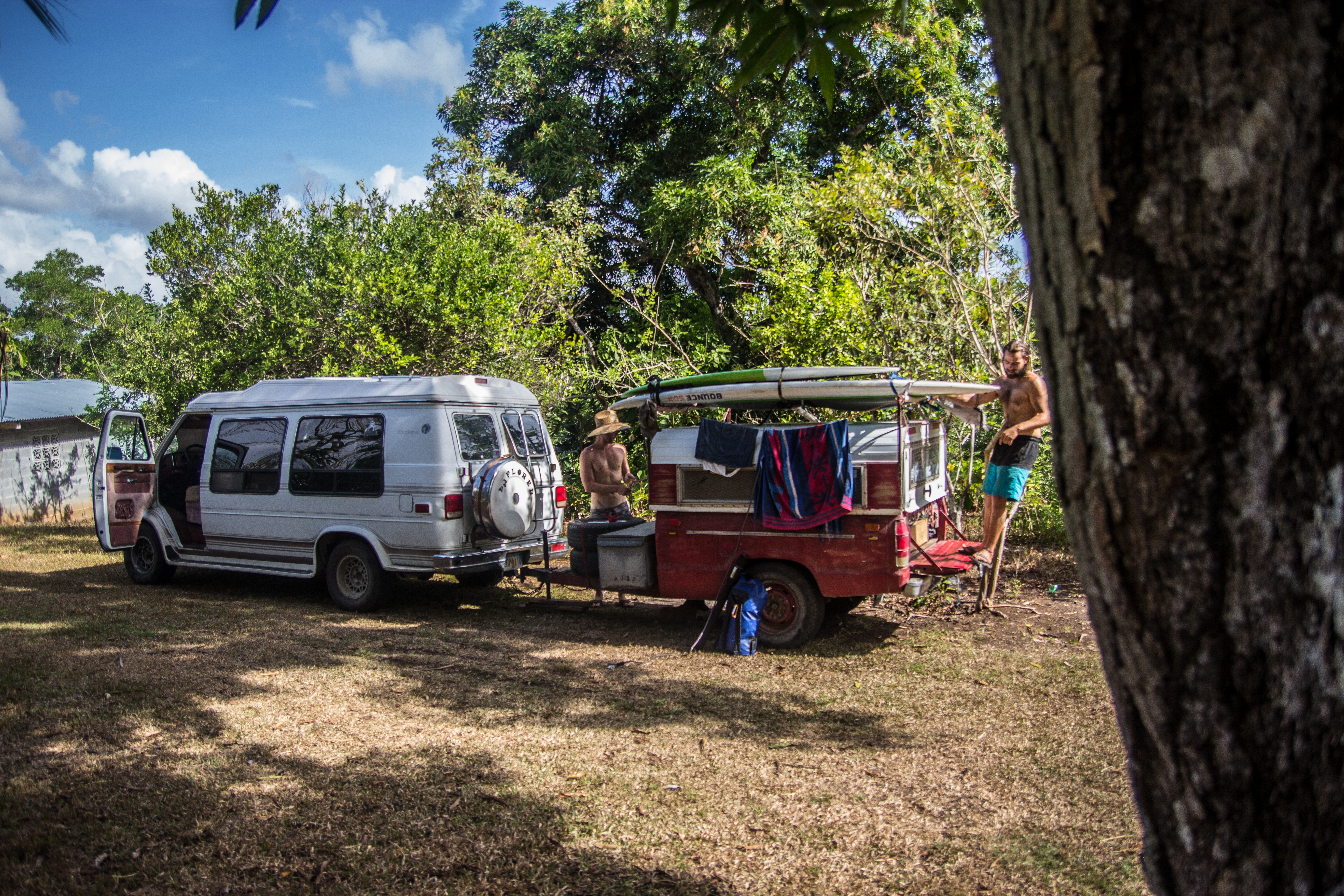 Luck was in our favor as we pulled into a new town on a new beach and took the only road down to the water. We sort of just parked and said this will do as there was an incredible river dumping into the Ocean and a few fisherman chucking bait.
As the evening approached we walked back to camp and lit a nice fire and started cooking. I'll never forget that night as we were alone on a secluded beach howling at the moon while a bottle of rum was passed around until it was gone. Jeff made the most incredible dinner with a bag o' beans, sausages, rice, cut up veggies all wrapped up in a quality tortilla. We were good about using everything in the cooler and had now bought only food items with a shelf life as ice was hard to come by after leaving the city. Anyway it was a great evening with a gentle breeze in our comfortable camp. We all laid our hammocks out and slept great that night.
The next day we met our friend Ernesto who took us fishing way out into the open ocean. We told him we were fly fisherman and since he knew what that was we thought it was a good thing. We stopped at a little island in the middle of nowhere where his dad was working for an eco lodge. We stopped in as he thought he would generate some business there but little did he know we were all certainly traveling on a budget and hadn't showered in five days and were living the hard bargain type lifestyle so we would rather spend our money on him and his petrol to go fishing.
We fished hard and got excited when schools of bait would swim under the boat and smaller bonito were in the mix and we thought for sure we were going to hook up. Time and time again we chased these bait balls around with no success. Ernesto thought it was the heat and the bright sun. I'll never forget this one instance when we pulled into a little cove and all of the sudden two jack crevalle appeared hovering on the top of the water column. We were approaching too quick though and I was able to fire off a cast which landed kind of behind them and before I knew it they were gone. It was a slow day of fishing but an awesome experience when Desi landed the only fish of the day.
After a lousy day of catching but a great day of fishing we headed back to camp and invited our new friend Ernesto over for a couple cold beers. We settled up with him and said goodbye. During the afternoon heat we napped in our hammocks to kill a few hours. That night we wandered up the hill to a little cafe owned by an Italian guy who had relocated his family to Panama. He made us the best damn pizza in all of Central America let me tell you. After an entire pie to myself and a few beers we were back in our hammocks under the full moon fast asleep.
I caught a bus back to the city the next morning while the others carried on. I spent a night alone in Panama City and had an epic night walking around visiting little hole in the wall bars eating and drinking. It felt great to be on my own kind of lost forced to speak Spanish. I befriended my taxi driver though and was able to tell him to be there at 5 am the next morning to take me to the airport. Leaving behind Desi and Jeff i'll never forget the the days we shared. The little town on the lake where people welcomed us into their homes, the big bass in the canal. The sights of the terraced hillsides, and the strings of clotheslines connecting the houses. The smell of burning trash and the unbearable heat. Driving over the Panama Canal, and the thirty cent beers. It was a special trip to Panama.