Abaco lodge bone fishing trip report
I've always loved the environments where you can sight fish. The saltwater flats that are so inviting with white sand stretched out for miles in every direction. My preferred method of fishing is such, even if the fish are smaller, I prefer to try to see the fish before I cast. When I thought of a place with those unique qualities where I could bring a group of friends for five days of wandering the flats, The Abaco lodge was exactly that. Situated on the backside of Abaco and only a 15 minute ride from the airport at Marsh Harbor, This bone fishing paradise was everything we hoped for and more.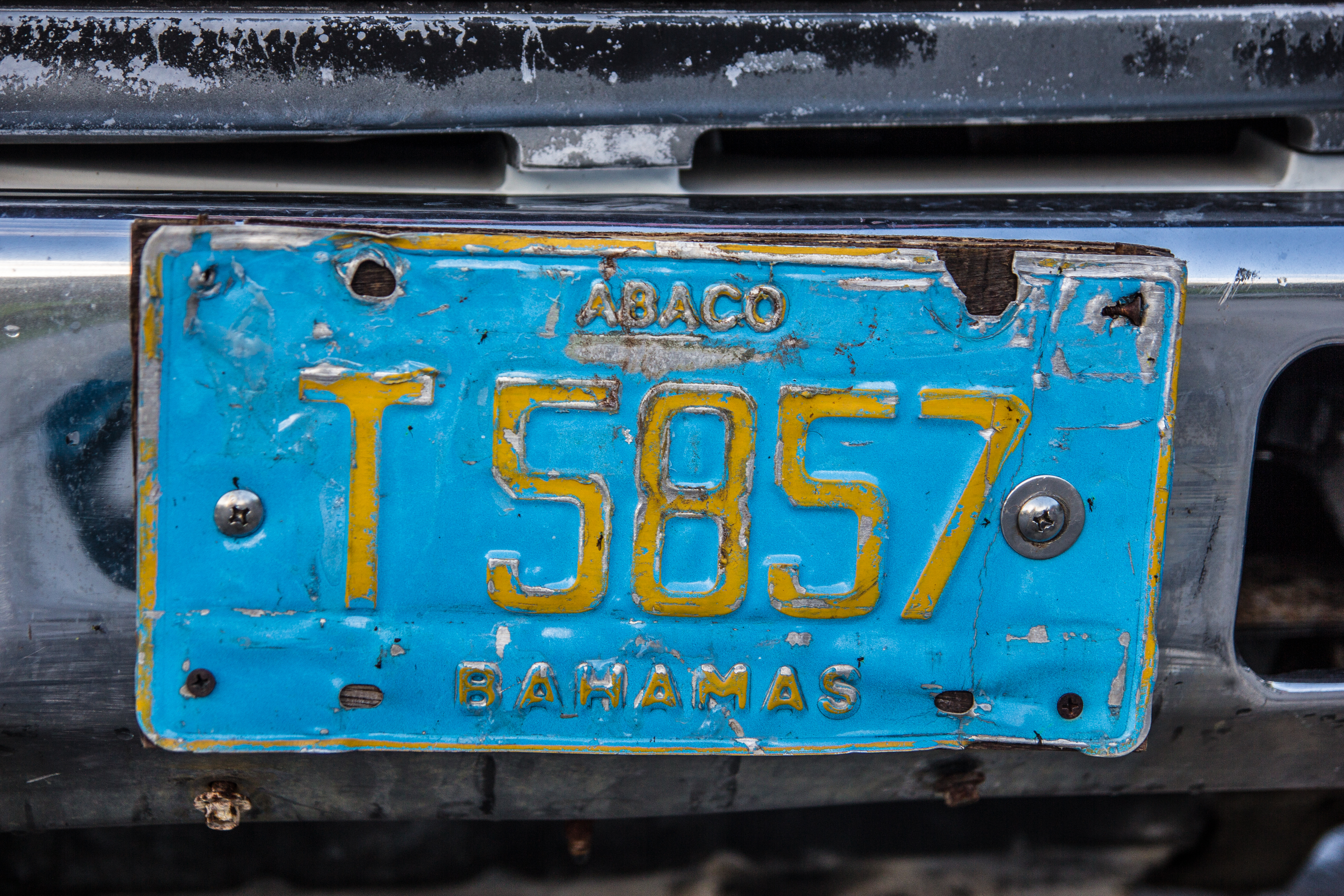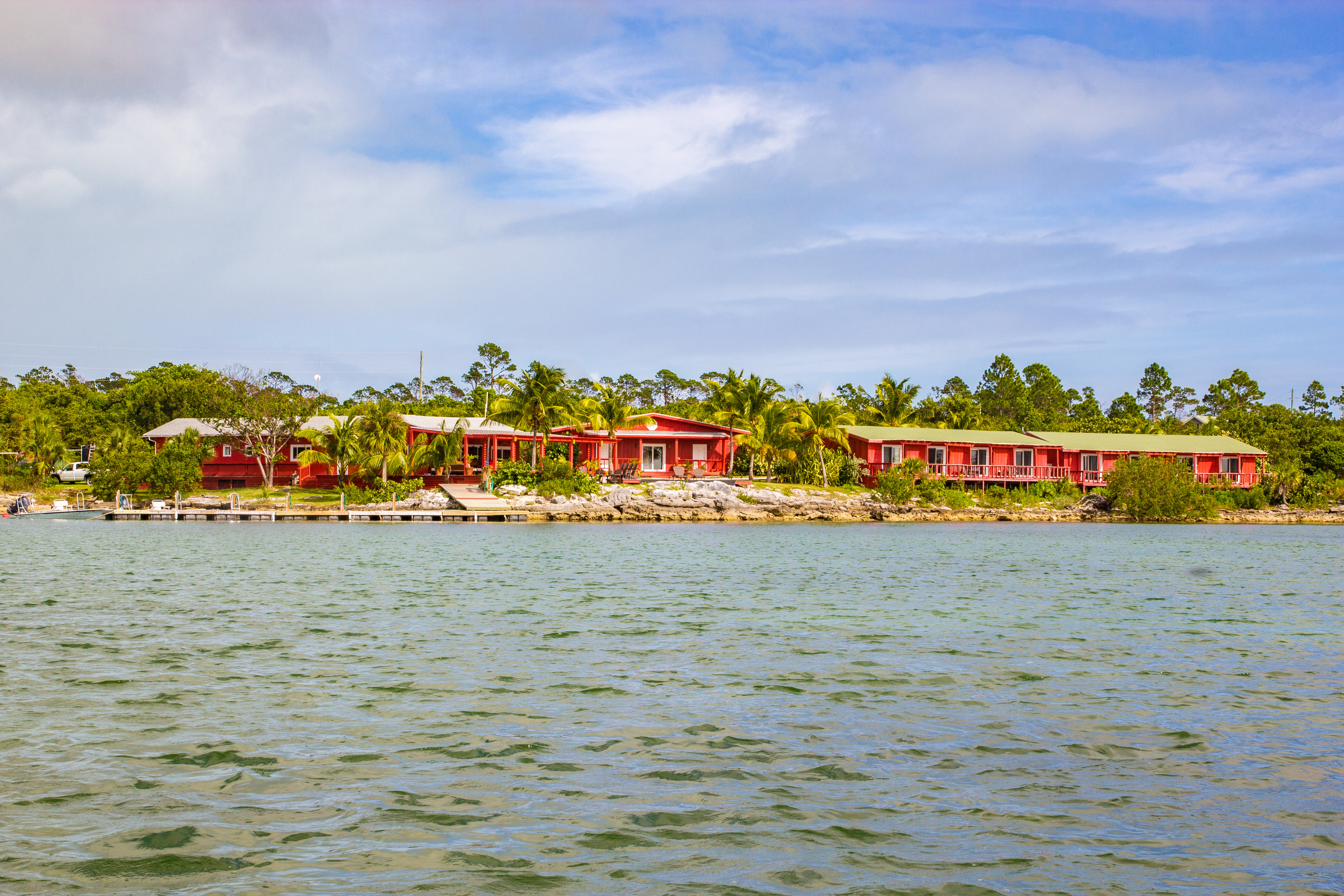 The trip hardly began the moment I stepped foot off the airplane as I had been day dreaming of this place for months. You could say I was very excited to show my guests this paradise. When I finally arrived, Lindi and Christiaan were there to greet me with an ice cold rum punch in hand and offered to help me with my bags to my room. A few of my friends were already there so I threw my bags in the room and sat around and drank and rigged up rods with them and waited for the rest of the group to arrive. That night we had a delicious freshly caught mahi dinner and lots of cocktails and patron shots because, why not. Christiaan went over the plans for the next four days of fishing and we eventually wandered to the already lit bonfire and drank and talked in to the later hours. This was shaping up to be a fantastic trip with great friends from all over the world.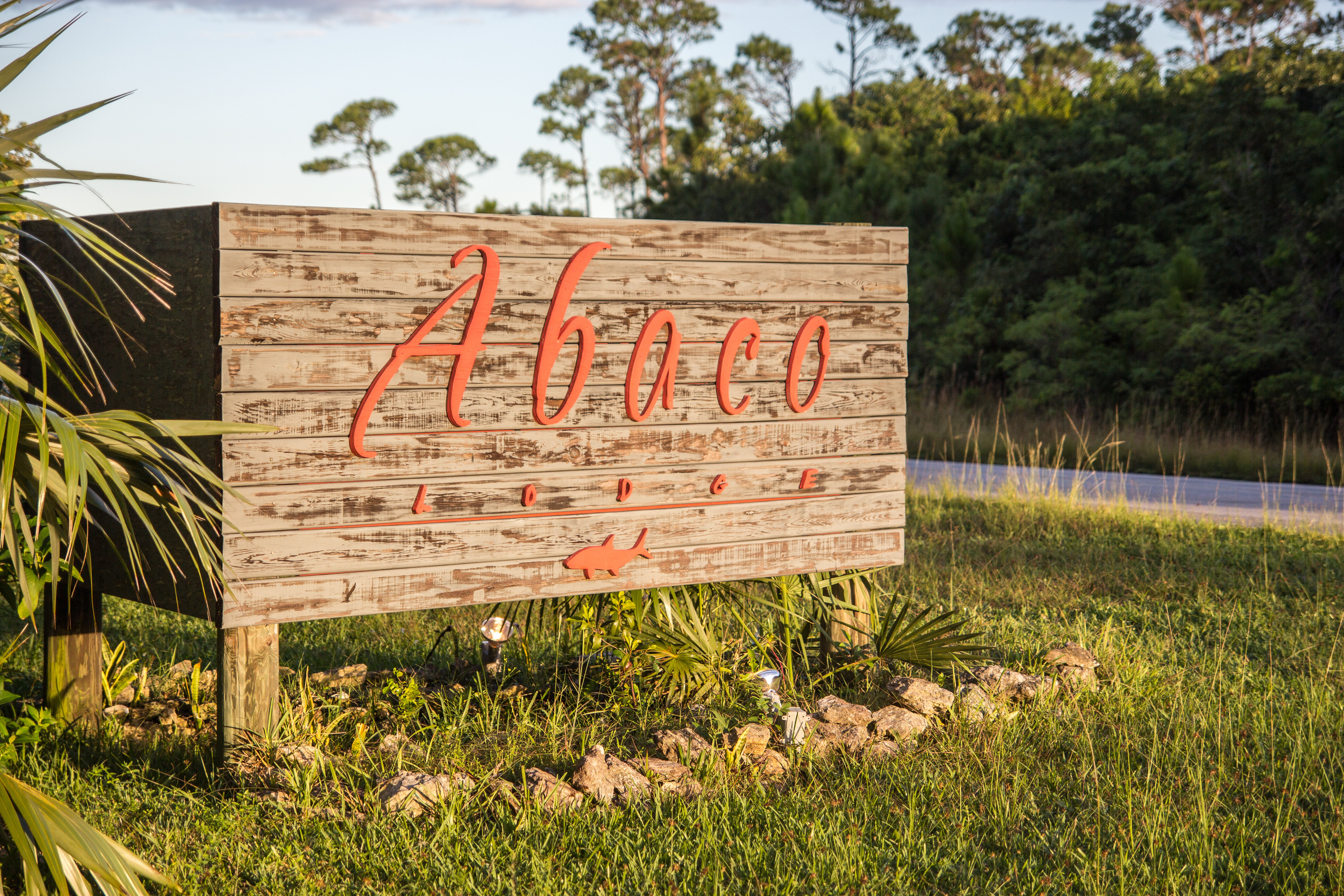 Hot coffee was served at 6:30am so I was up at 5:30 organizing gear and getting ready for the full day ahead. I sat down to fresh fruit and cooked to order eggs not to mention the juice bar and assorted teas , etc. This lodge doesn't miss a beat. Eventually people stumbled in and we realized we tied one on a little too tight last night which is a big mistake on a fishing trip. After all 5 nights of this would be more of a marathon and not an all out sprint. We all rose to the occasion though and were packing up the boats for our first day on the flats in no time. I was lucky to get to fish with my buddy Stewart on the first day. Stewart is from Scotland and had only ever trout fished and fished for salmon in the estuaries of Scotland, so bone fishing was very new to him.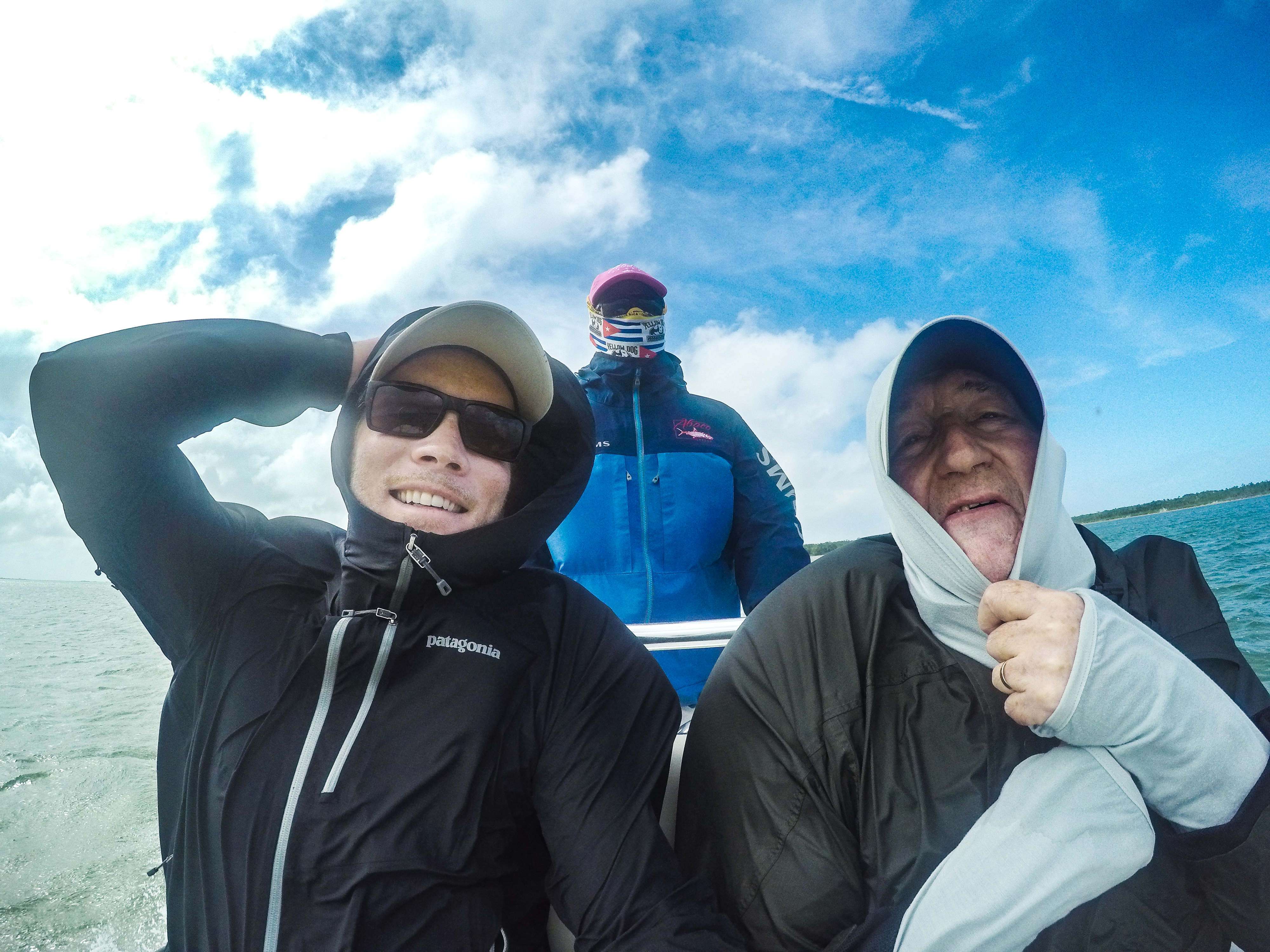 We were in good hands with our guide Travis Sands so I knew the bonefish and hopefully permit wouldn't stand a chance. We made a run for an area in the lee of an island where Travis had seen permit recently. We anchored the boat and started walking to try to find fish on the edges of the island where it was sheltered from the wind. Stewart and I were pretty far away from the boat at this point so Travis decided to run back and grab the boat while we were wading. About 5 minutes later I heard a yell cut through the wind and looked back at Travis waving his hands aggressively signaling me to run. I left Stuart behind and sprinted to Travis while in the distance behind Travis I saw a bunch of Permit tails on the horizon sticking a foot out of the water. We were in about three feet or water too so the permit I saw on the horizon were monsters. As I was running and stripping out line I couldn't believe this was all happening in the first hour of fishing on the first day of this trip. When I finally got to Travis I could make out the shapes of 4 very big permit swimming on the back of a sting ray darting back and forth grabbing any crustacean unearthed in the big ray's wake. This was my first time ever seeing a permit let alone cast to one. I tried to stay calm and cool despite Travis's excitement. We approached the fish and I laid out a cast and started stripping but no follow so I casted again and again until eventually we were following these fish into 4 feet of water. Travis decided we should reel up and grab the boat to give ourselves a better advantage. I had time to jump in the boat and tie on a different fly while Travis slowly poled us forward.  "Target acquired," I hear from the back of the boat and with a quick glance over my shoulder I see Travis looking off into the void. I eventually locate the mudding ray and the faint shapes of those 4 permit in the distance. When we get within 50 feet of the fish Travis tells me to cast. I land my fly in the mix and strip. Strip, Strip, Strip and I see one fish break off from the school and follow my fly. With one long strip I expected to come tight as this fish was hunting my fly down. Nothing ever happened though. I casted again and again until these fish eventually just gave me the middle fin and swam off! I couldn't believe that I never came tight? I know permit are one of the hardest fish on the flats to catch but come on! Our day was cut off early due to the high winds but not before I landed a bone fish on the lee of an island we were stopped to have lunch on!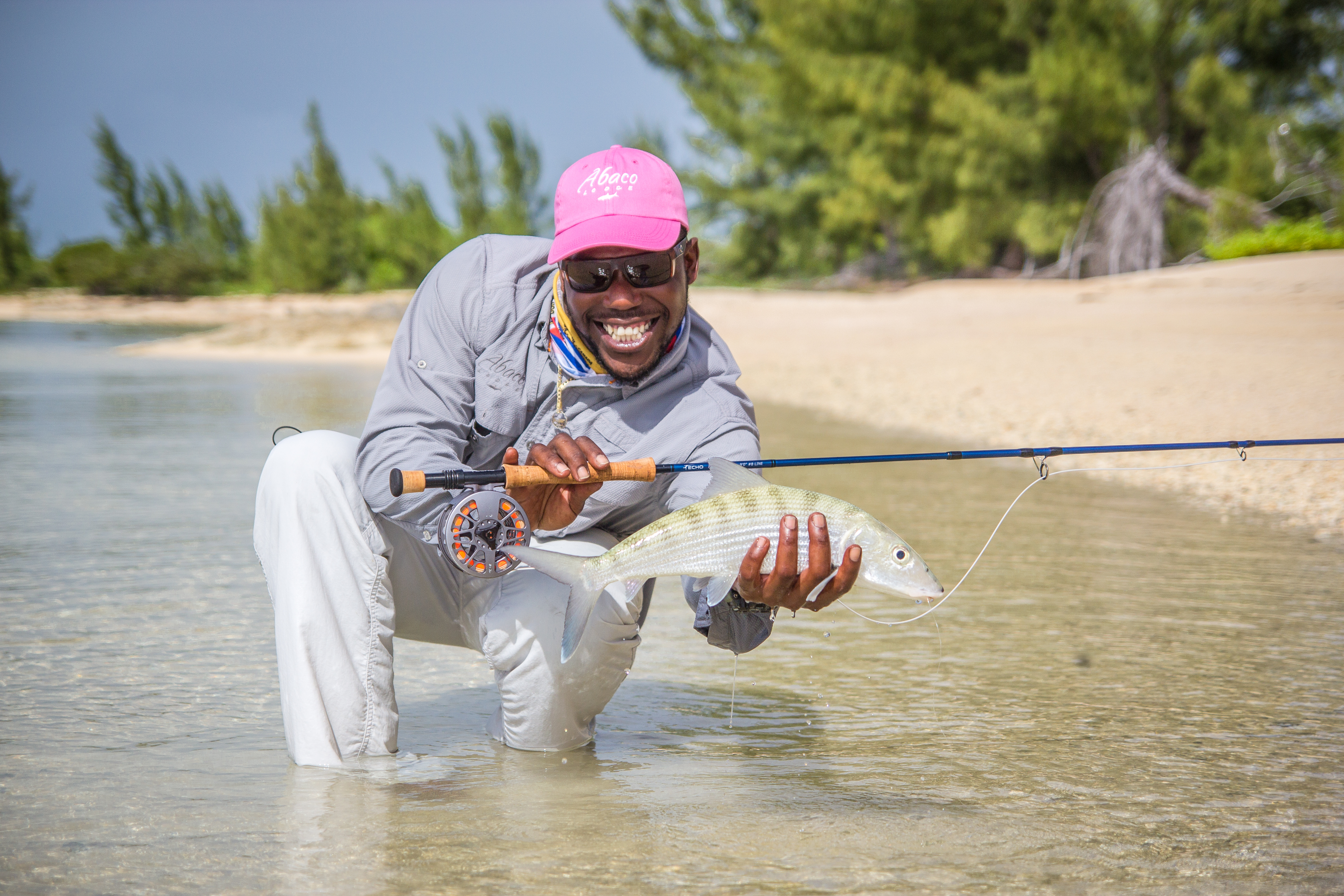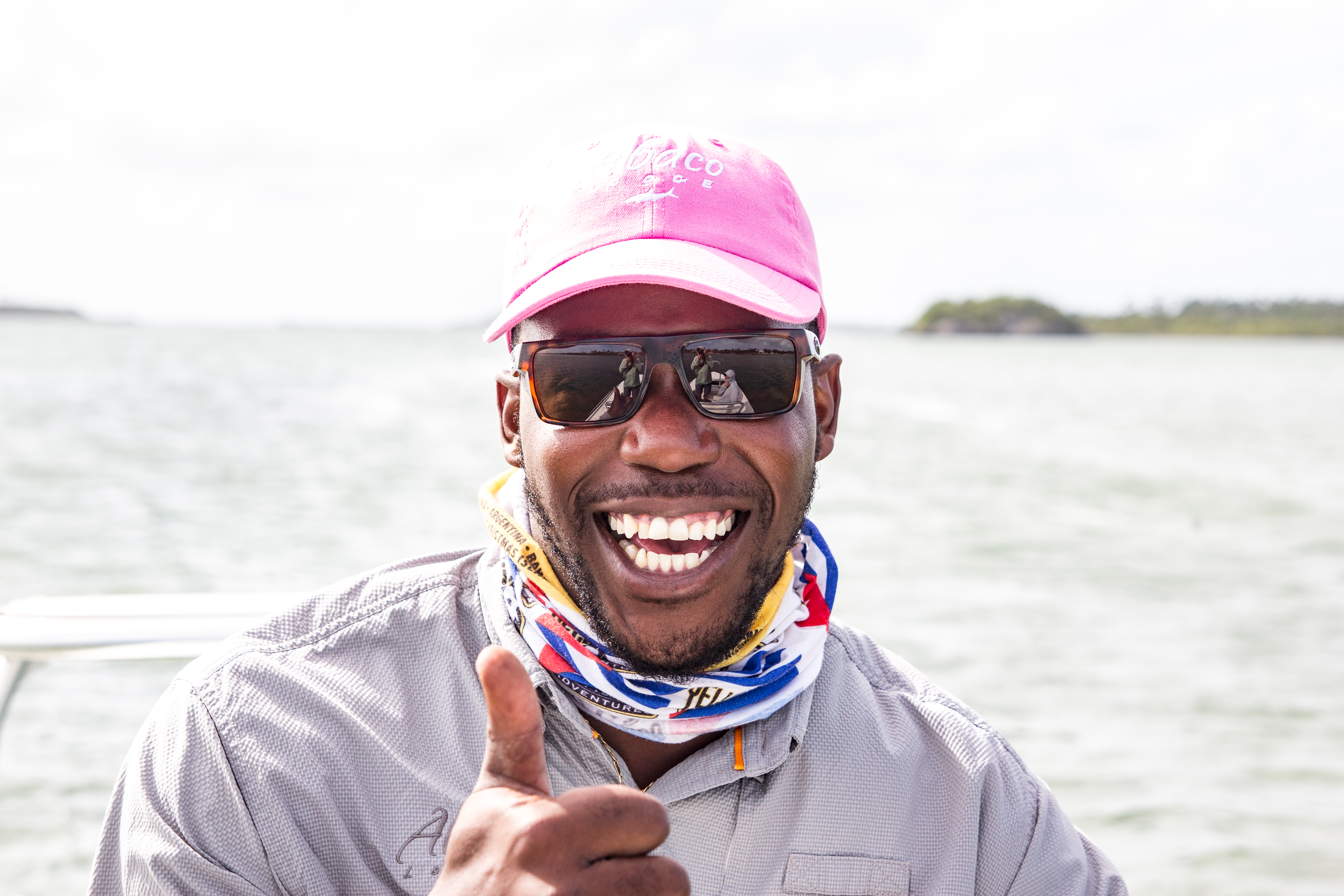 That night we cracked bottles of wine and sat by the fire and had cracked conch over a bed of local greens accompanied by some ridiculous dessert. It is an open bar policy at the Abaco lodge so of course Chip was bartending and was making everyone gin and tonics late into the night. The two lodge managers Lindi and Christiaan were a pleasure to be around. They were professional and friendly and fun and made us feel right at home. Christiaan has guided all over the world and he too is making a life for himself that involves fly fishing. It was a pleasure meeting them and getting to know them over the course of our 5 days there.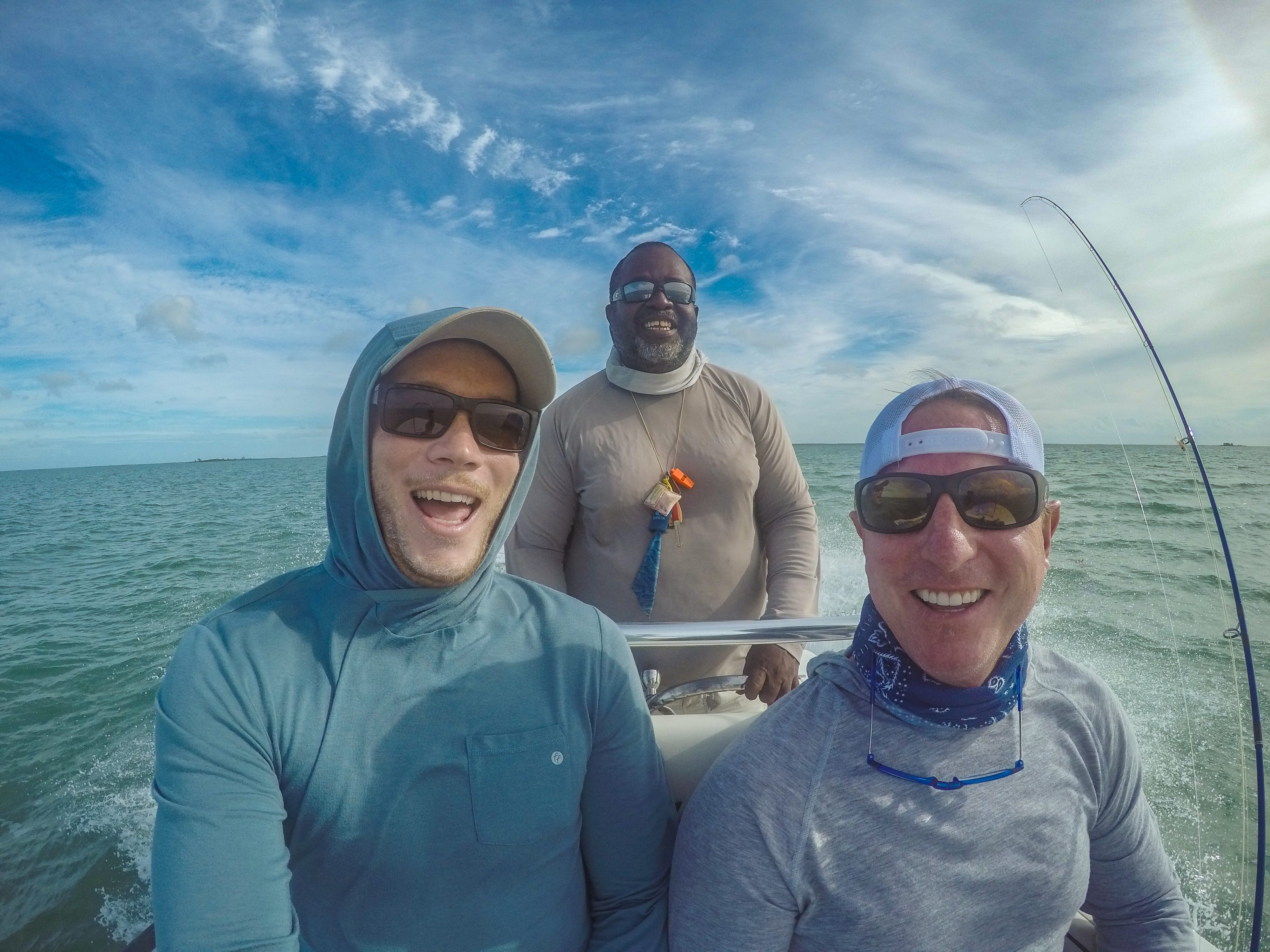 I was lucky to have my good friend Chris Jocham with me on this trip. You may remember Chris from some of my New Zealand stories two years ago. To make a long story short, Chris joined me in New Zealand two years ago and it nearly killed him and me. In a two week span, Chris and I got flooded out of two rivers and nearly died from exposure and hypothermia the second time. Luckily there was a helicopter rescue and ambulances and the entire police force waiting for us and you get the picture, it's a miracle Chris agreed to fish with me again. So we set out with Freddy who told us he has 60 brothers and sisters nearly the first moment we jumped in his boat for the day. I could tell it was going to be a fantastic day so Chris and I opened a beer at almost 8:00am. The wind was our enemy on this trip and always is. We struggled to see fish and to get into the leeward side of these islands where the visibility was. Eventually after lots of beers and lunch, we managed to catch a few bonefish.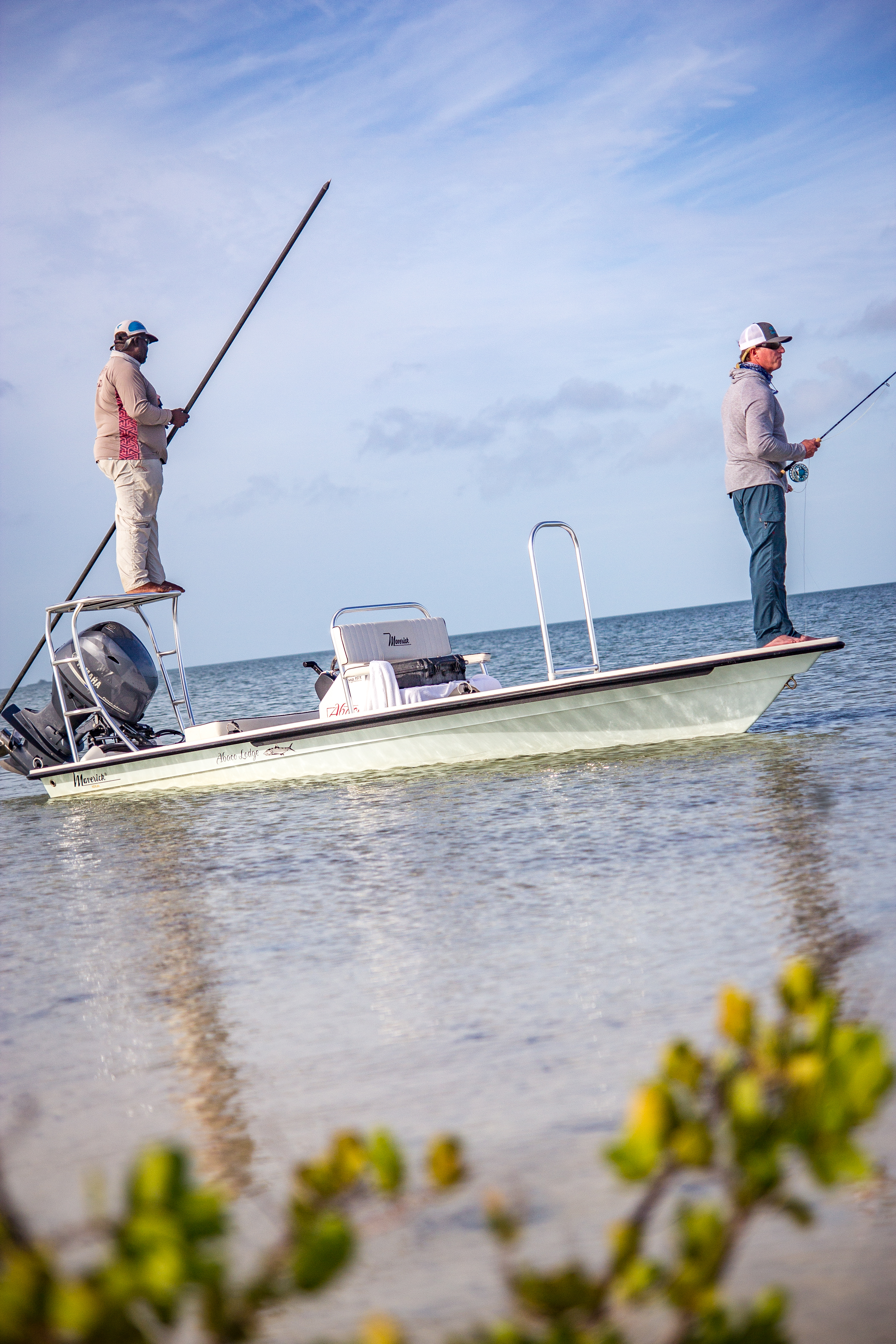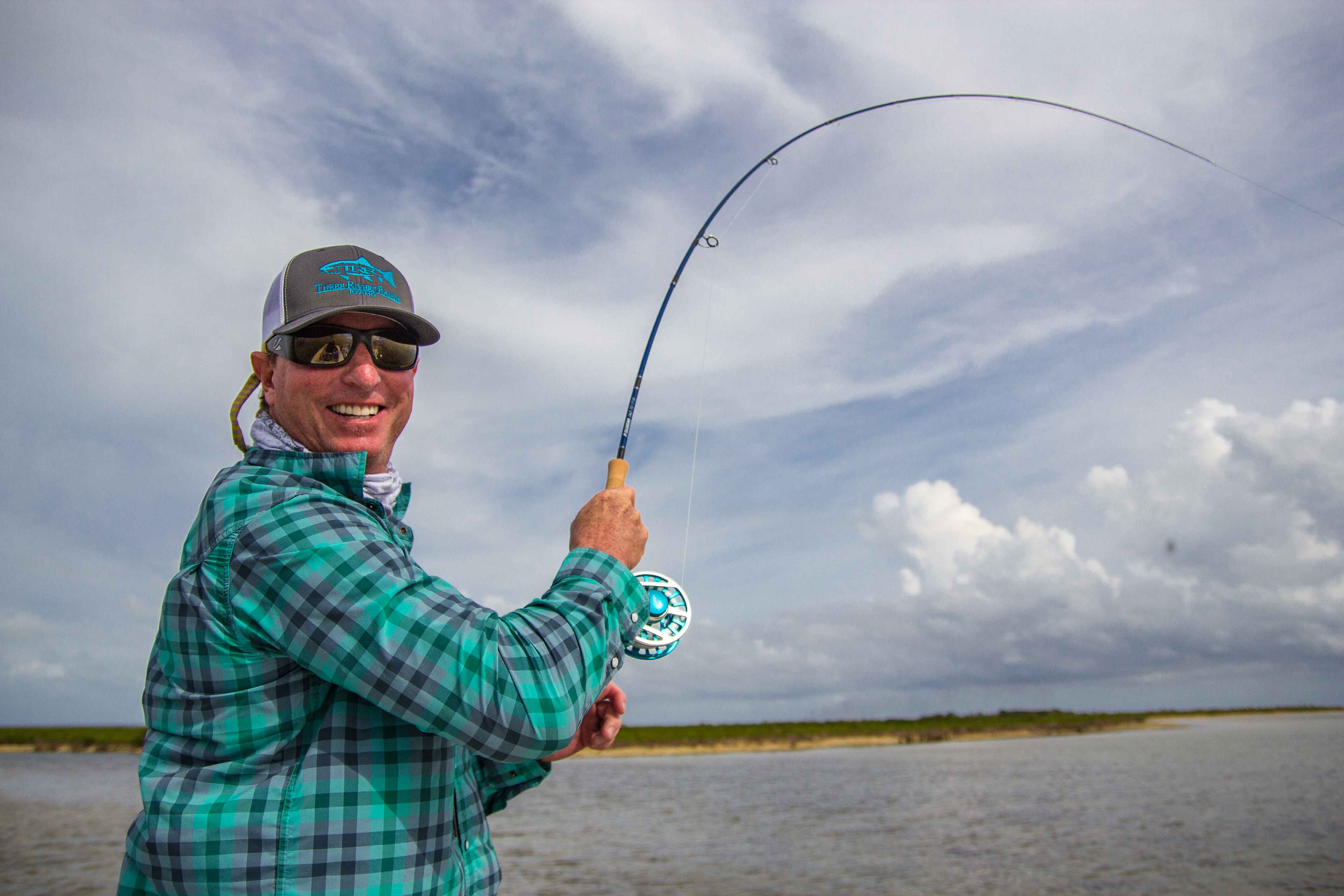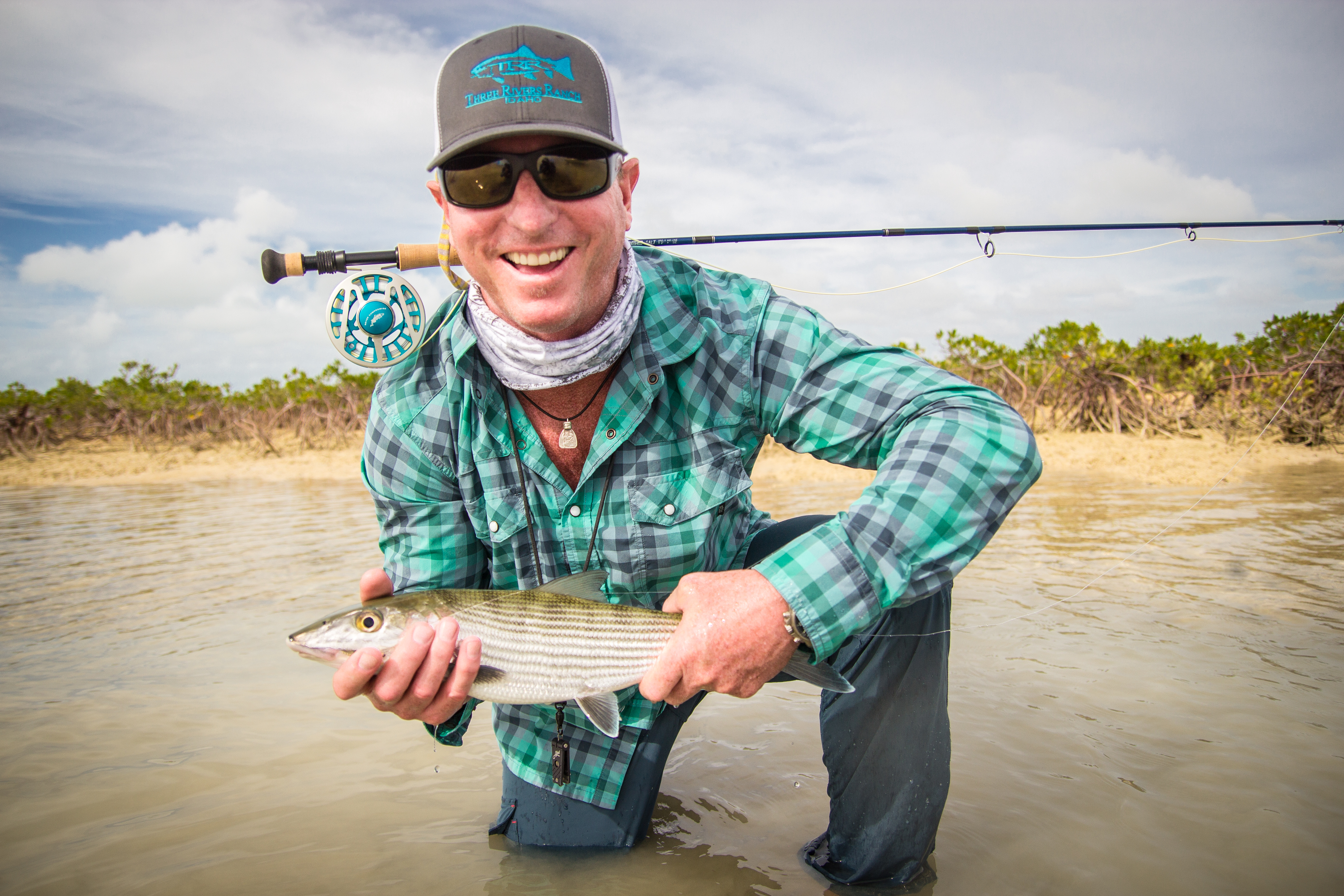 Cocktail hour that night consisted of chicken satay skewers, conch fritters, and stone crab claws. My rum punch creations were to die for too. Dinner was insane again and this time we were eating lobster thermidor. Late night consisted of casting tournaments, trying to fool the resident snapper and bonefish that swim around the dock lights at night, and of course drinking way too much. The fire faded out into the night as each one of us slowly stumbled to bed.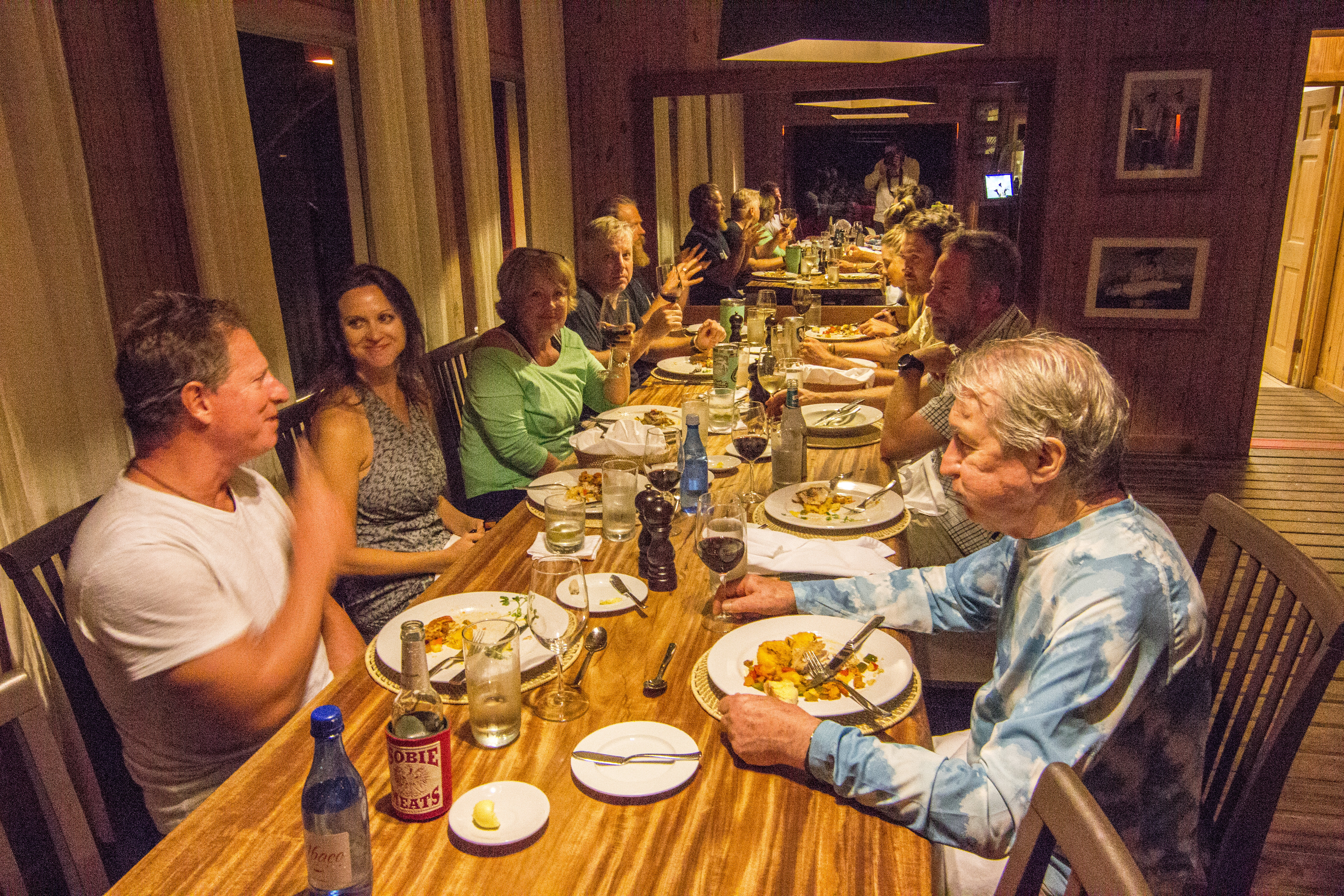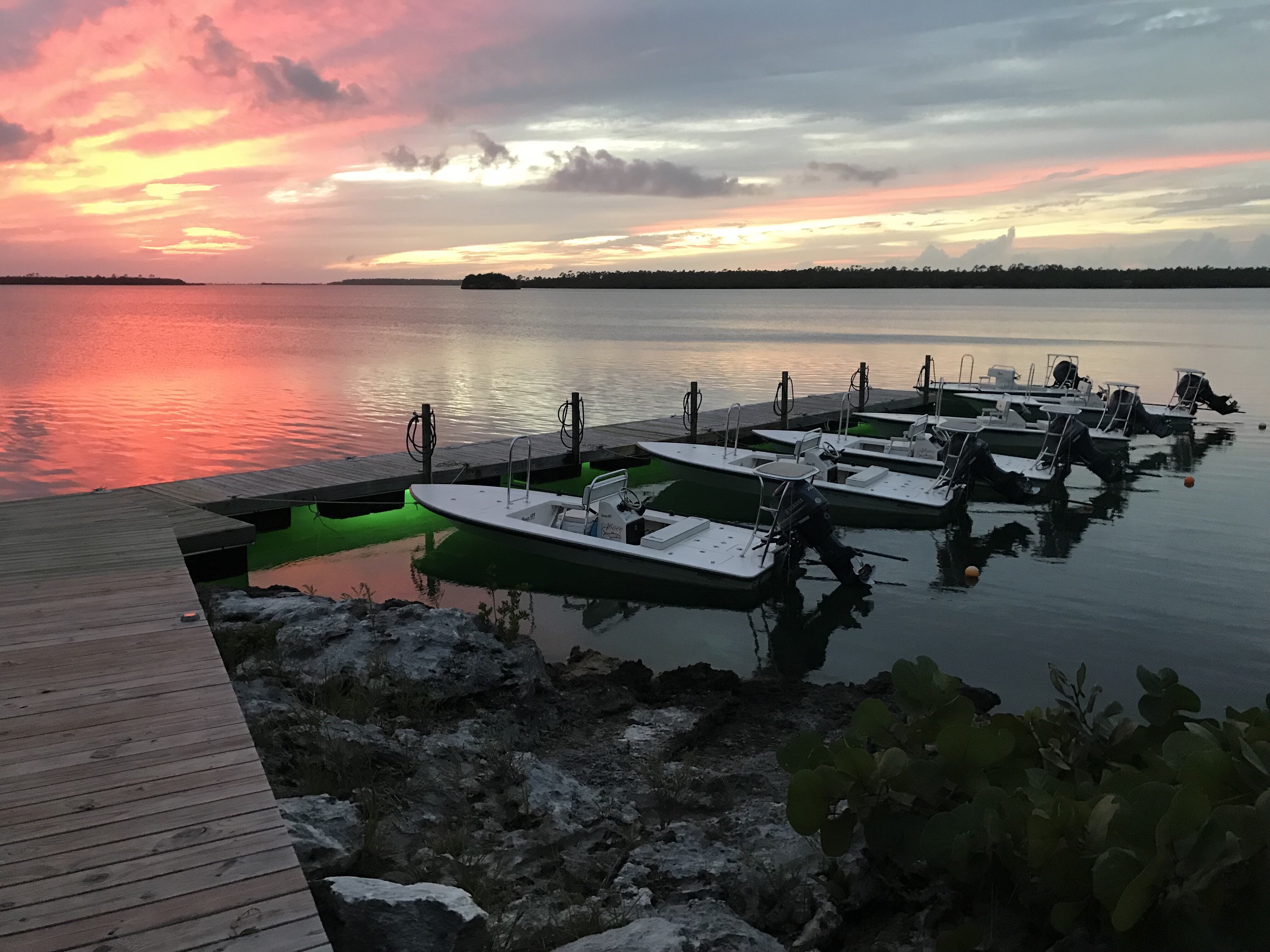 The next morning I was lucky to fish with my good friend Vicki Baker. Vicki had never caught a bone fish before and showed right away how it's done. We mixed up a bloody mary out on the flats before we even casted to a fish. As the host of this trip I didn't fish all that much and had more fun watching and helping. We fished with Mike today and Mike showed us what is possible on a saltwater flat. As we pulled in to a perfect lagoon with the wind and sun at our backs and a mangrove maze stretched out before us, I saw the first bonefish of the day.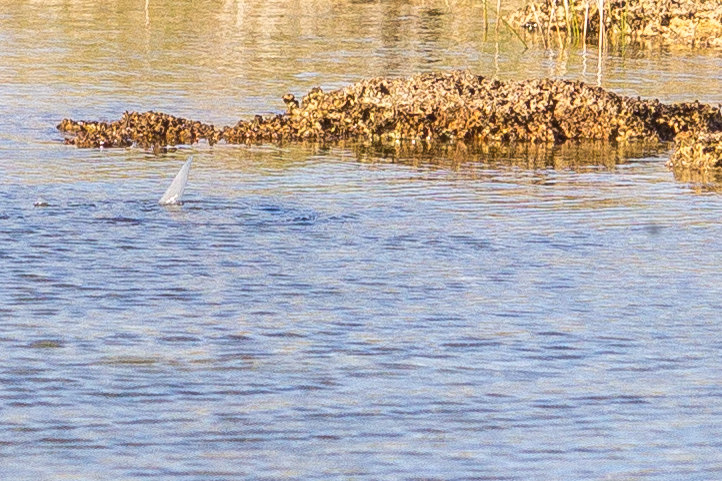 Vicki saw it too as it was tailing and swimming at us. She executed a perfect cast and started stripping while I saw the fish charge her fly. With a firm strip set she came tight to her first bone fish. It was such a rewarding moment when Vicki pulled this fish up for a quick photo!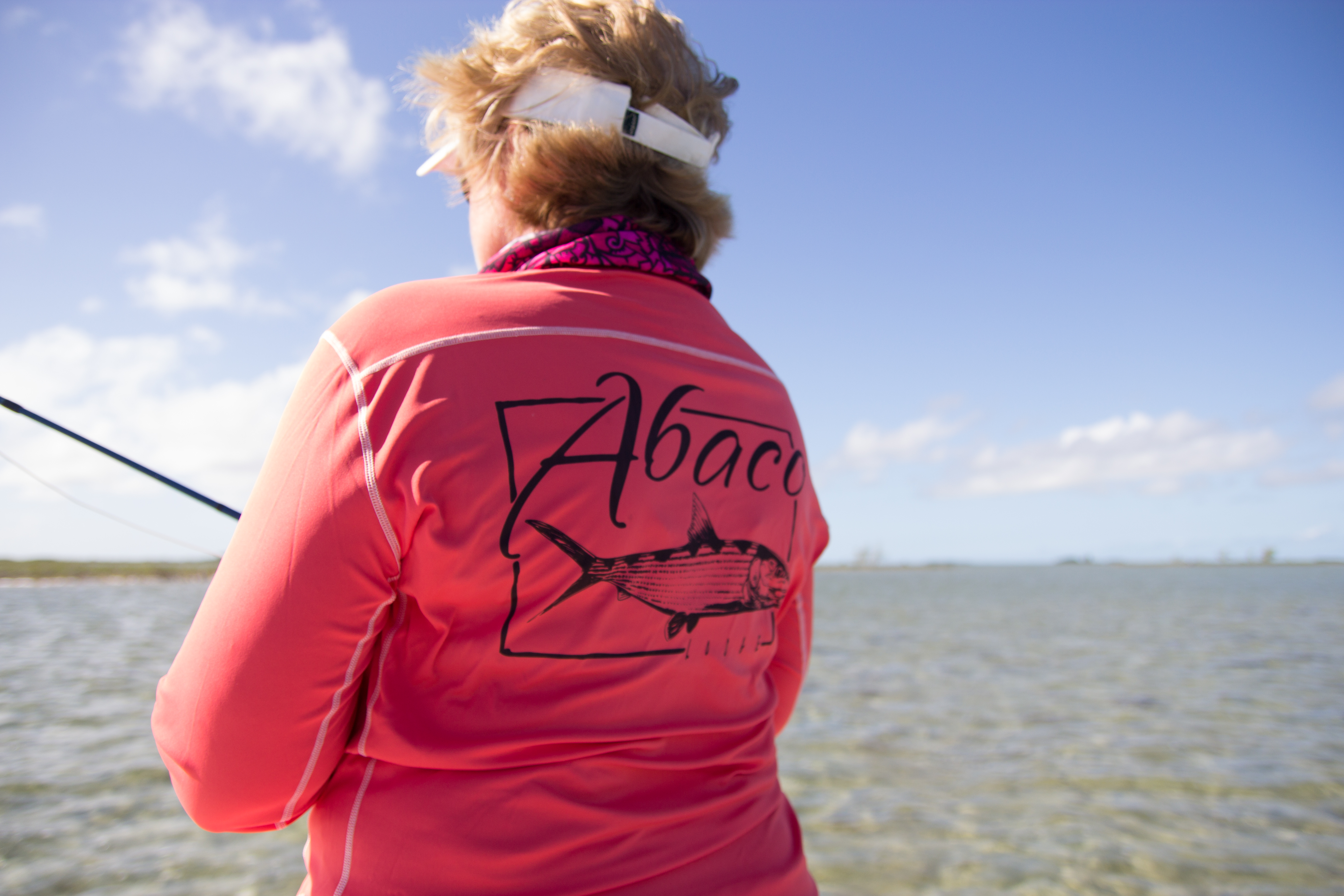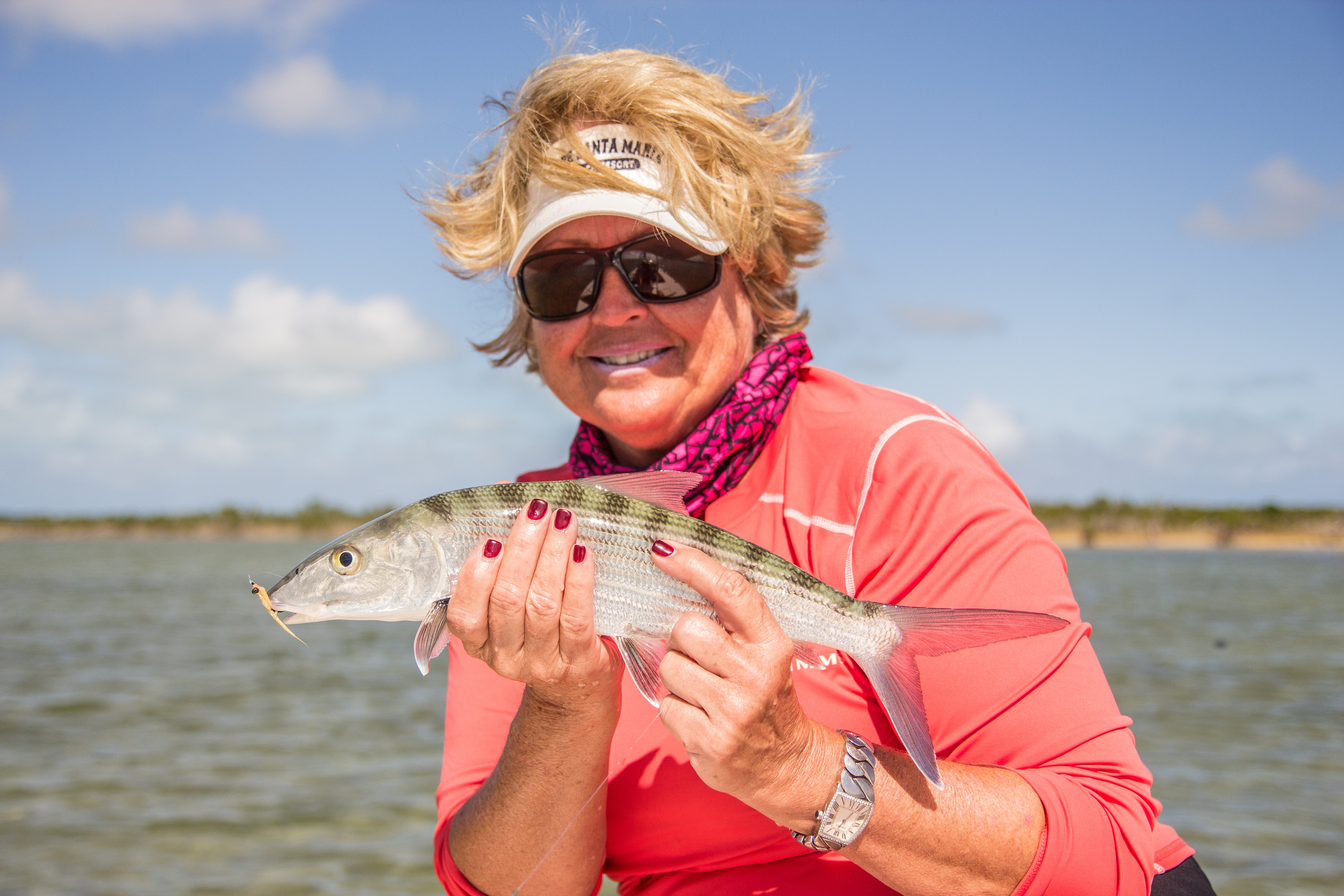 Vicki allowed me a few hours on the bow that day. Mike and I immediately developed an understanding for each other when I screwed up my first shot a huge bonefish tailing in the distance. Our understanding was that he was the teacher and I was the student! We had numerous shots at bones in all the right scenarios. Tailing fish, wakes and nervous water, sight fished on the white sand tight to the mangroves. It was an epic day.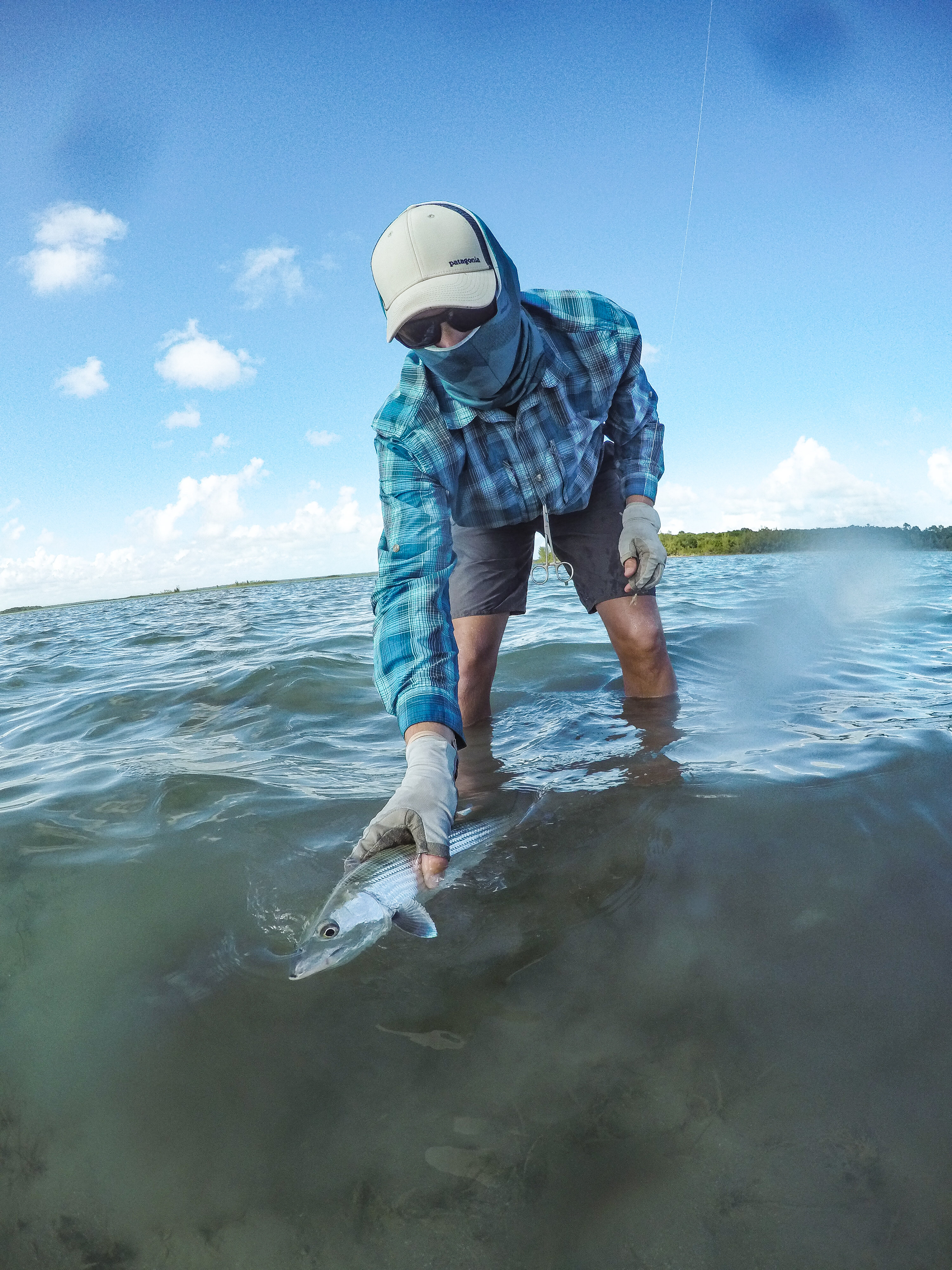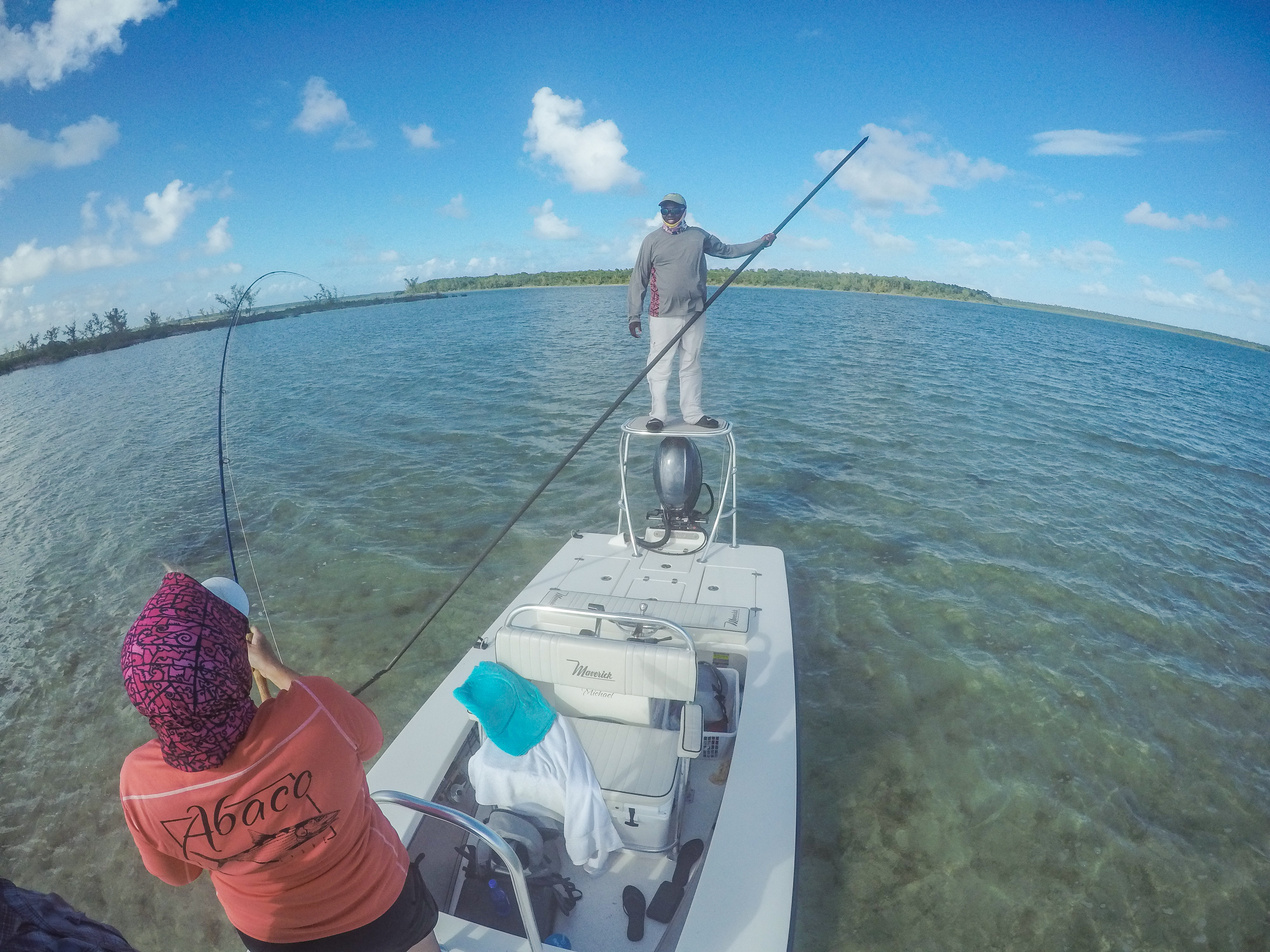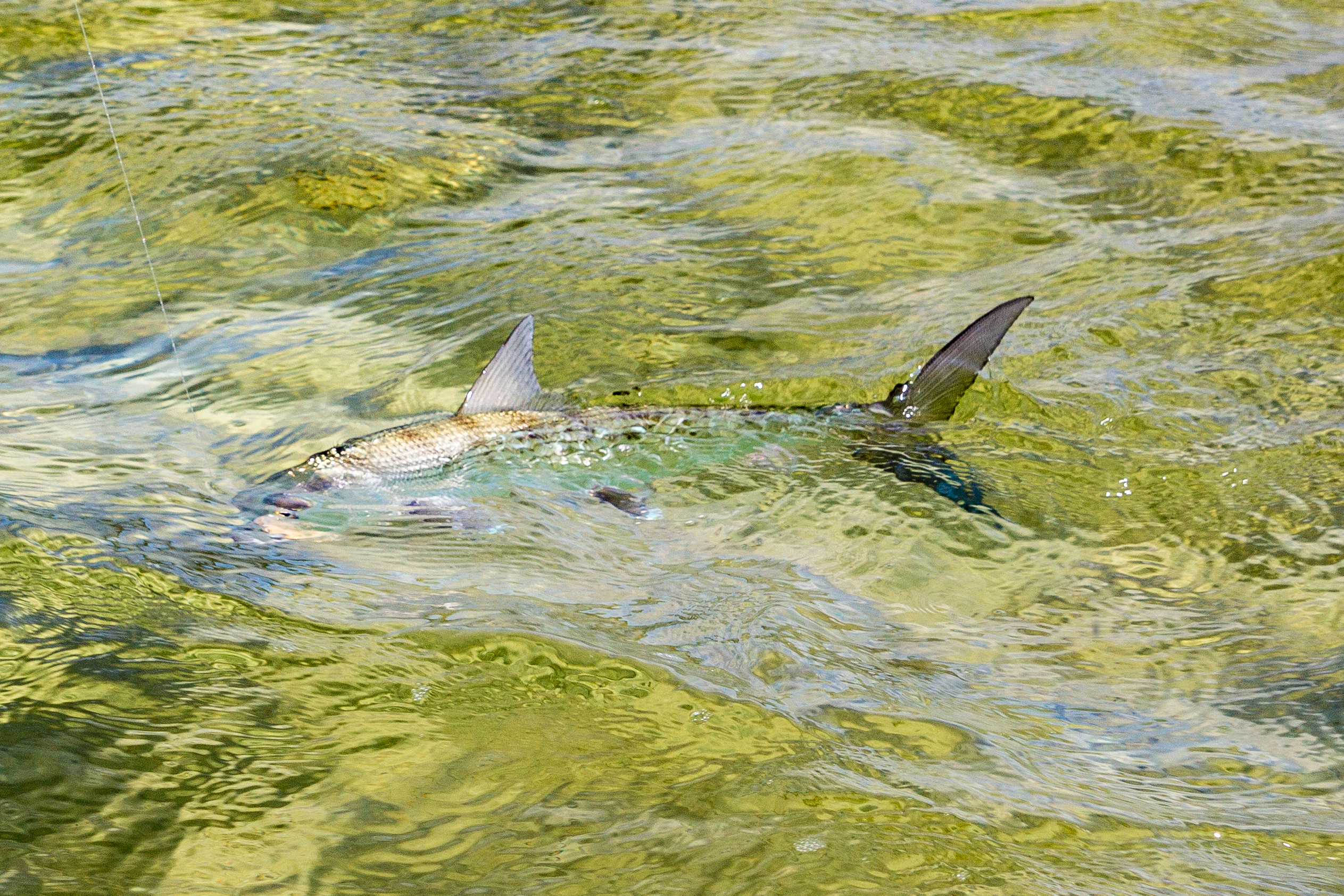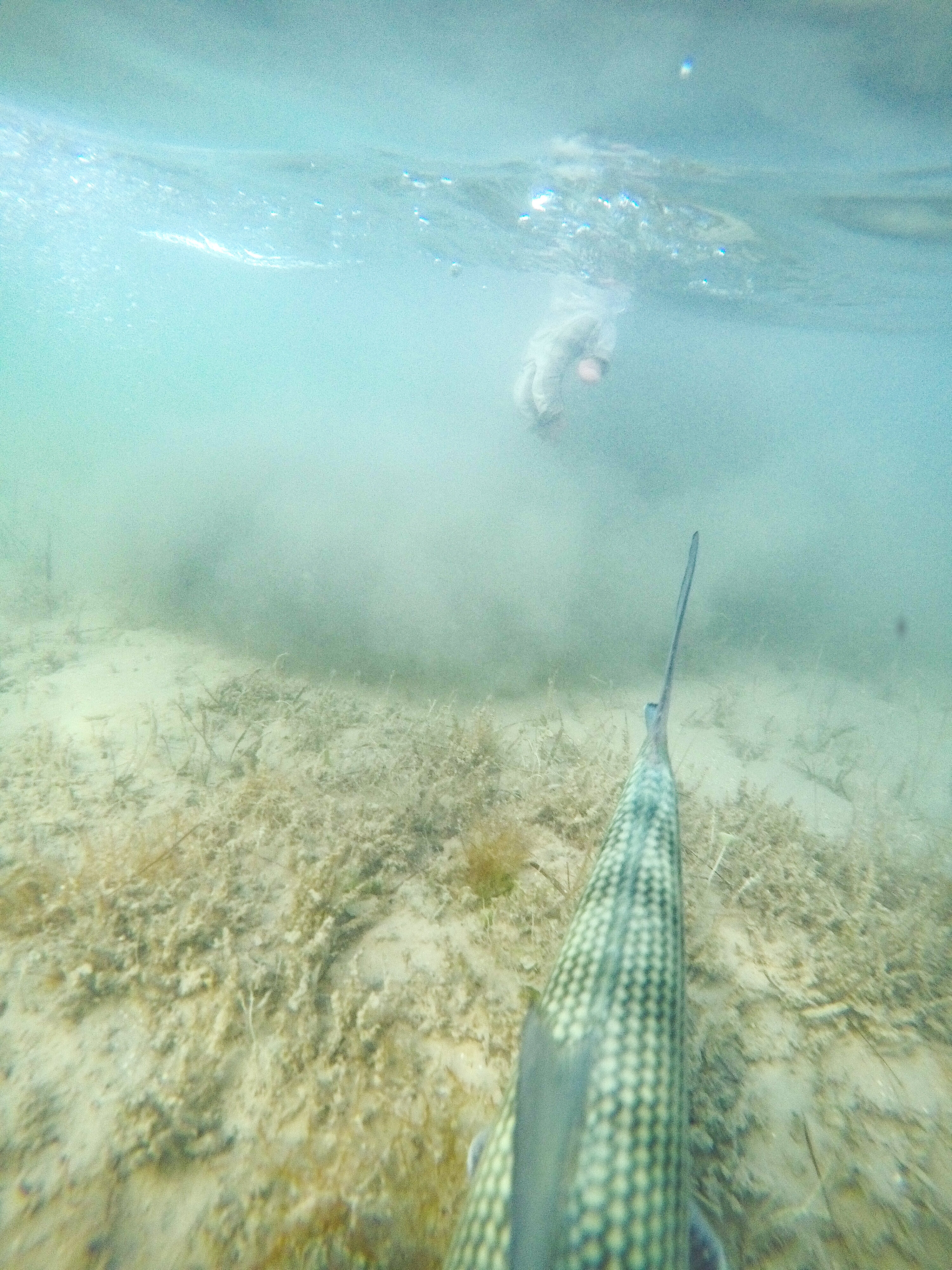 As we finally made it back to the dock, most of the boats had arrived and a party had already begun. Chris and Chip had taken down an entire bottle of patron, and at one point during the day had a double on, meanwhile a shark came out of nowhere and had eaten Chris's bone fish. Patrick and Trey caught a beautiful tarpon. And Suzanne and Stewart caught numerous big bonefish one of which was more than 6 pounds. Not to mention Velma had a platter of ice cold face towels to wipe the sweat and sunscreen off your hands and face. Cocktail hour happened immediately followed by a delicious dinner again this time fresh caught yellowfin tuna.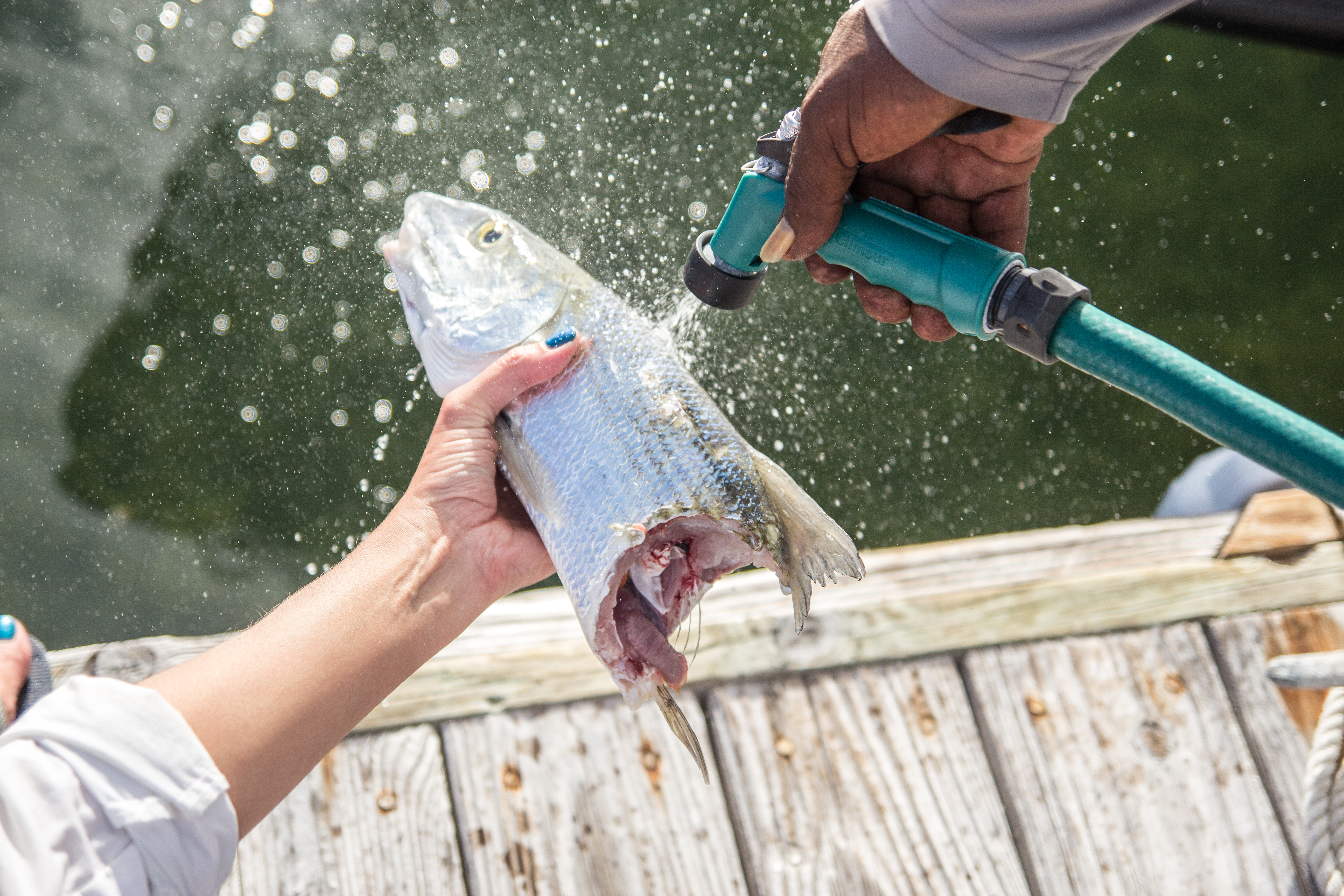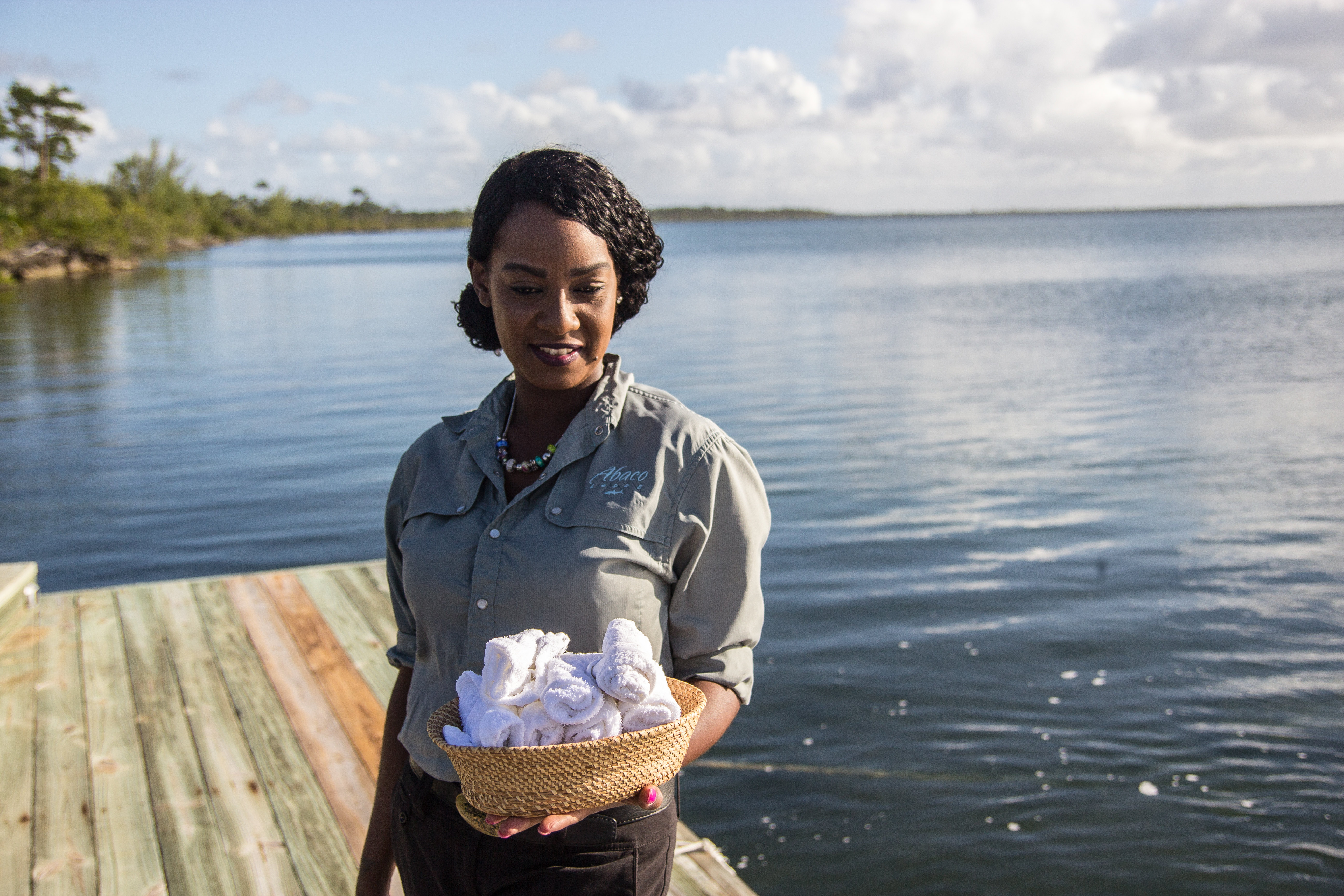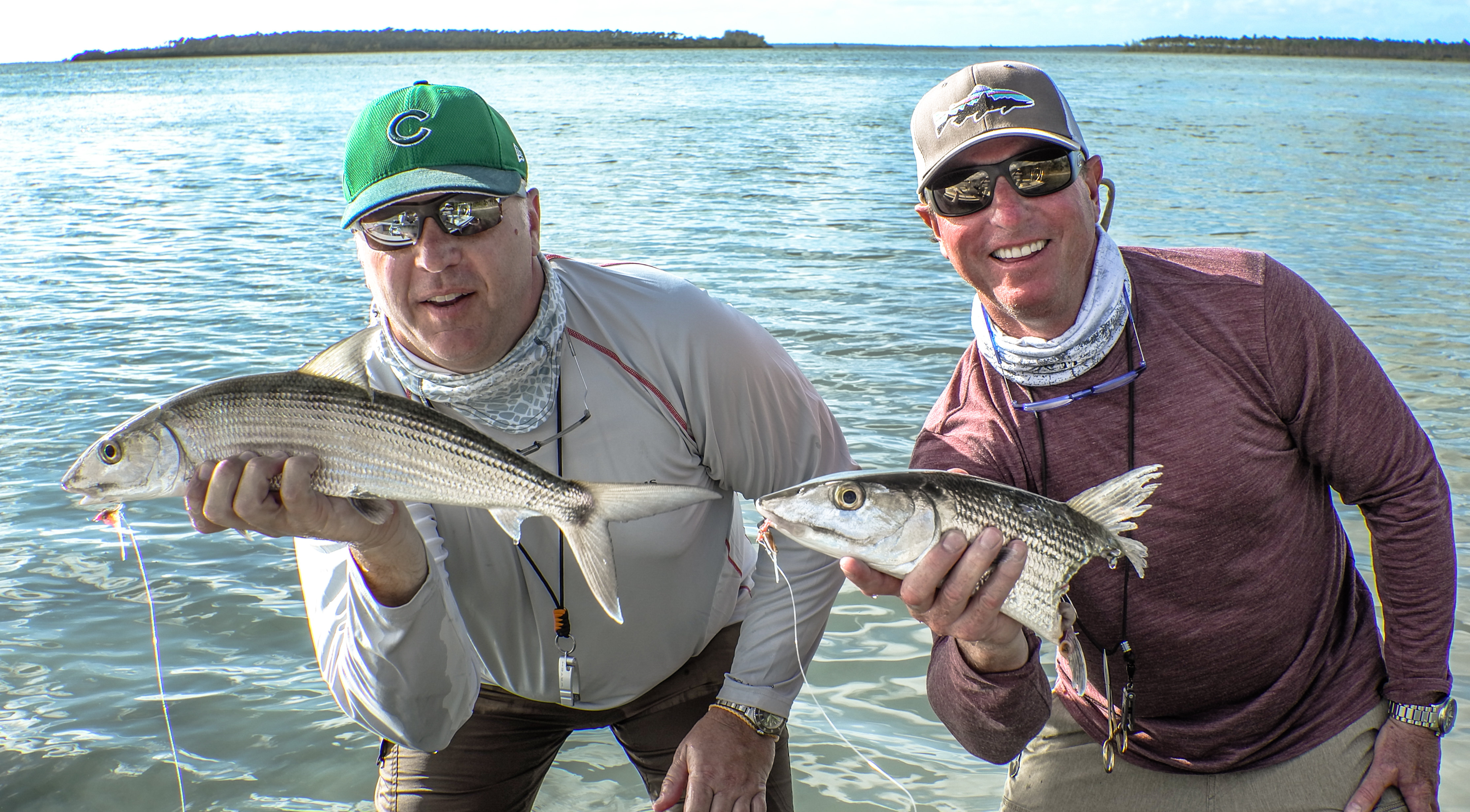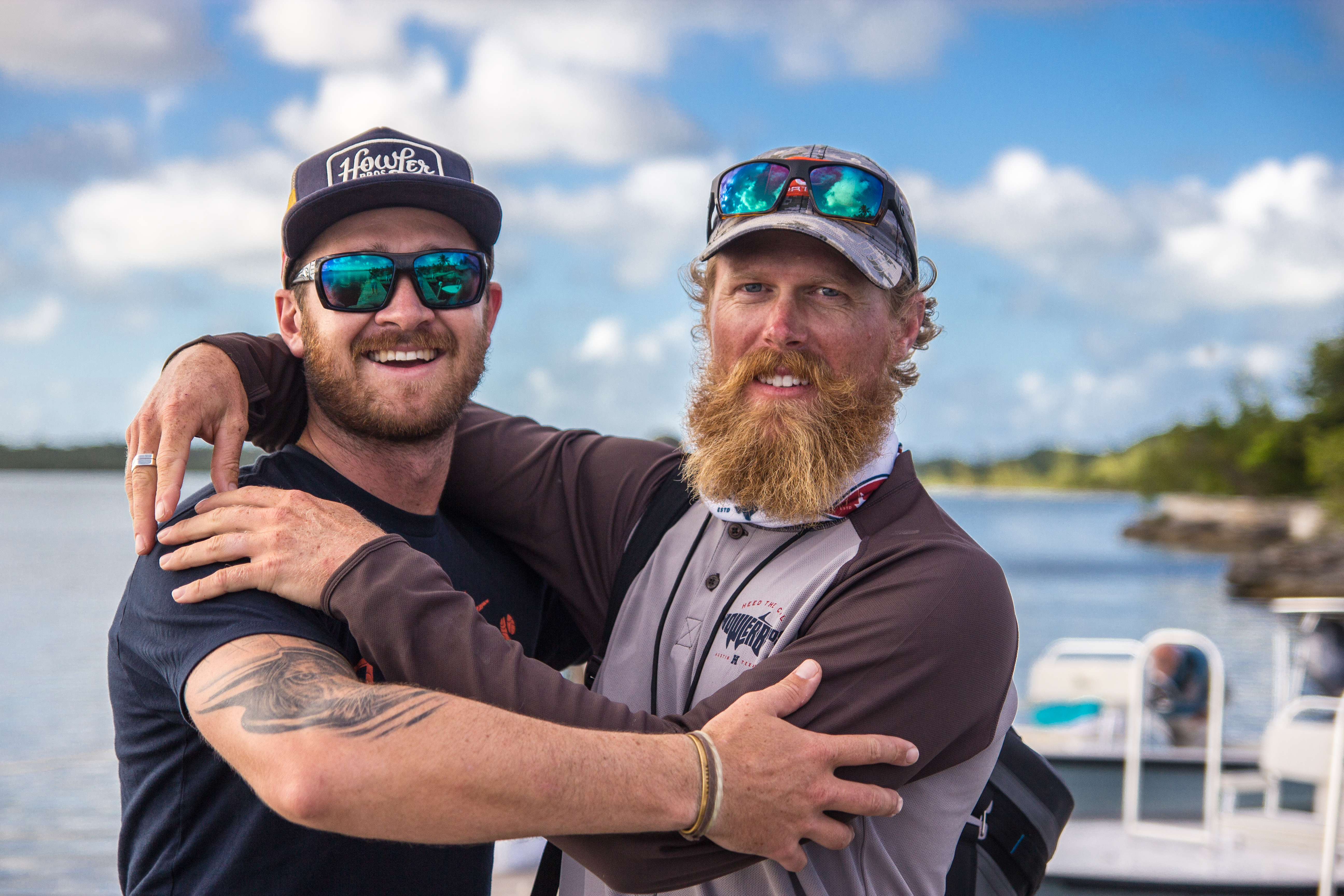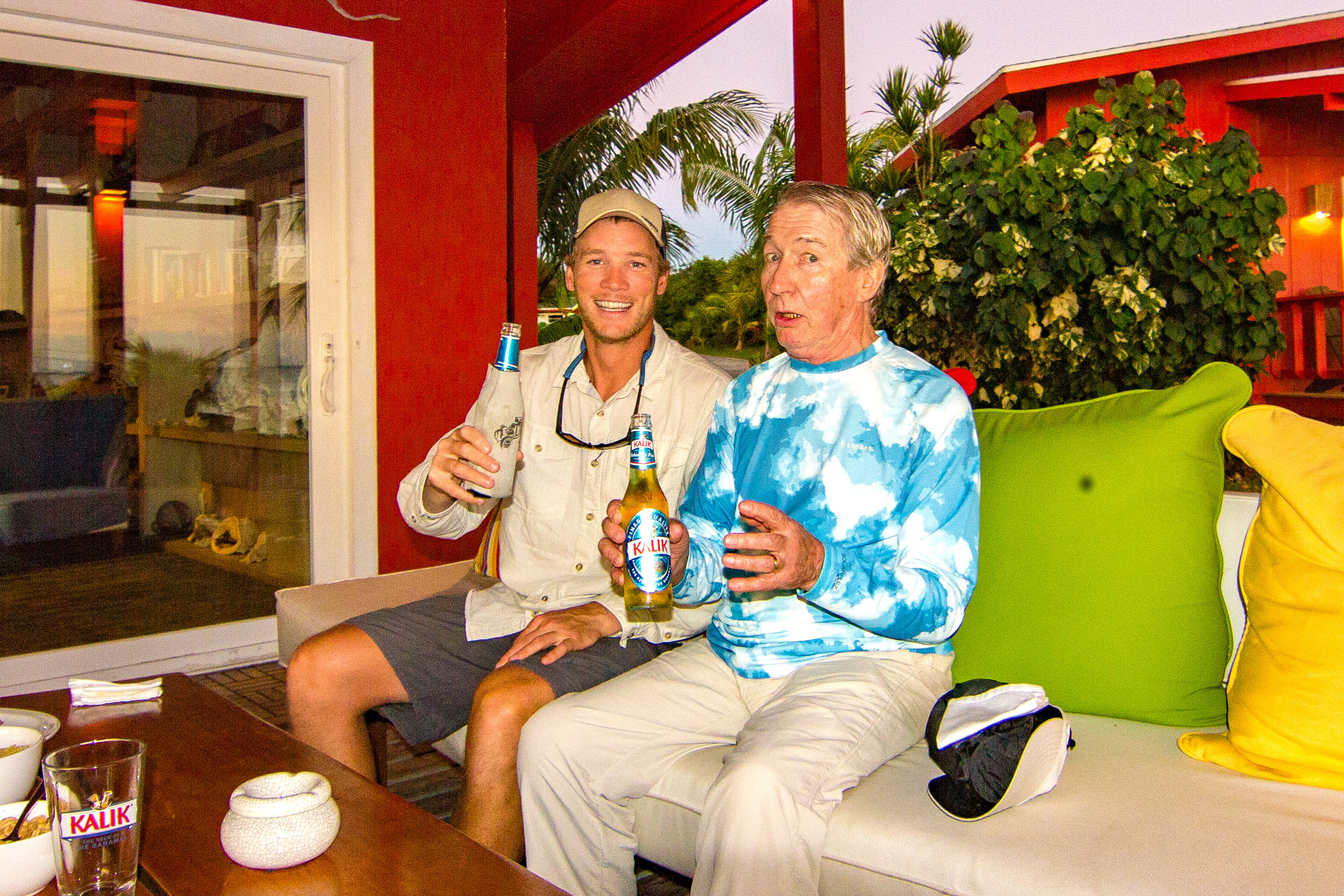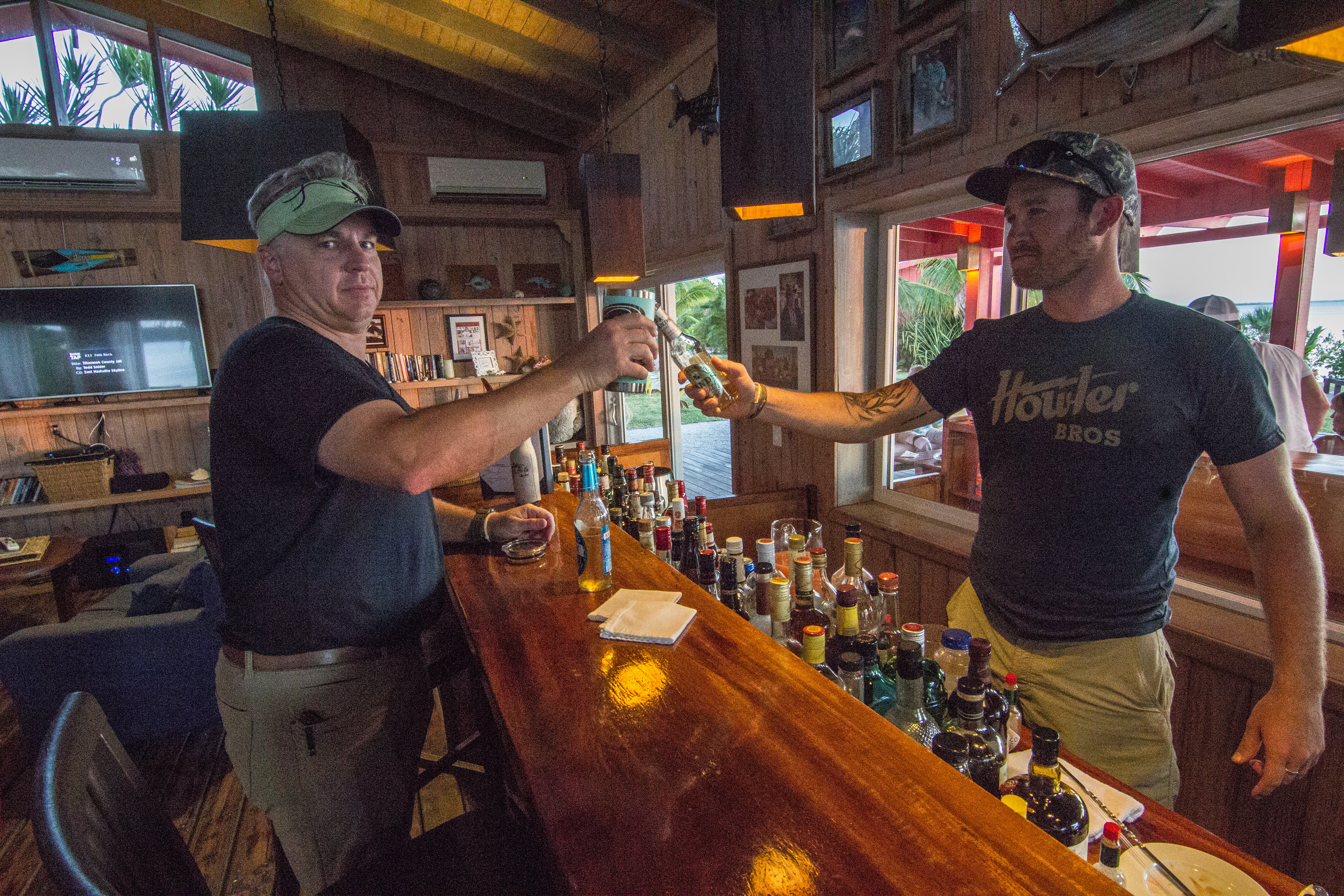 On day four I fished with one of my good friends Suzanne. A few weeks before this trip we went to the park to practice the double haul and she was throwing 60 feet of line with little effort. That practice came in handy during this trip in the high winds we experienced. Suzanne and I fished with Mike today and had an insane day. We were catching bonefish all morning and having just an epic day when we pulled over for lunch. I walked over to a cut in the reef where it looked like the tide was draining through and started just blind fishing it and before long I was catching these beautiful mangrove snapper on every cast. Suzanne joined me and we spent a while just casting at these beautiful fish.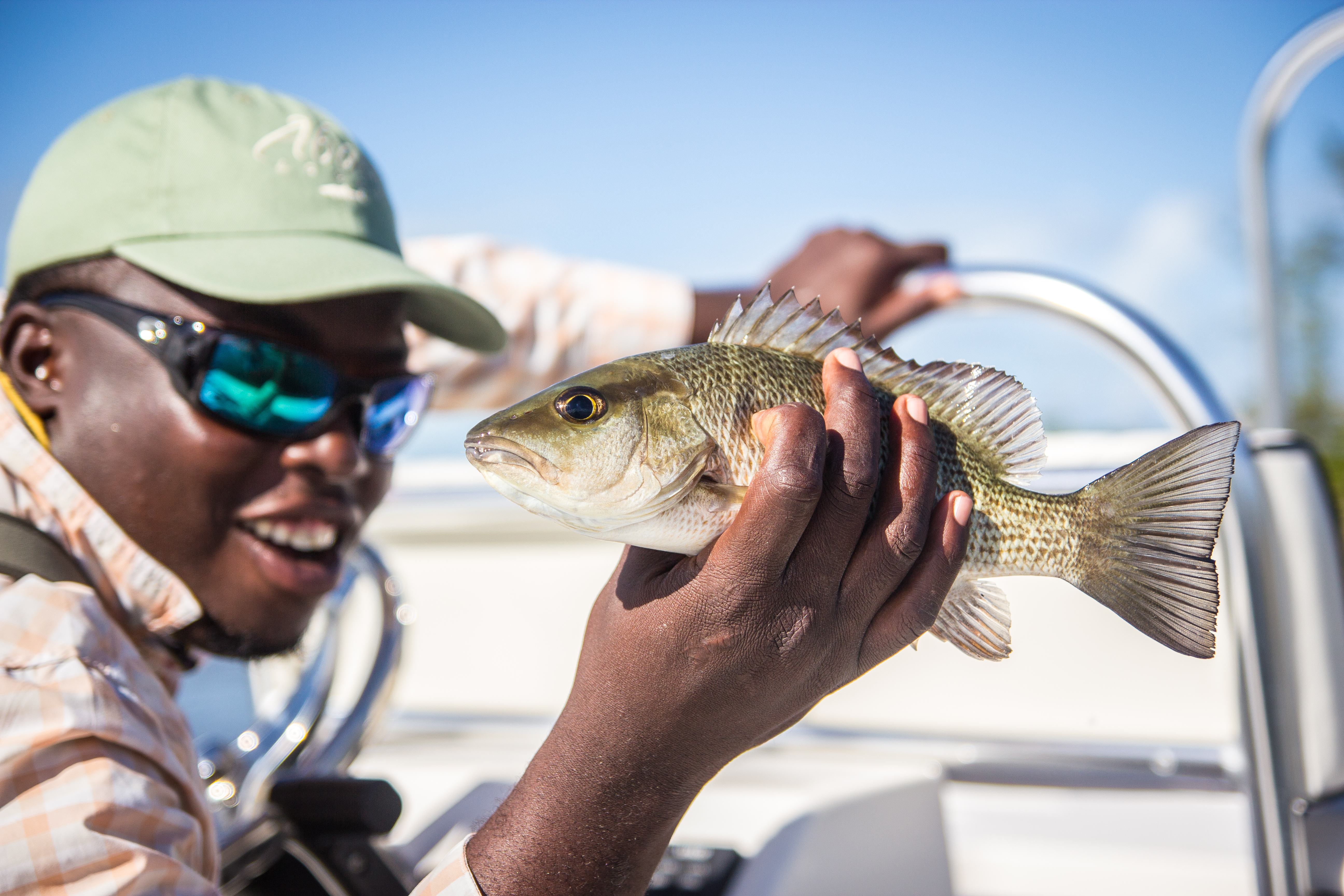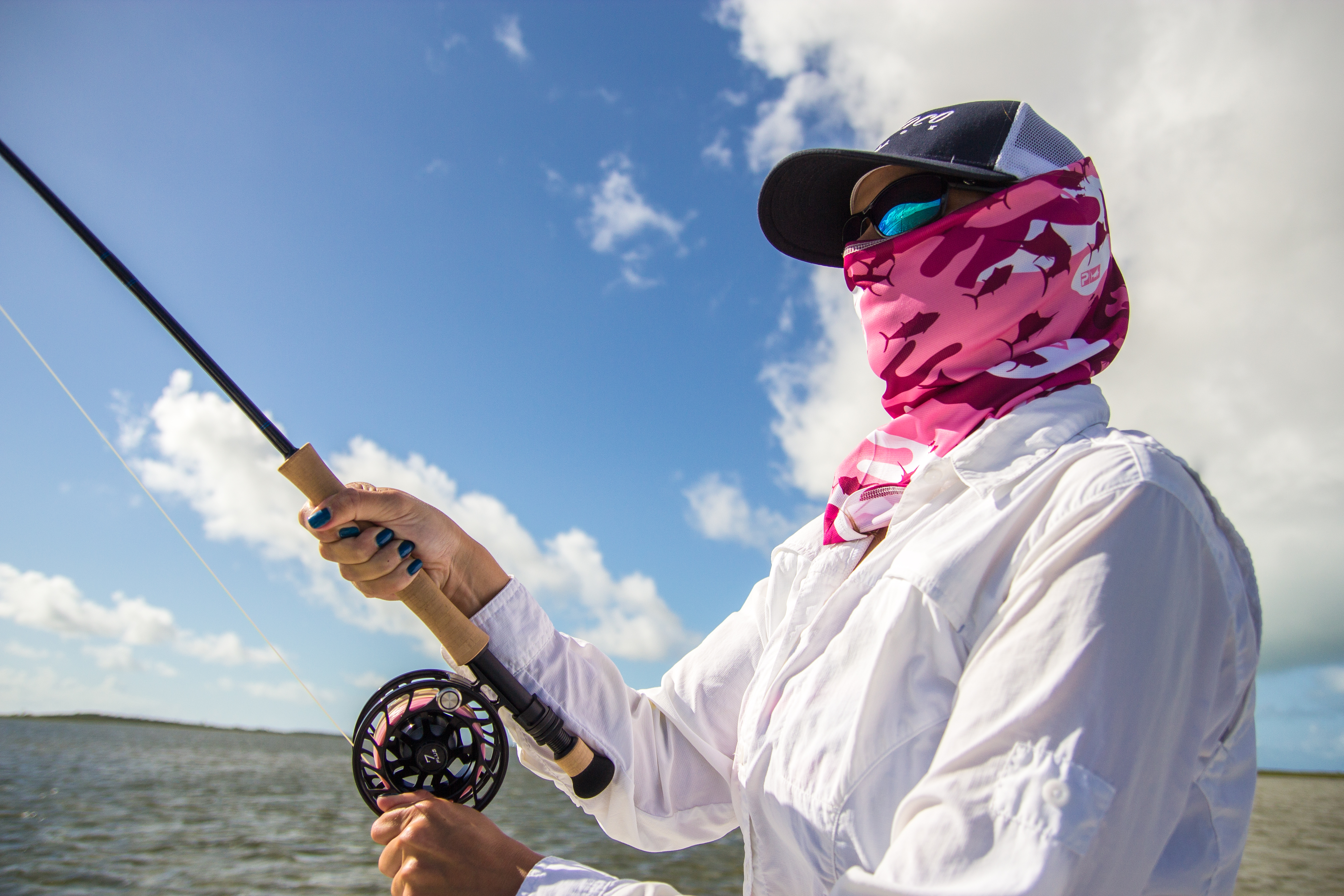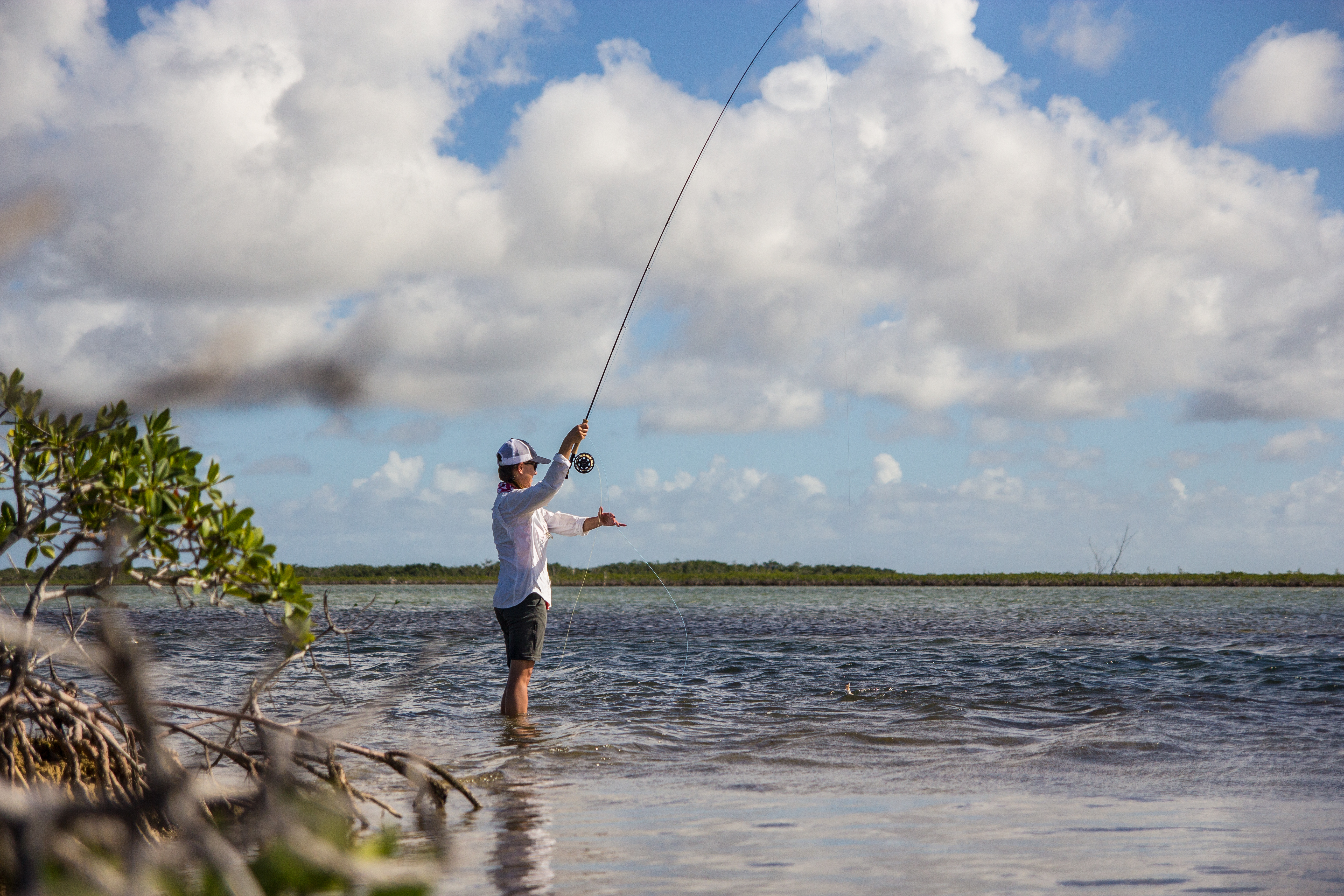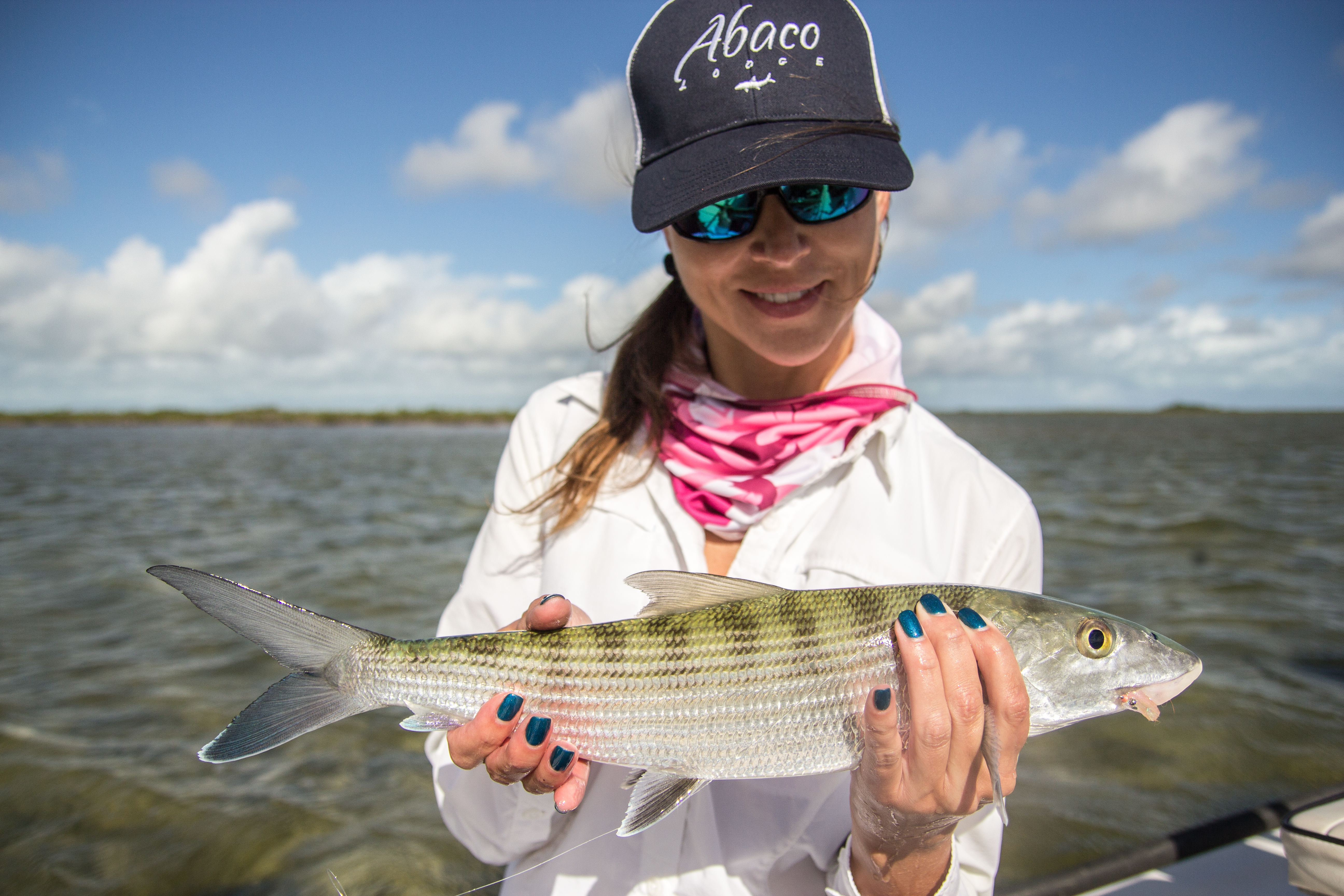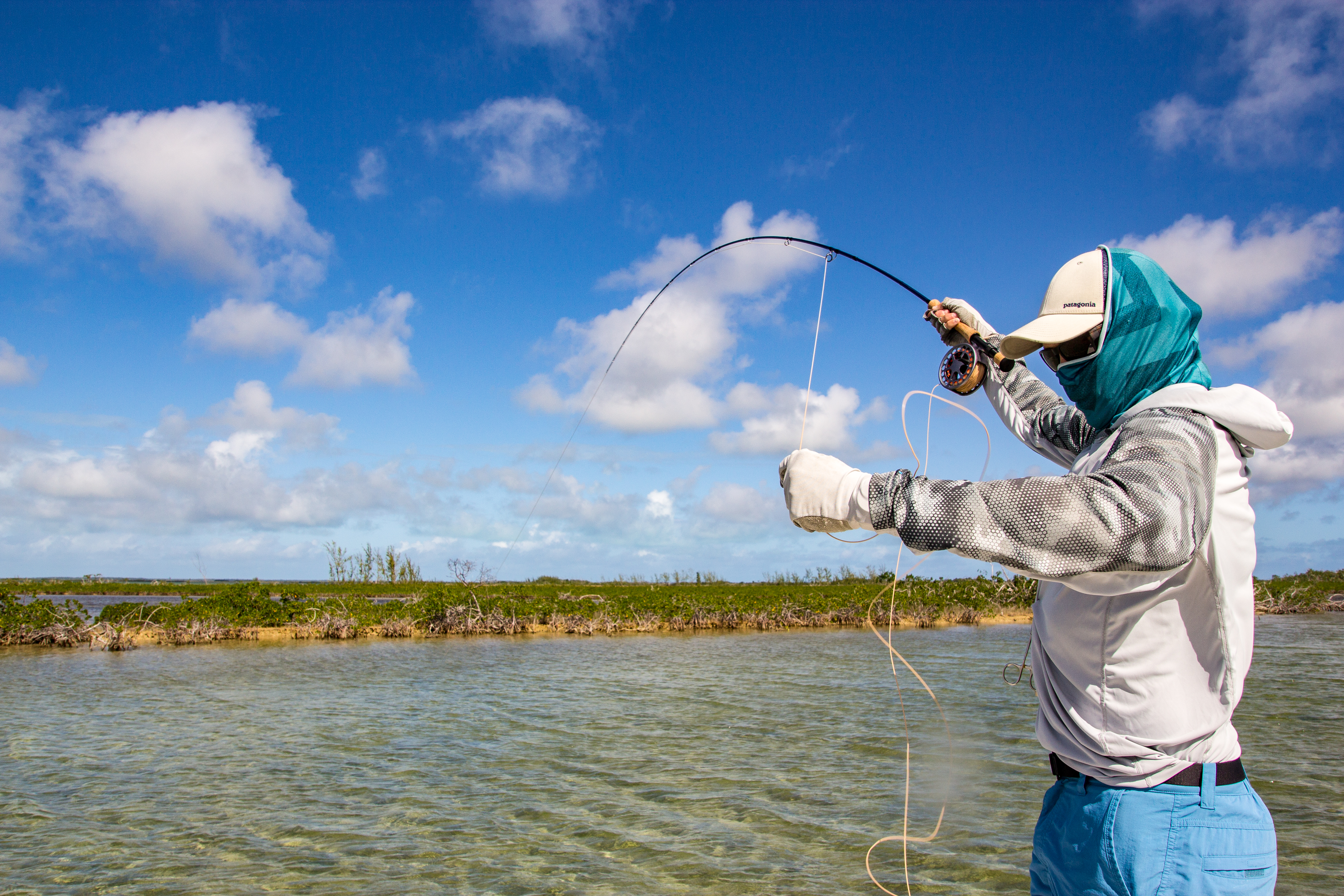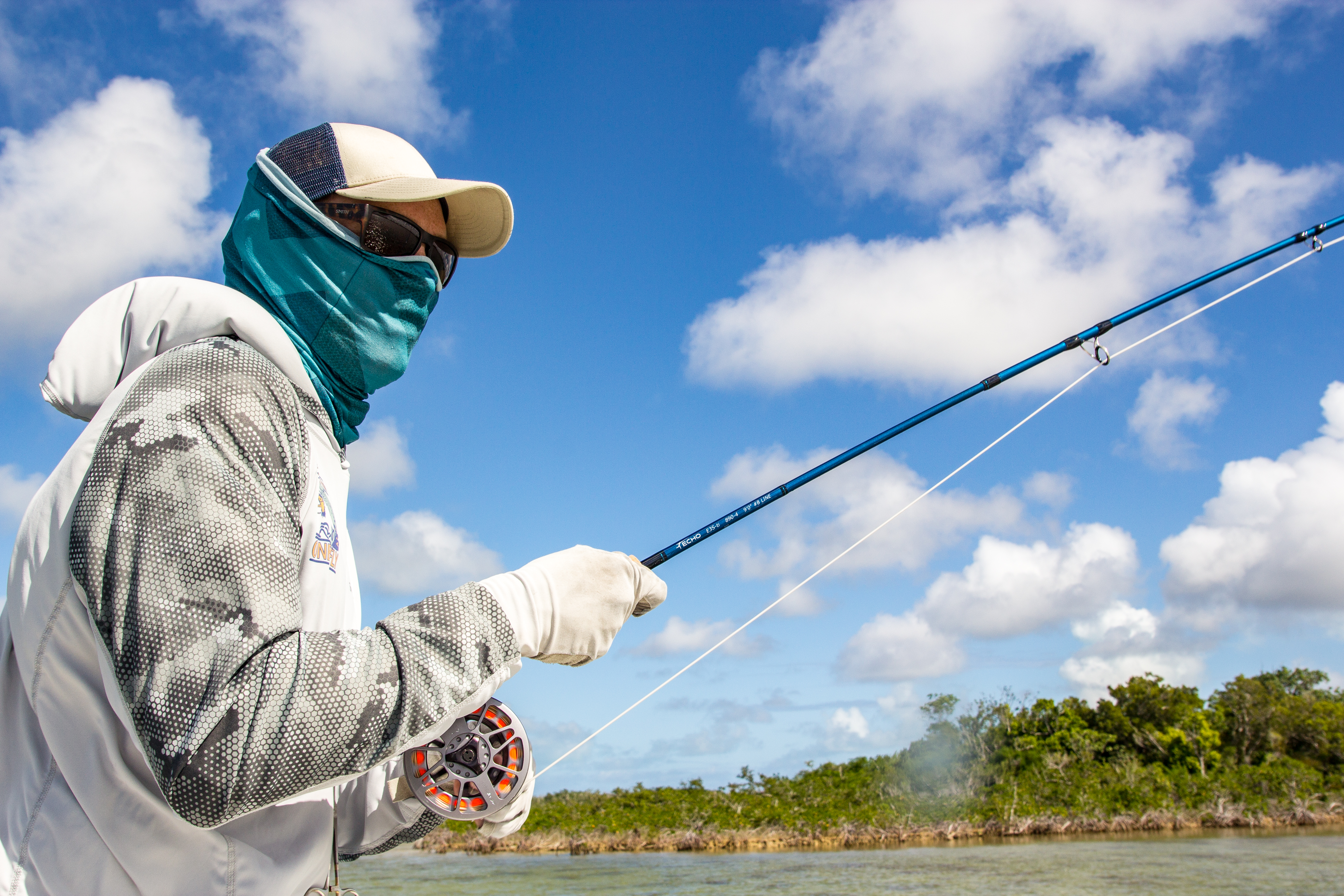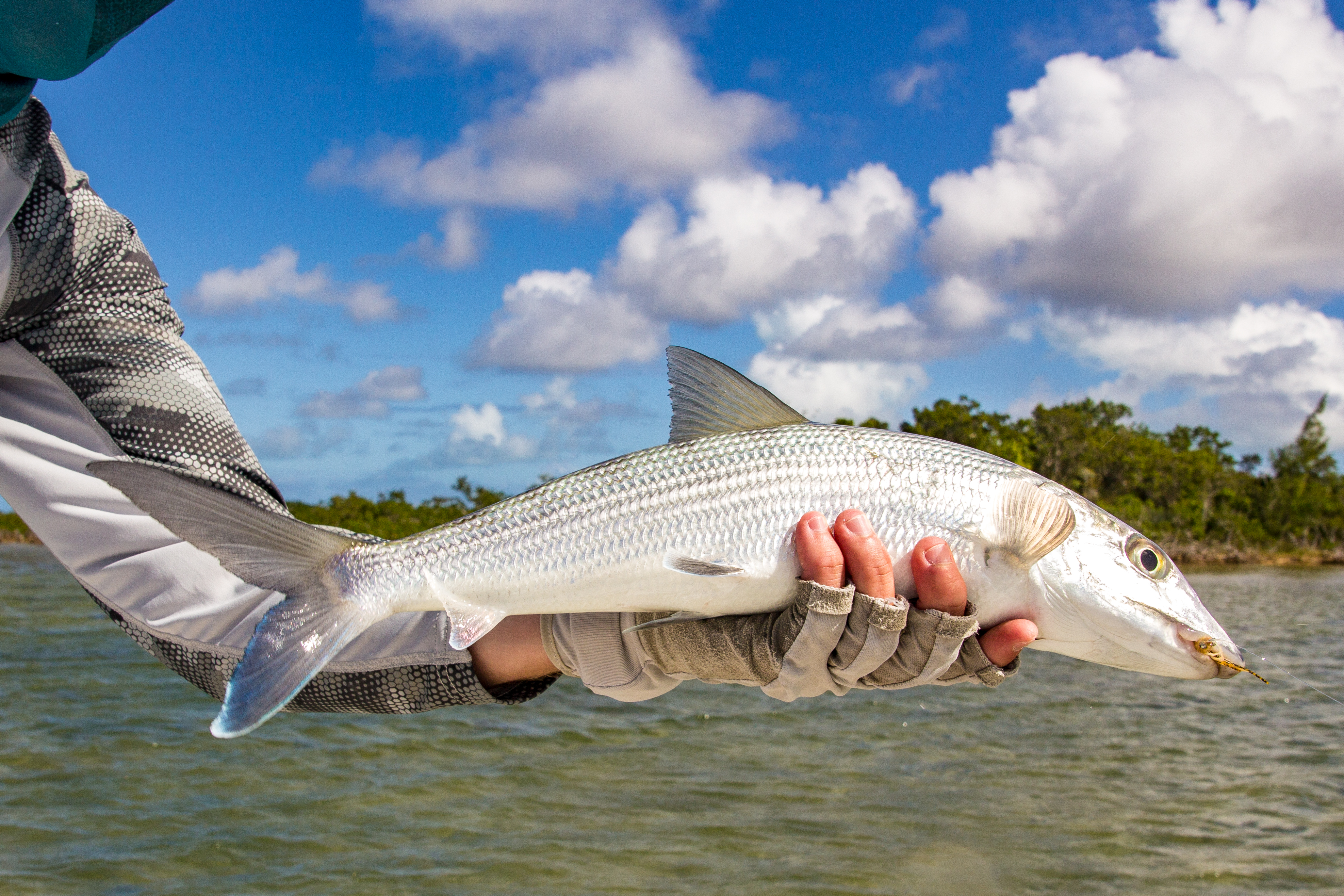 The chef that night prepared an incredible feast for us. For appetizers we had incredible chips and dips, island style chicken wings, more cracked conch, and dinner was fresh caught wahoo and wine and dessert. The tequila shots started early that night and went on way too late but we were used to it by now. The next morning we all woke up to a delicious breakfast of fresh fruit, coffee, breads spreads and pastries which had been coming out of the kitchen daily at this point. Most of the group was leaving on the earlier side that day, but there were a few of us that were able to fish a quick session that morning. So Chip and I jumped in the boat with Paul and beat up on bones for a good four hours.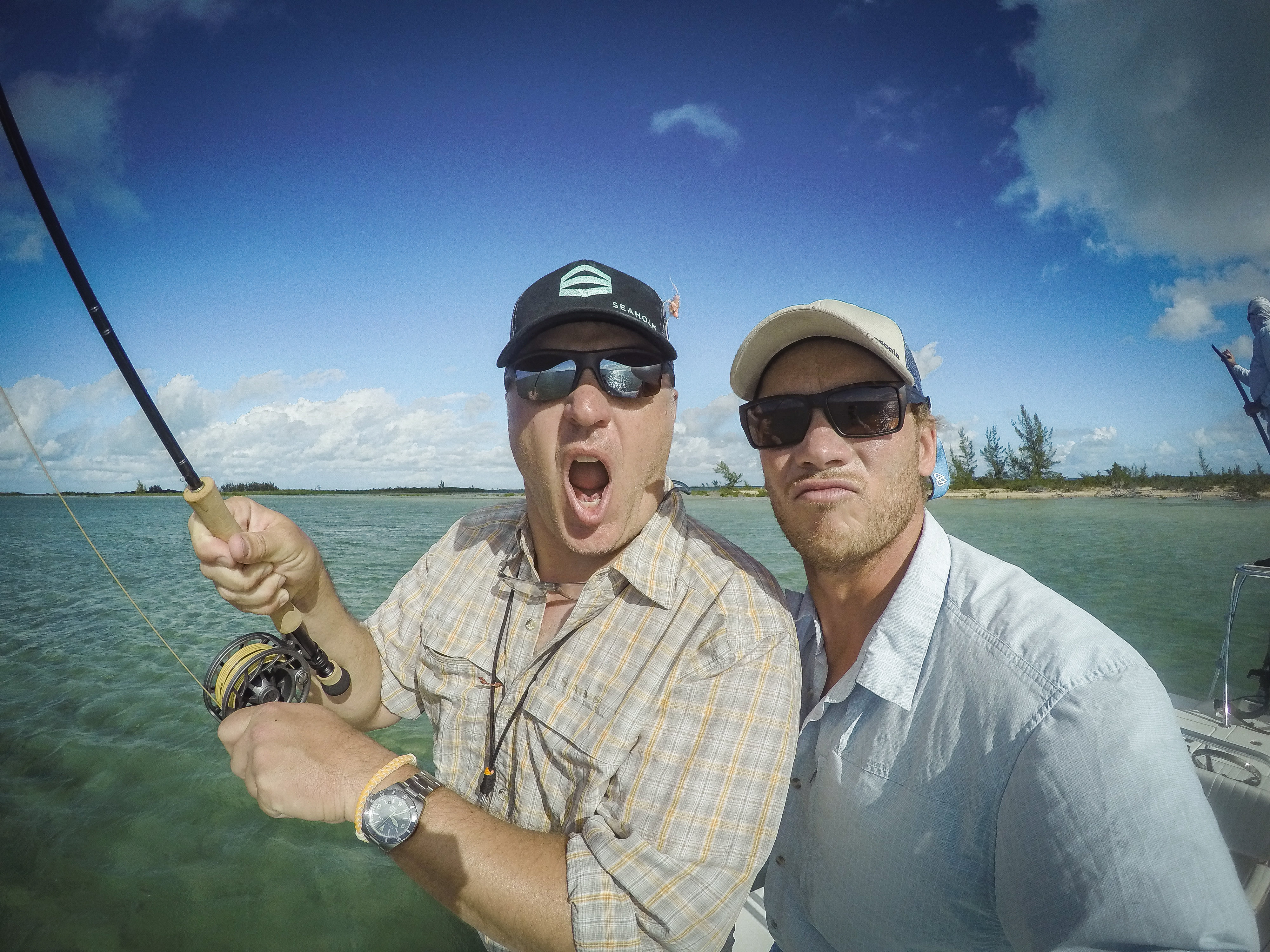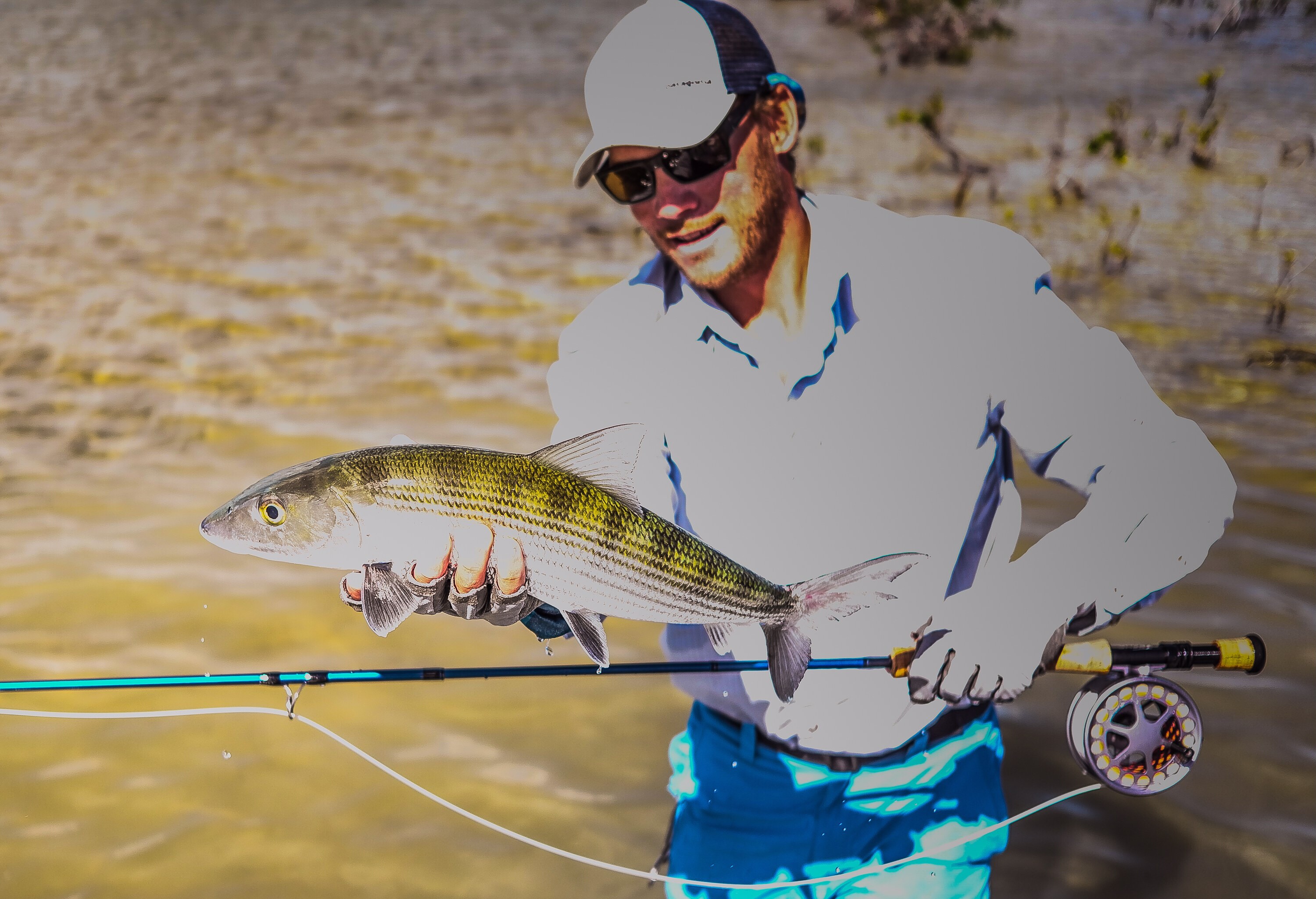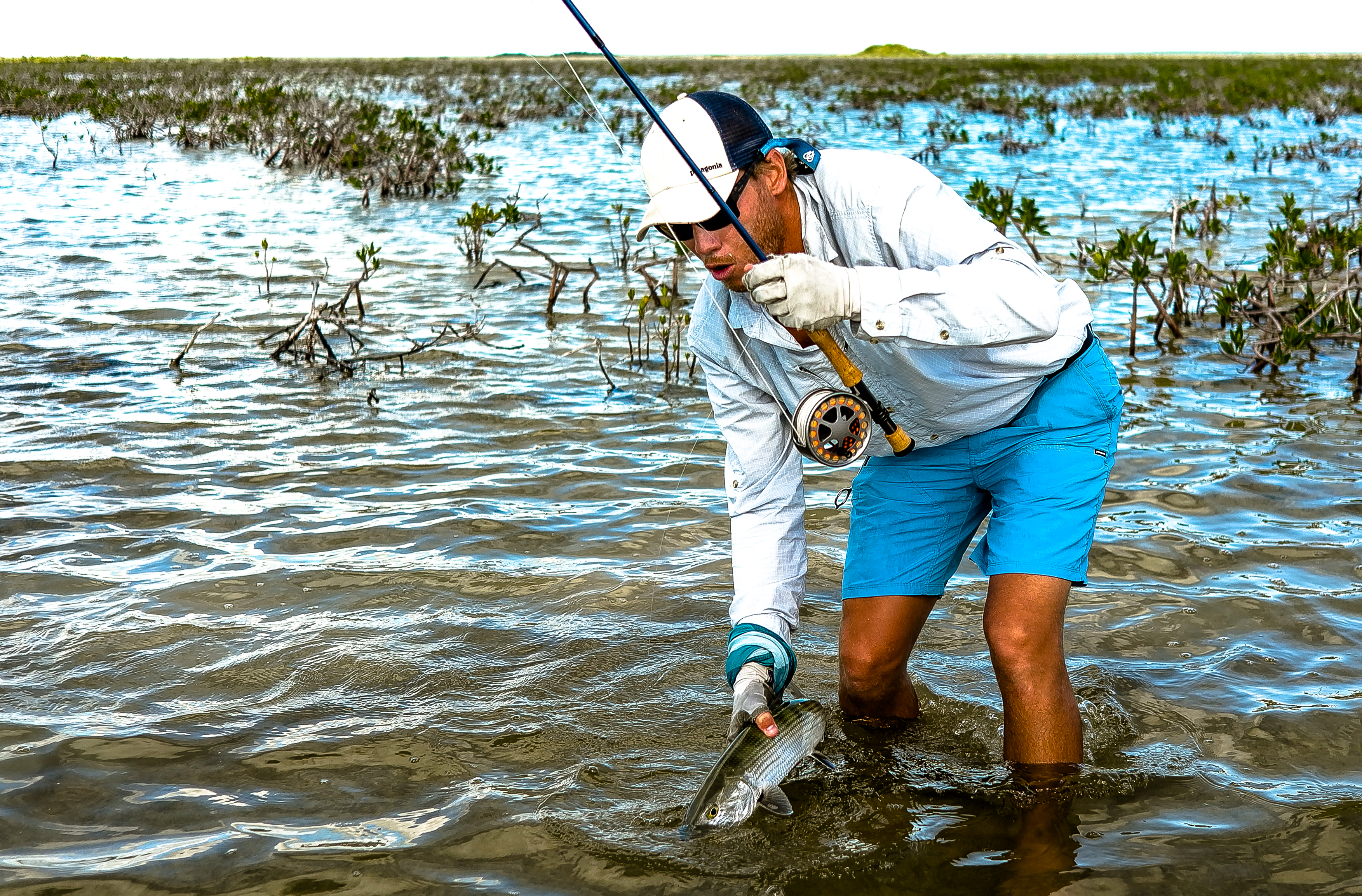 This trip was epic in so many ways. From the very first rum punch to the very last bonefish, I was so impressed by the beautiful fishery and the incredible lodge. It's the smaller things that make it so unique. From the menu cards where you fill out your lunch order with customizable cookies, chocolates, fruits, sandwiches, salads, wraps and more, or the choice of beers and wine and spirits, all included in the cost of the trip. The beautiful rooms with A/C and private bathroom. The shower with good water pressure. The open bar policy where everyone takes turns as barkeep. The lodge managers Christiaan and Lindi and each one of the guides and their own incredible boats which are washed and put away spotless each night. The breakfasts cooked to order and the dinners prepared each night. The turndown service with a cold water next to your bed and a little corner of your sheet folded. The plunge pool and the rod racks and the private dock. It was all so exceptional. It was also the amazing people that joined me on this trip. Chris who is the most laid back guy ever, such a pleasure to be around all of the time. He is the kind of guy that would tell jokes during a survival situation. When you're hugging each other for warmth, stranded on the wrong side of the river in New Zealand during a flash flood. Chris could never get upset about much. Stuart, who was pretty much always the hit of the party and stayed up and partied harder than me most nights. I made sure to keep my mouth shut and ears open while he told one of his incredible stories. Chip who was always sharply dressed and a joy to be around. A new fishing buddy for life. I loved his passion and concentration for the sport.  He is someone who truly enjoys fly fishing. Vicki who was also the hit of the party and so easy to talk to and has the most contagious laugh and so easy to spend 8 hours on the boat with. I feel like I could travel anywhere with Vicki and have a great time and possibly get into trouble or maybe get kicked out of a bar somewhere. Trey who is such a hilarious guy and a great fisherman and so laid back and just goes with the flow of the group. A man who will put patron on ice in the cooler the night before a fishing trip, just to make sure we don't forget it. Suzanne who I have had the pleasure of coaching through her fly fishing obsession for many years now, loved every minute of being out on the flats. Even a fish-less day had her out on the dock practicing her double haul. She is a real student to the sport of fly fishing and truly enjoys the process and the hunt as much as anyone I know. Patrick who is also a fishing guide and a humble and incredible painter. He shares my obsession too and I know we will be on many tips in the future together. I watched patrick mix up cocktails and go down to the dock at times and help folks with their cast. He is an incredible ambassador to the sport of fly fishing.