Abaco Lodge, Bahamas
After many months planning and dreaming about this epic trip to the Bahamas with our group of 14, Scott Smith and I were almost packed and ready to go. I packed my things and unpacked my things then repacked my things, anxiously waiting to hit the road. To hell with this I thought, if it's not in my pack now I probably don't need it. So I decided to sit back and have a beer and let the universe take charge. This trip was extra special because my dad was able to join us at the last second. The three of us left Jackson and made way for Miami where we would spend the next couple days exploring the city, eating our way around and even sneak in a little fishing.
After take off it was literally a matter of minutes and we were descending into the Bahamas. It was a beautiful flight into and over the Marls, and I even picked out a few flats skiffs floating around below me. I knew I was right at home and couldn't wait to get the lodge. Upon arrival, Lindi had a platter of drinks for us and made us feel right at home. Eventually the other guests started showing up. It's not often that travel goes so smoothly. When the last guest showed up I was able to take a deep breath and relax, after all this was shaping up to be a great week at the Abaco Lodge.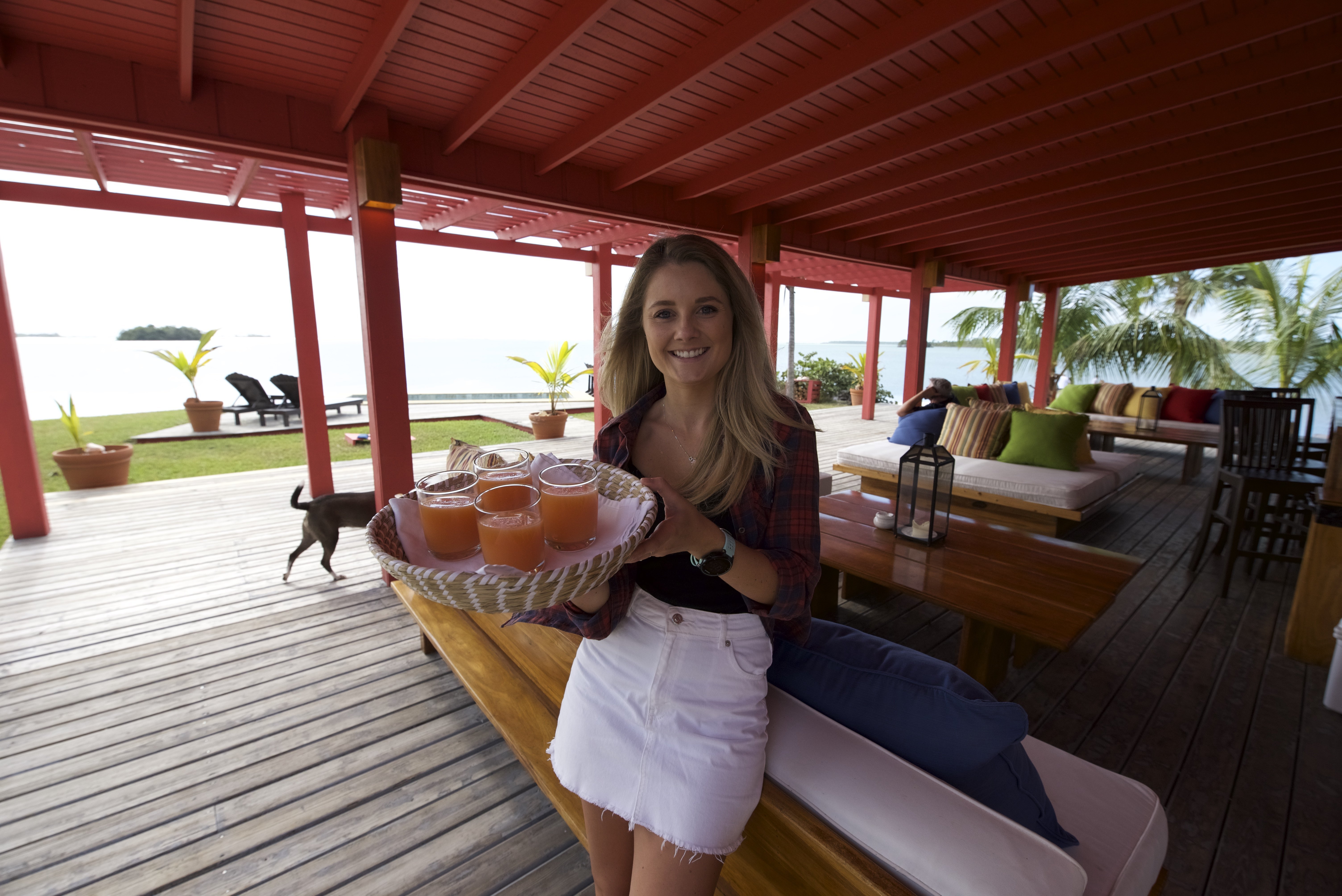 That night we all unpacked and settled into our beautiful rooms. Slowly we started rigging rods and organizing gear for the four days ahead. I rigged up my 8 weight Echo EPR with my Airflo 8 weight bonefish taper for bones and added a 10 foot 12 pound leader. For Permit I rigged up my 9 weight Echo EPR with 9 weight Airflo all around salt taper and added a 10 foot 16 pound leader. For big barracuda I rigged up my 10 weight Echo EPR with 10 weight floating Airflo saltwater taper and tied on an oversized chartreuse deceiver and a piece of 25 pound wire bite tippet attached to a 7 foot 30 lb leader. That night we had a fantastic meal and lit the bonfire early. We all enjoyed the open bar policy at the lodge and stayed up late on the back deck over looking the marls. Finally I was on island time surrounded by good friends and the best part was that we were all going bone fishing bright and early.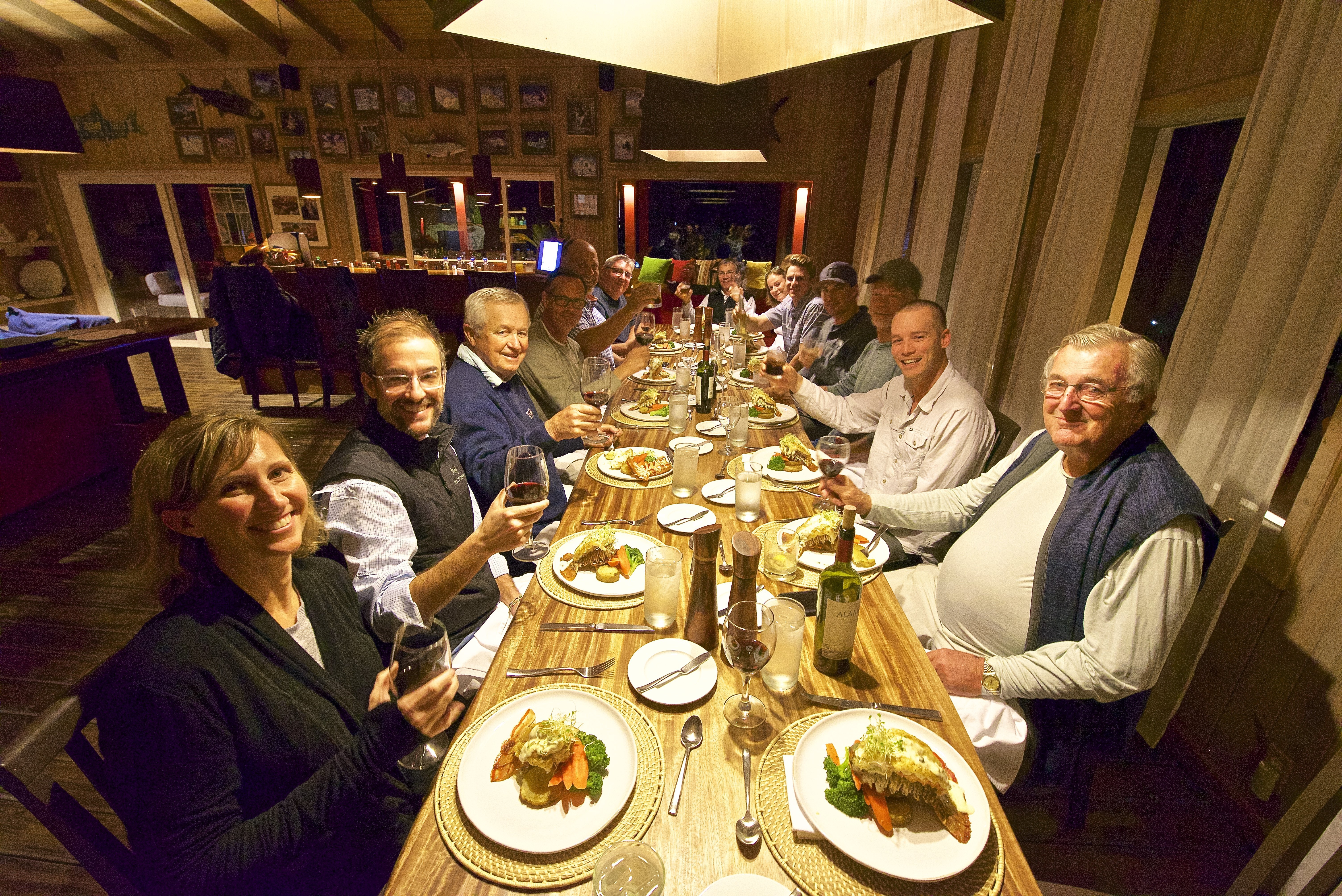 I was lucky to fish with my dad on the first day. After a hearty and delicious cooked to order breakfast and coffee in the YETI mug, we left the dock. We were lucky to fish with Marty who was half a fish himself and actually had a few scales on his skin from his life spent on the platform. Quite an education he has had after years of polling fly fisherman around for bones. I'm sure he has seen some beautiful and incredible action on the Bahamian flats at Abaco lodge. He showed us where the fish were right away. I of course gave my dad the first few shots and he of course showed me how it's done. Within minutes he was hooked into his first solid bone.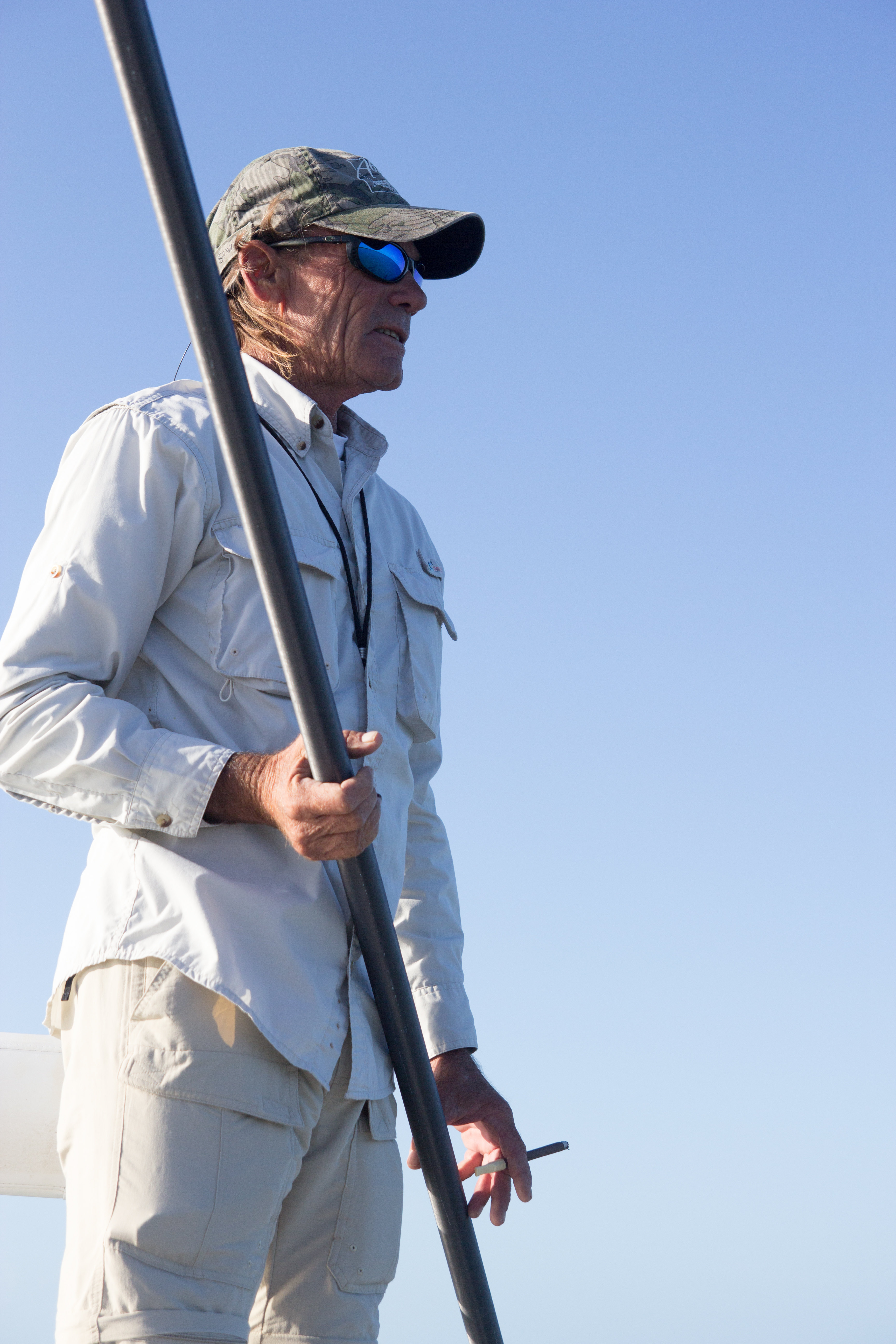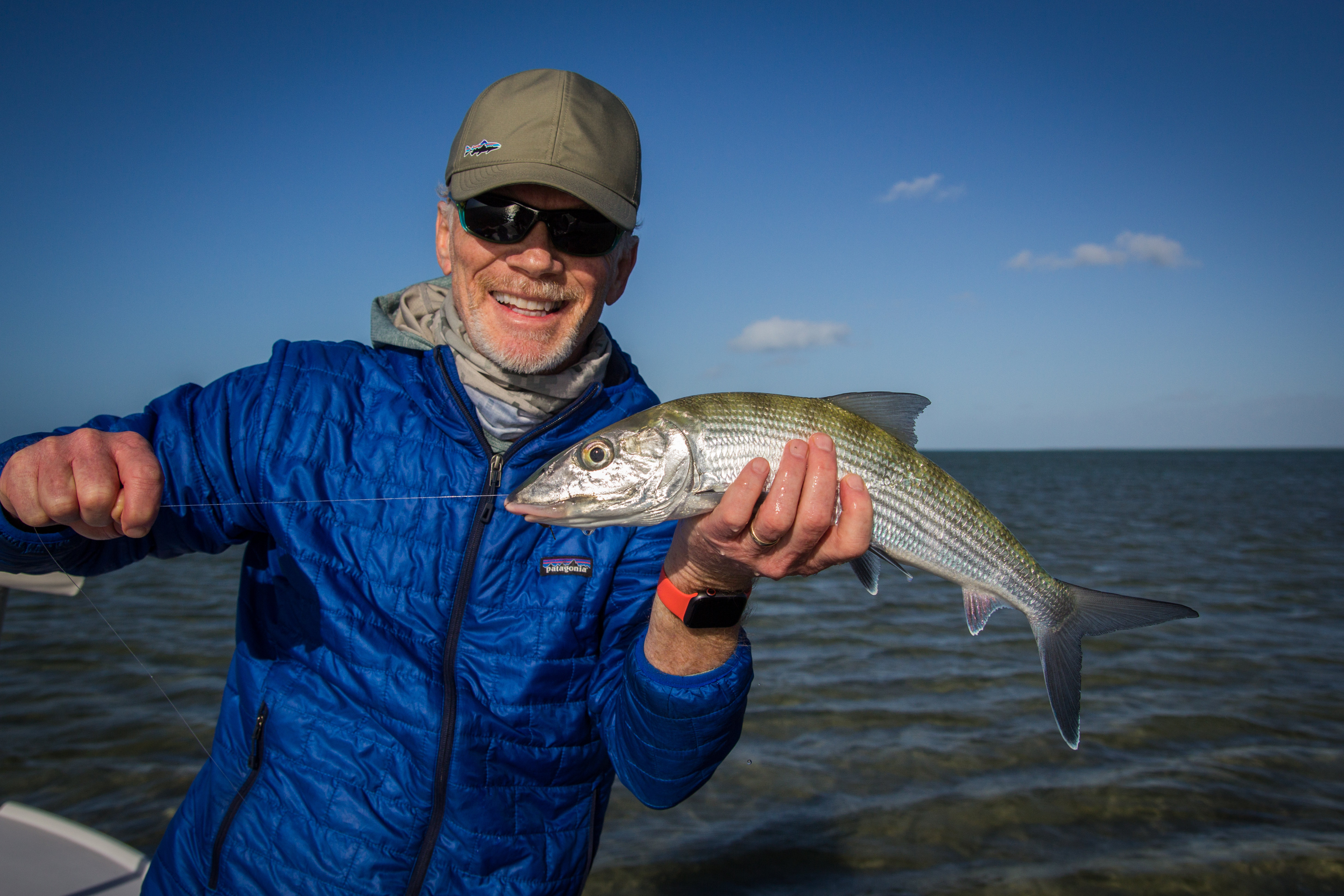 I had a ridiculously fun day hunting bones with my dad. It had been too long since we were out chasing fish together. The bone fishing remained good for most of the day. Eventually the wind picked up, and we had to go further out to the leeward side of these islands and decided to hunt some big barracuda. Luckily after a beautiful lunch of chicken salad sandwiches, chips, fresh fruit, fresh cookies, and a couple cold Kaliks, it was my turn on the bow. My first shot came quick as we quietly polled onto a flat that had two monster cuda swimming side by side. This is the perfect situation and with the right cast they will both compete for the fly and you're almost sure to hook up. That's exactly what happened and the bigger of the two fish ate my fly only 15 feet from the boat. It was short lived chaos after that and the fish took off and peeled my fly line off the reel. It didn't last long and when I decided to put some real pressure on him he somehow spit the hook. I was devastated and Marty was too. My dad on the other hand was speechless and could not believe what he had just witnessed. The fish jumped at one point during the short fight and we all gasped as the fly came shooting back at us. Marty reassured me that there would be another chance and after rigging my leader and a new fly, another big cuda was swimming towards the boat. Big cuda are the top predator on these flats so they do not need the camouflage like a bonefish. They are quite easy to see from a distance. Marty lined the boat up beautifully and I was able to make one good backhanded cast about 10 feet in front of this fish. It's important to throw the fly well ahead of these fish. As the fly landed I started stripping like mad and the big fish showed us the true speed that these fish are known for. I stripped again and held on tight. This time I did not let the fish spit the hook and gave it a good few strips before it was able to take off. About 5 minutes later I landed this fish in the picture below.
We called it a day shortly after then motored back and met the other guests at the dock for happy hour. We were greeted with endless appetizers like stone crab and cracked conch. Chicken satay skewers and various delicious cheeses and charcuterie. It's always an incredible spread at the Abaco Lodge. We of course had an incredible dinner of local caught mahi mahi and beautiful pastries and desserts. The fish tales were endless that night around the raging bonfire.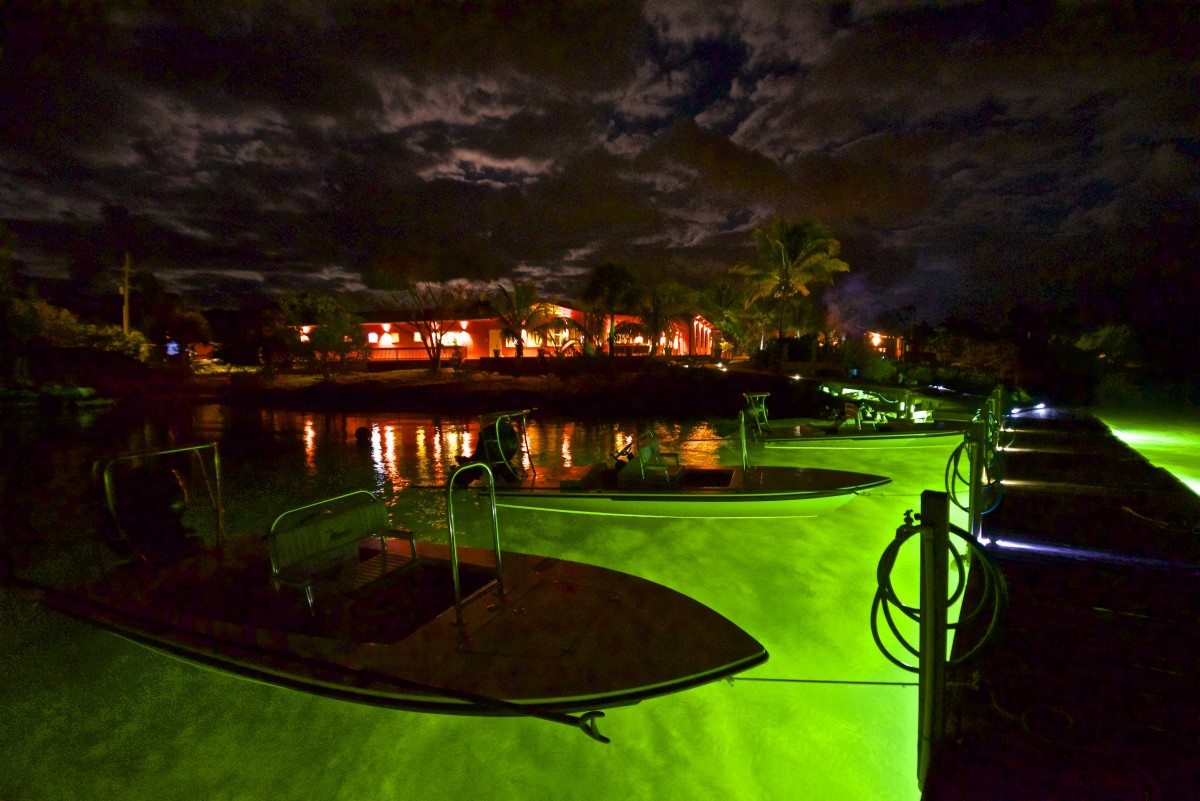 I was lucky to fish with my good friend Stephen Guenther the following day. Stephen and I have known each other for 10 years and have fished the Snake River a bunch. We have had some incredibly fun days together chasing trout out of the drift boat. This was his first fly fishing trip for bonefish. It's safe to say he was trout blind before this trip. Now he is hooked and I think he will be traveling a lot more in search of interesting fish to catch with a fly rod!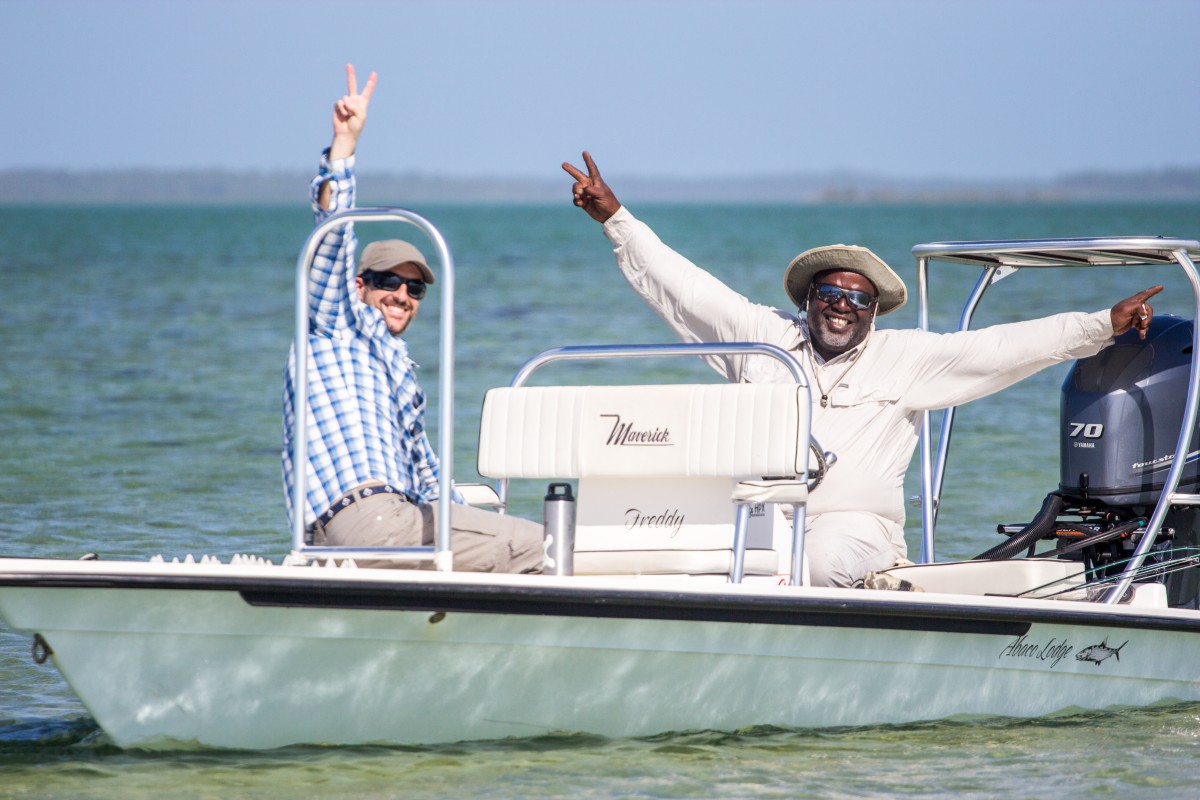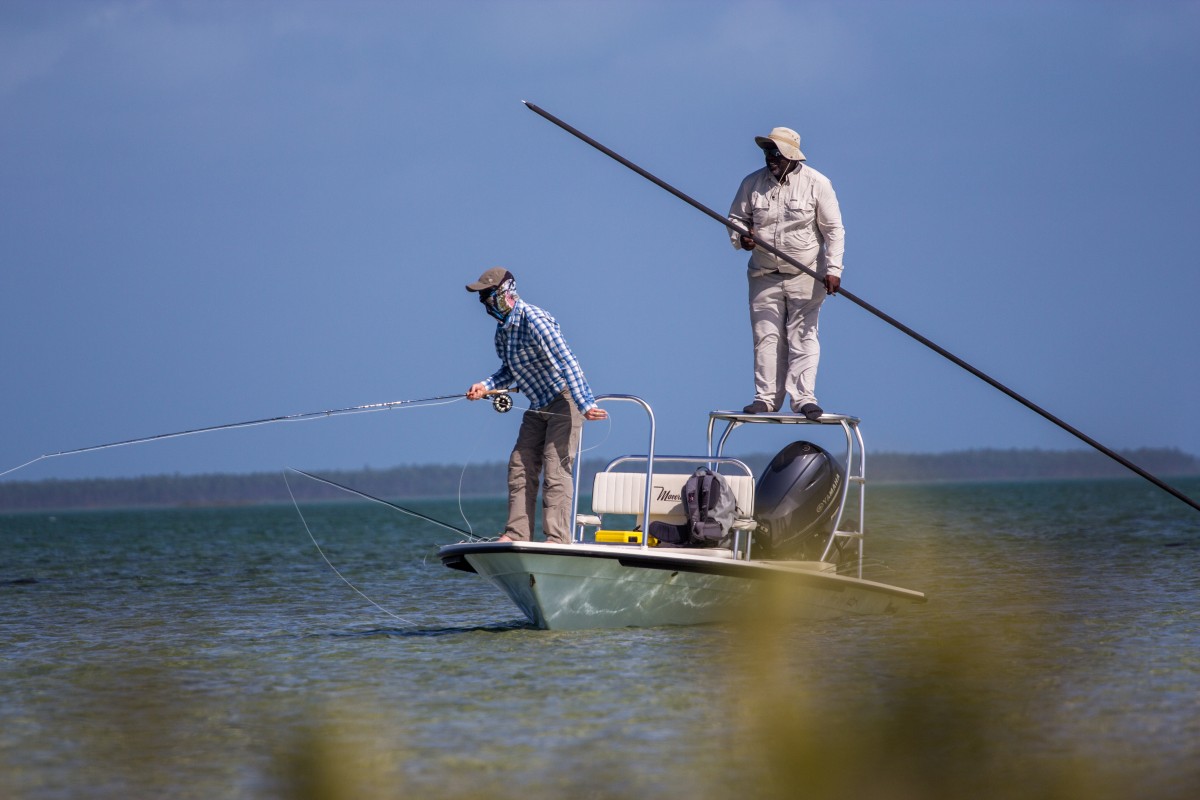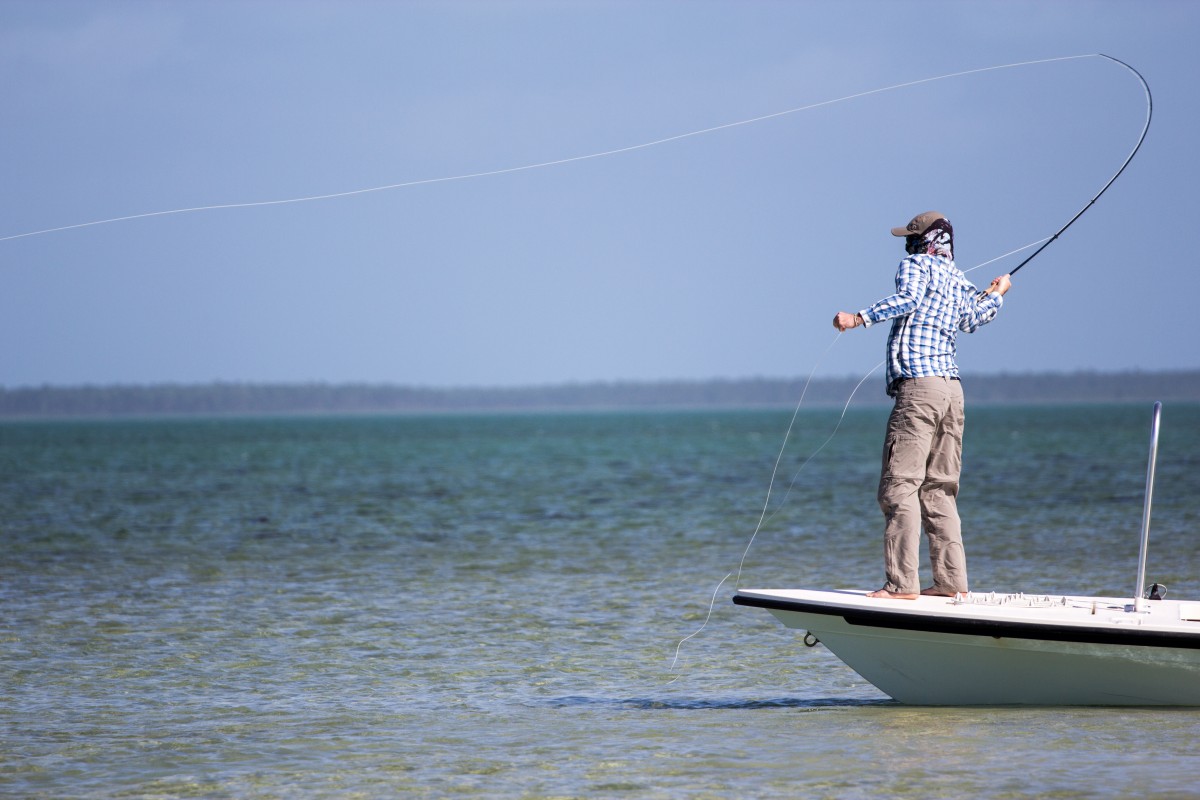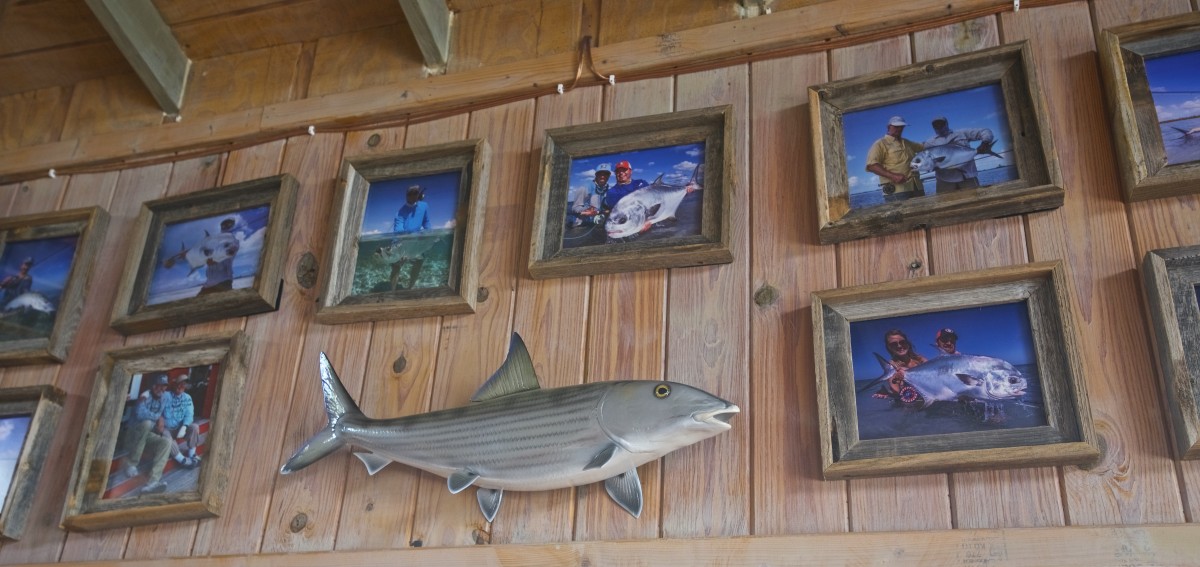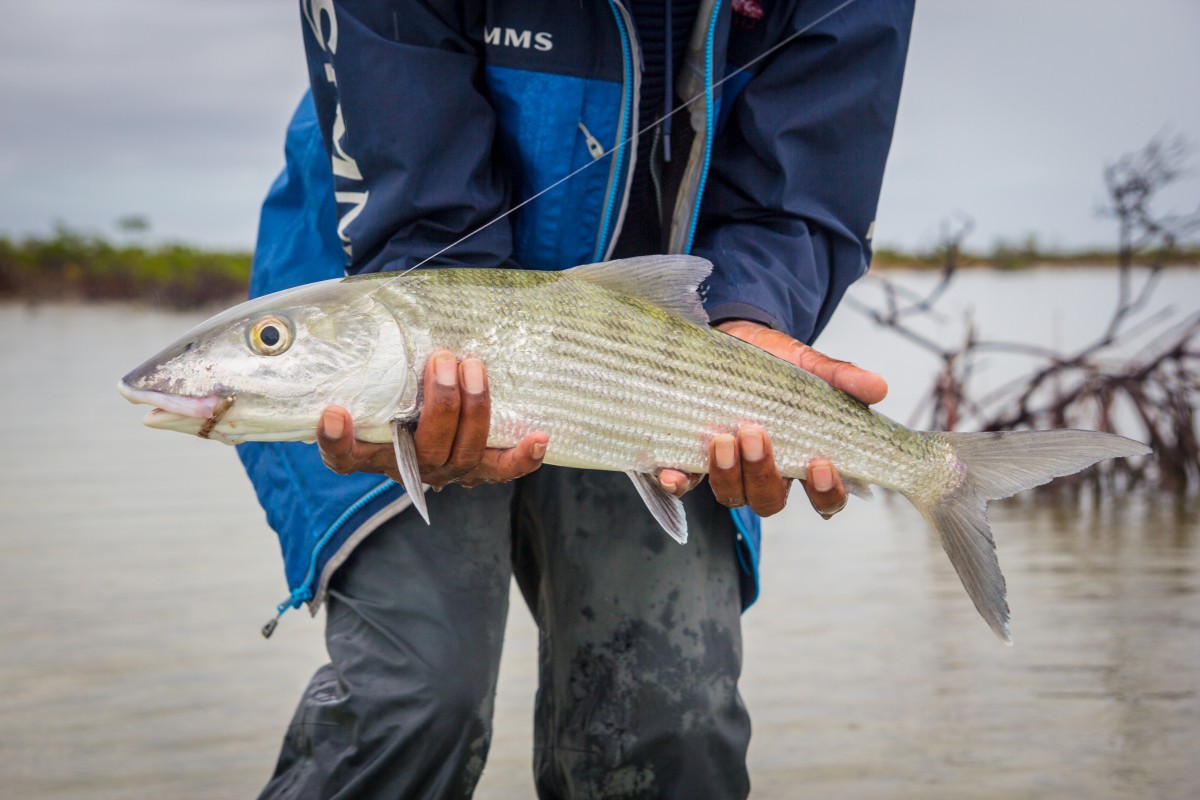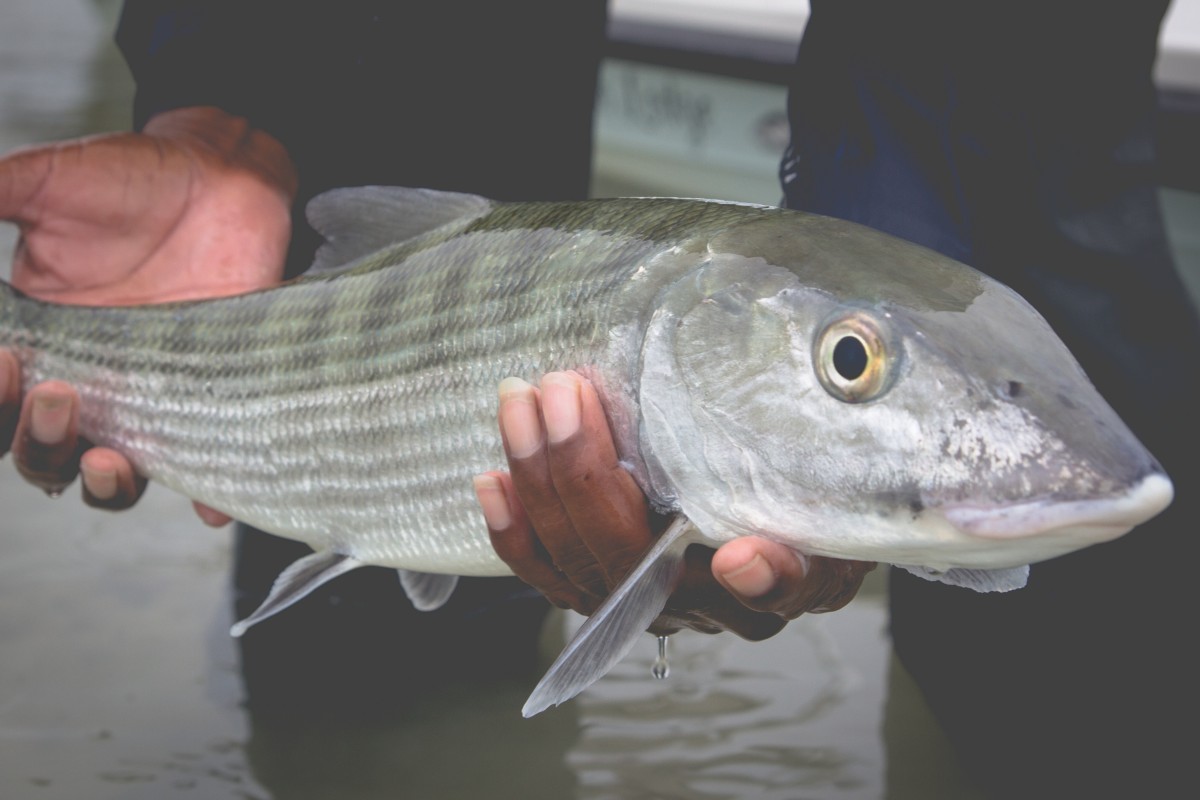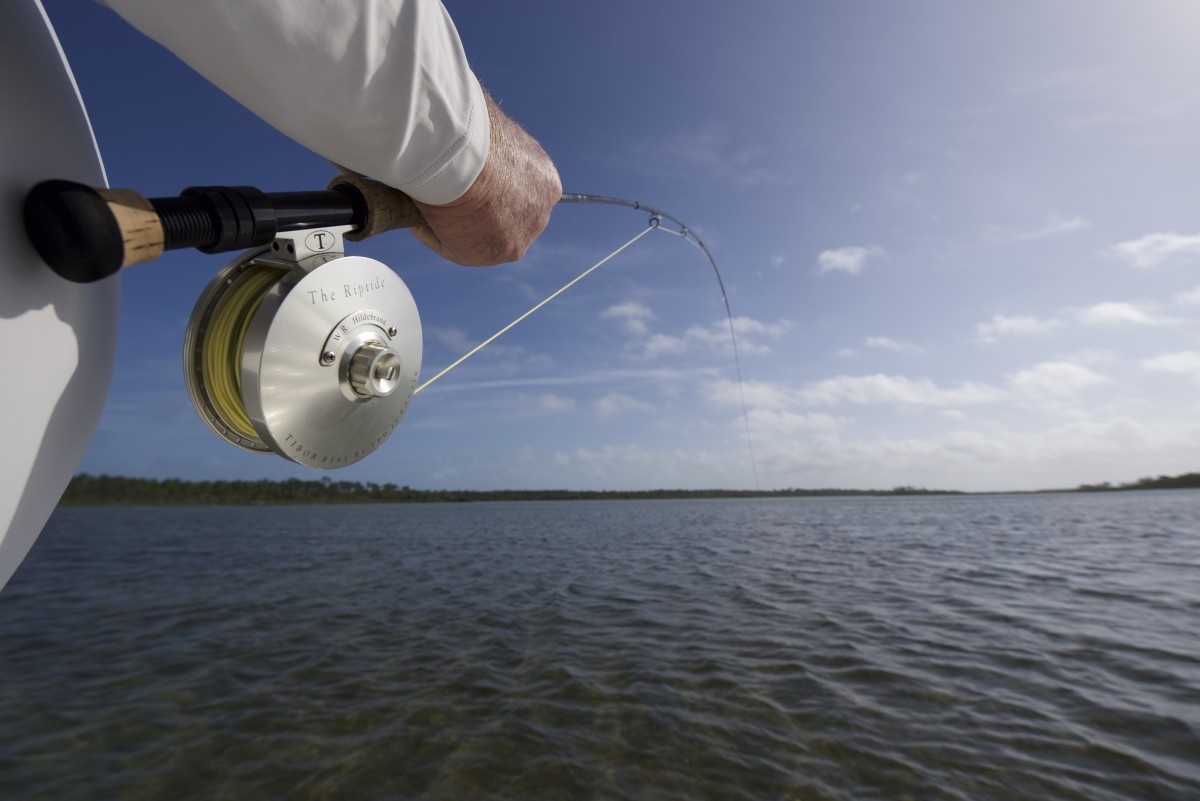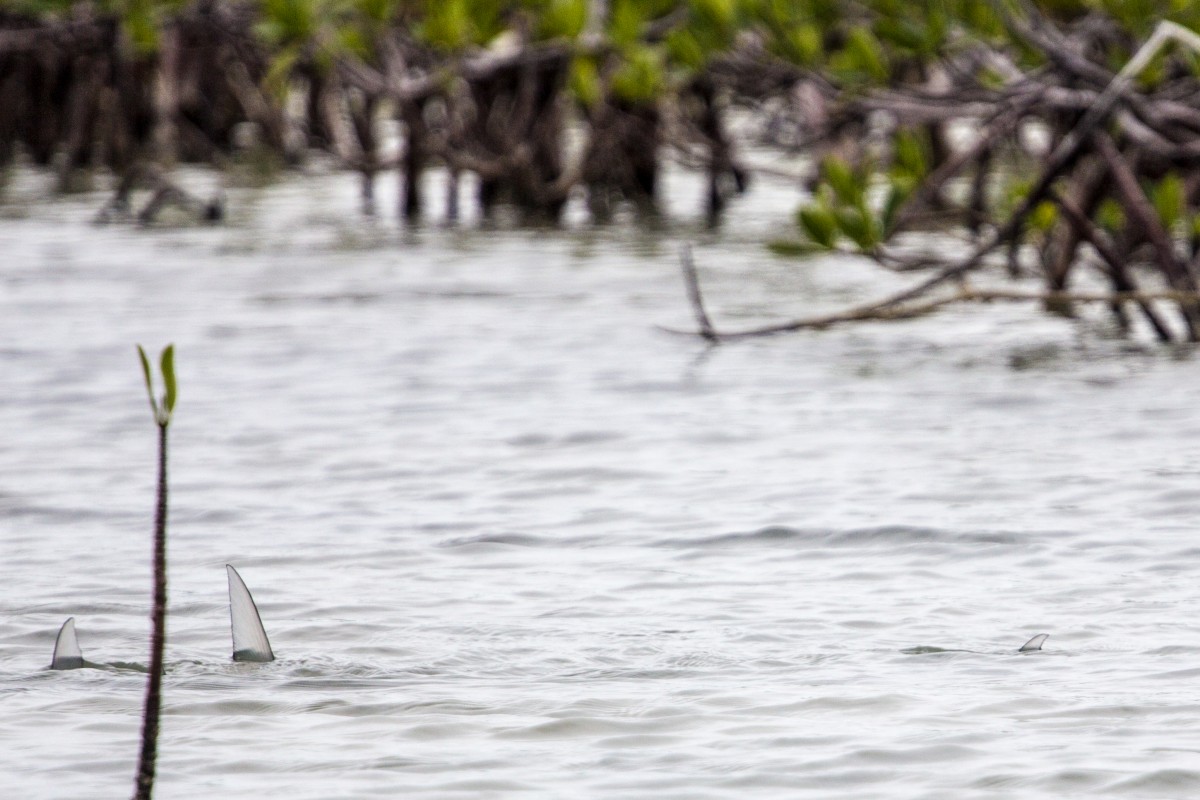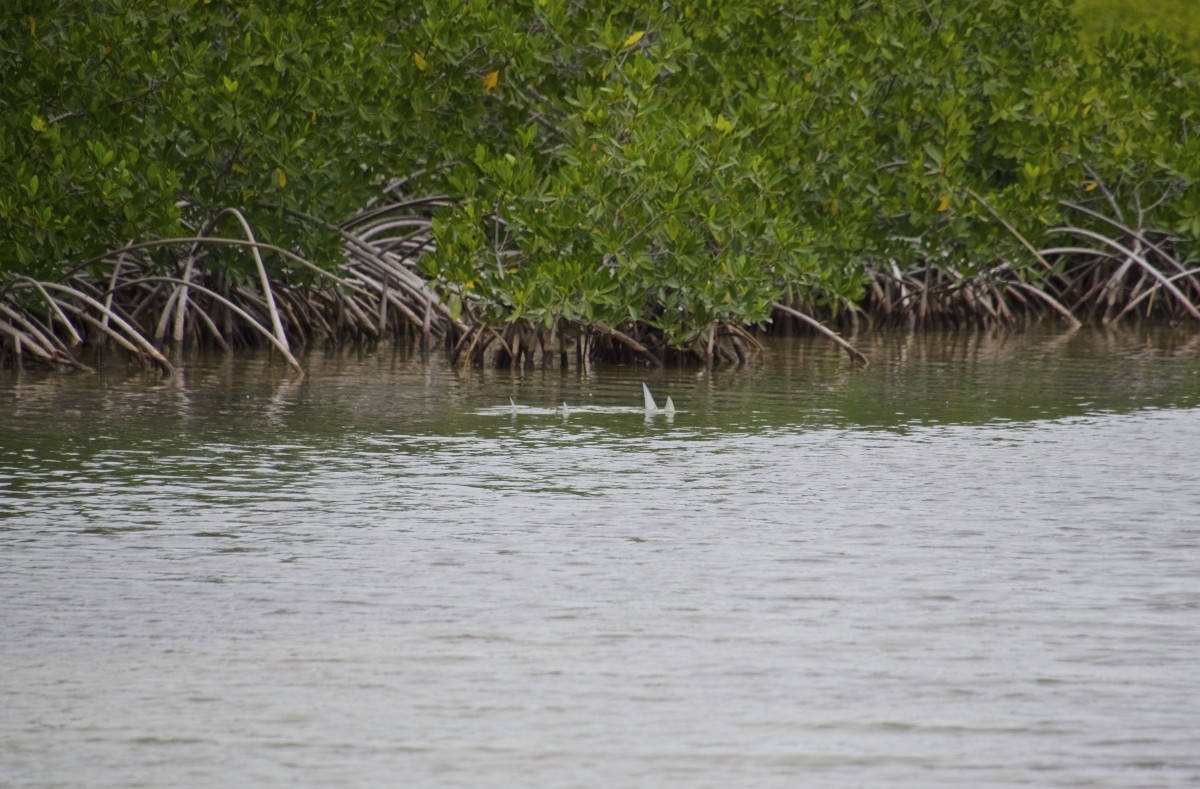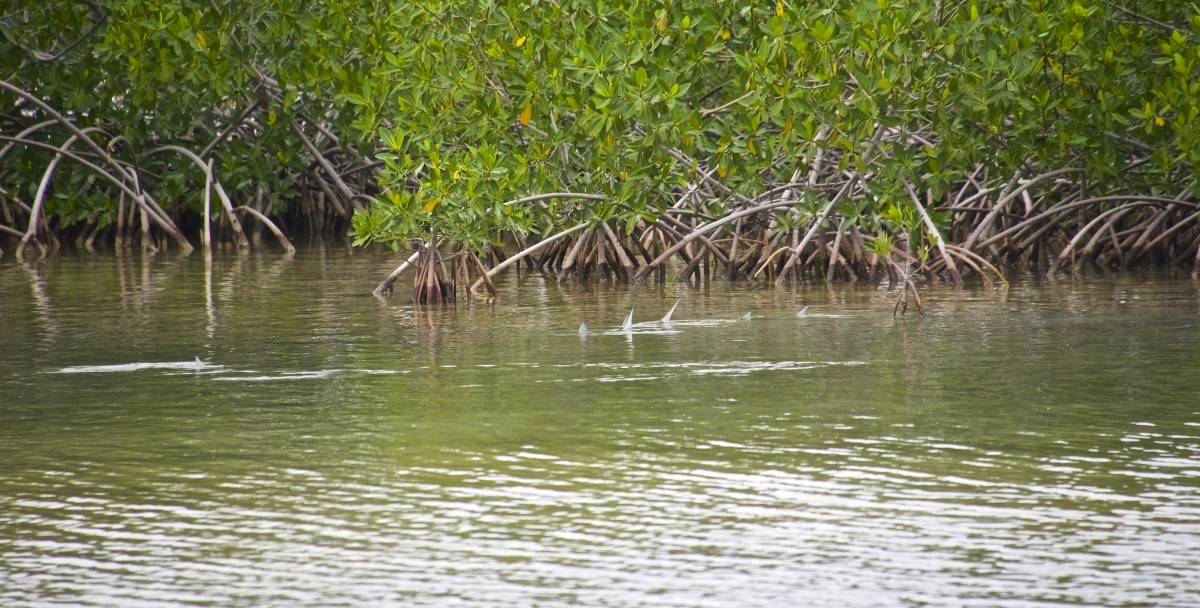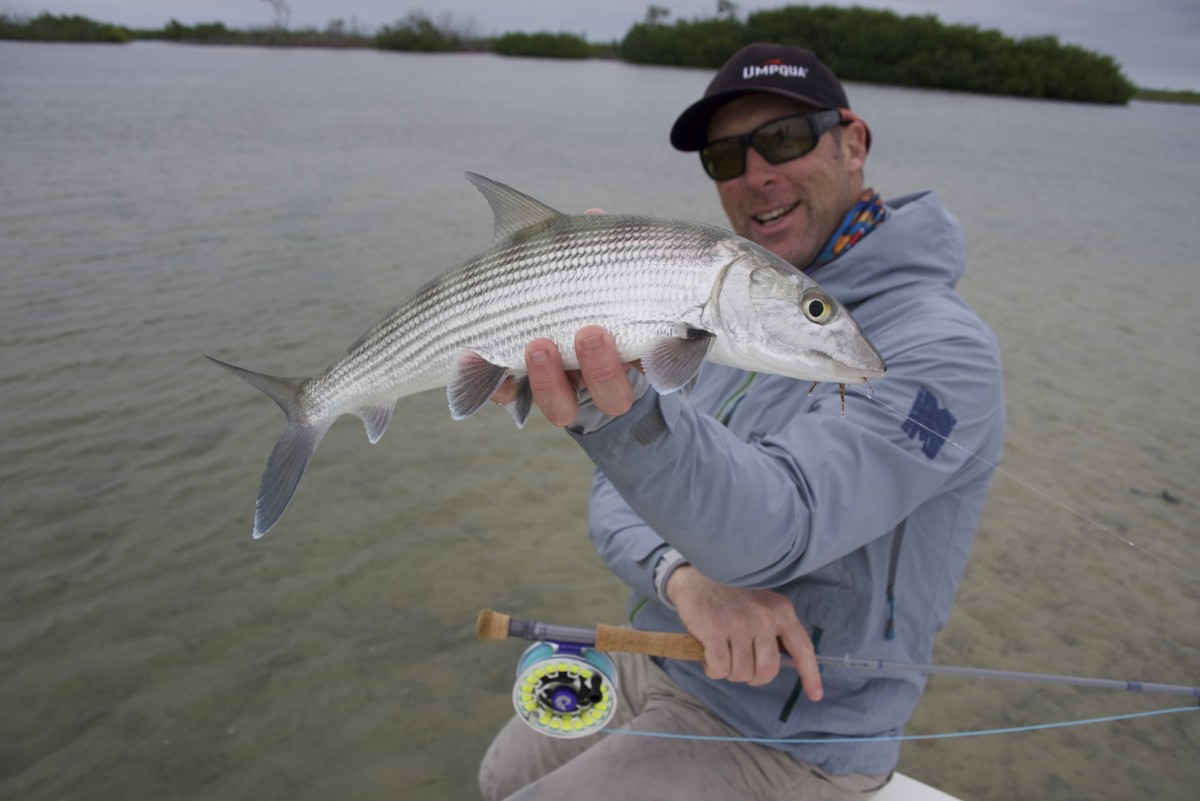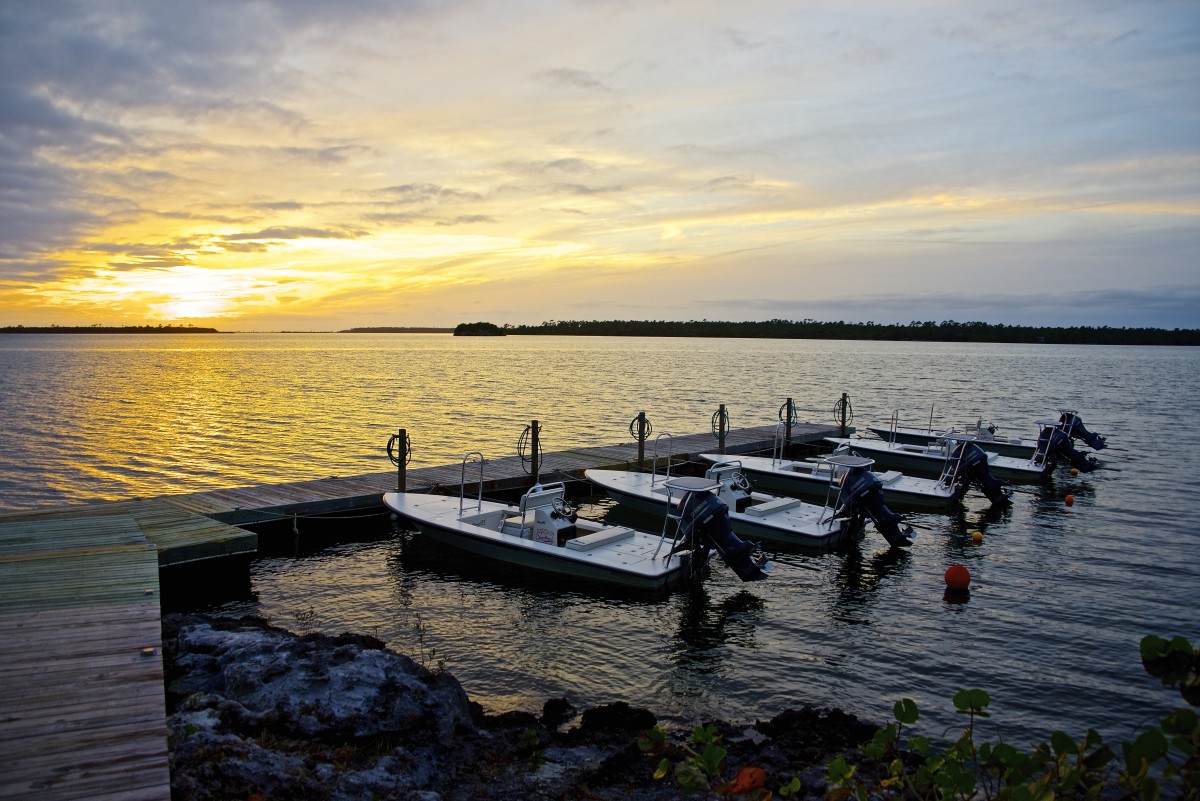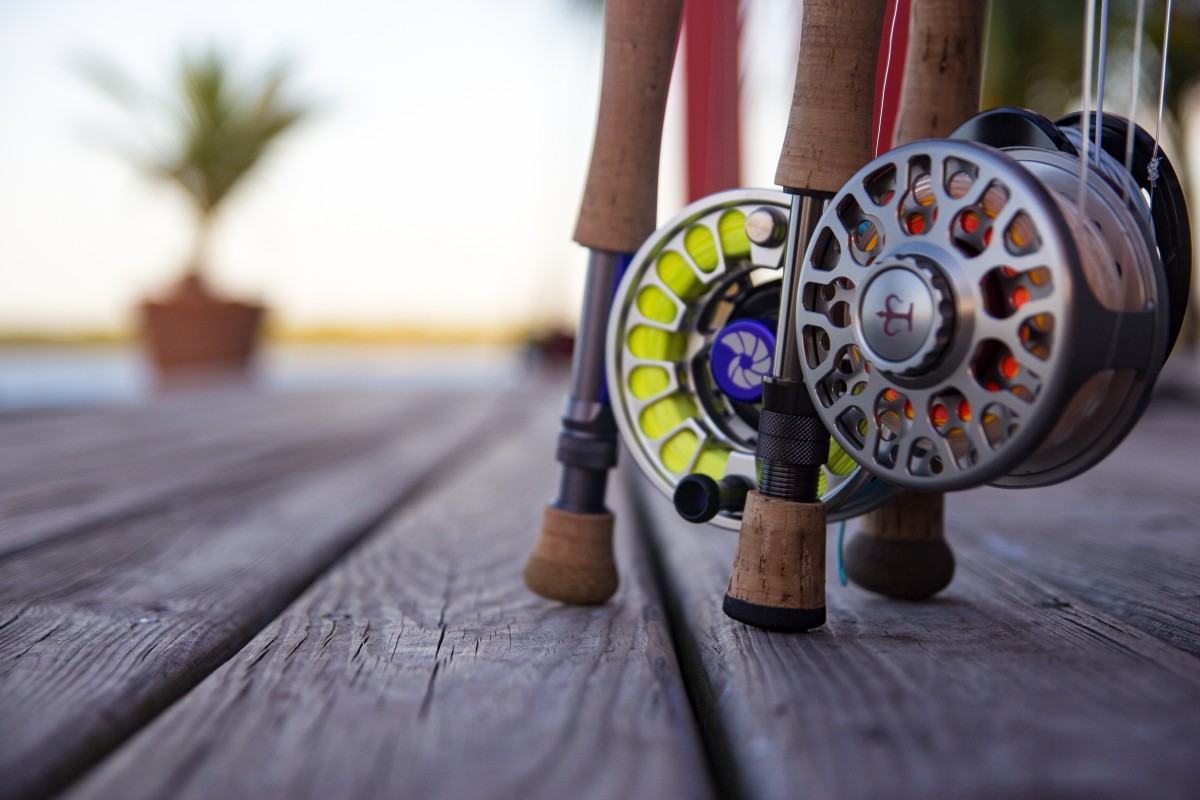 On the final day of fishing something happened to me that I will never forget. Skip and I had a pretty successful day, although the weather was terrible and we were soaking wet. I told Skip numerous times we could call it a day and head back to the lodge if he wanted and I think I was projecting on him that actually, I wanted to head back to the lodge and call it a day. Finally we agreed it was time to wrap it up. We were on a very long and narrow flat with mangroves on both sides though, and it was too shallow to motor out. So instead Paul insisted on polling out. So I decided to stay ready with Rodney up front. In the distance I saw something that I immediately dismissed as a shark it was so big. So I reeled in the 8 weight Echo EPR and grabbed the 10 weight Echo EPR with my wire bite tippet and shark fly and started stripping off line to make a cast. All of the sudden this shape started coming into view, and along side it another tail and dorsal fin popped out of the water. Sharks don't swim in pairs like that, only monster oceanic female bones do that. In a moment of chaos I concluded that I was about to cast at the biggest bonefish of my life. I was shouting orders now and went into a confused state where I attempted to start guiding Paul or Skip to this fish and barely kept my cool but reminded myself that the rod was in my hand for once as I started false casting towards this shape that reminded me more of a manatee than a bonefish. I was reminded of something my good friend Tony Entwistle once said to me about casting to a big fish which was, your most accurate on your sixth cast. This was true as I made my final cast landing the fly softly in from of the lead fish which in this case was the bigger of the two. I stripped in my slack and moved the fly only 6 inches. The fish saw it and swam at it quickly and I knew all I had to do was keep tension. It was one of the most beautiful moments of my life as I kept my rod low and gave a firm strip set, the fish not giving an inch. I knew it was going to be a battle till the bitter end and I was in it for the long haul. Bring it on I thought as I know I had brought my A game to the flats that day. I fish the best rods made, I fish the best fly lines made, I fish the best reels made, I fish the best leaders and tippet made, and of course I tie my flies on the strongest hooks made, so I know I had the upper hand. The fish immediately took off and went straight through the mangroves and wrapped all my line up and started swimming at me and then behind me. The best tackle in the world can't prepare you for this moment. The first thing I did was back off my drag, knowing that a fish doesn't pull against you if there's no tension pulling on it. I jumped off of the boat and landed on sharp rocks with my bare feet and didn't feel thing I was so excited. Paul shouted to get back in the boat so we polled over to the mangroves and freed my fly line. If you can believe it the fish was still on the other end. With my large arbor Nautilus I was able to reel in fly line quickly and gain on the fish. We were nearing the end now and I finally got a good look at the true size of this fish. She got a good look at the boat at this moment too and didn't like what she saw. With a splashy kick of her tail she was gone and so was my entire fly line and 50 feet of backing. I just couldn't stop her. A few minutes later she was near the boat again, all the while my 80 year old boat mate Skip was cheering me on almost as if this was his fish to land. Paul jumped off the platform (avoiding the rocks) and got a good hold around her tail. I said a quick prayer to the ocean and the flats and the mangrove forests all around me that I would be allowed a quick picture with this beast.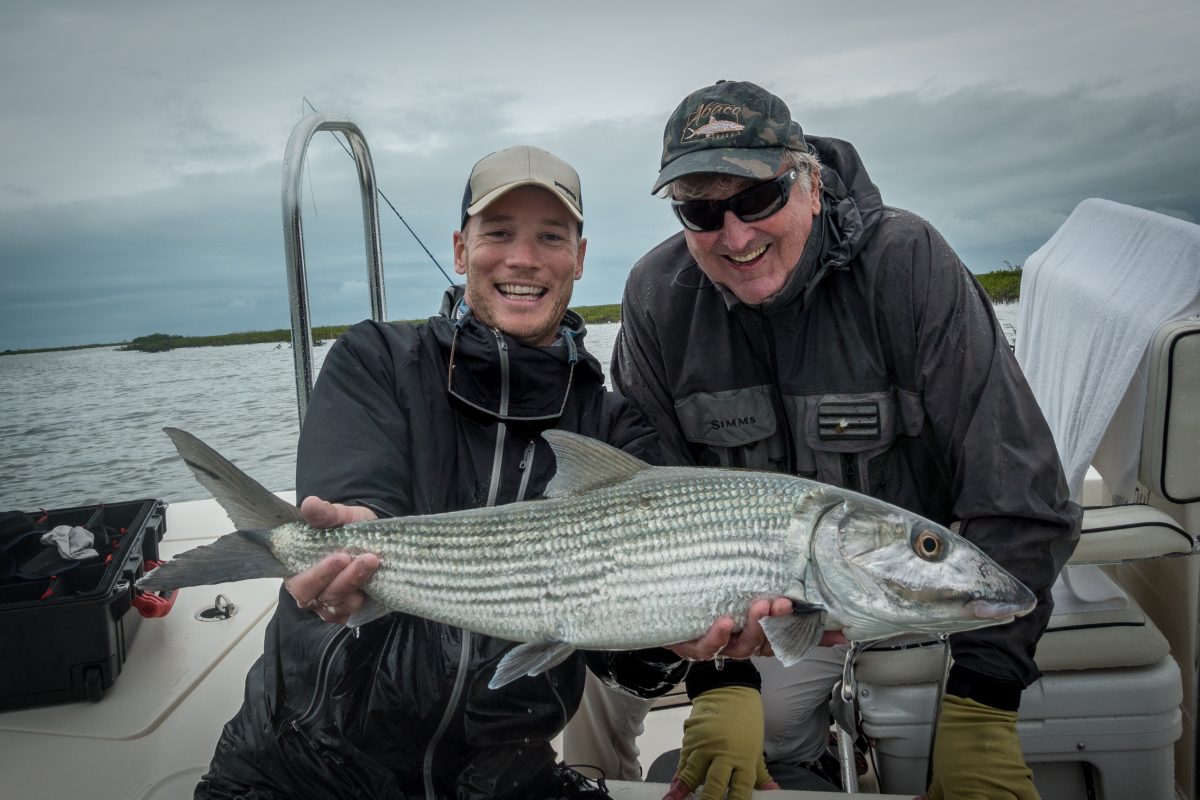 Abaco Lodge boasts exceptional access to fantastic flats fishing. The legendary food, accommodation, service, and close proximity to the states makes it one of my favorite bone fish destinations. Thanks Christiaan and Lindi for your hospitality and your welcoming and laid back atmosphere at the lodge!