Its summertime and the livin is easy
This Country is amazing. I love the people and the culture and the mountains and the fish and the ocean. It has been a month into our travels and everything is great. The van is holding on just fine, the fish are big and hard to hold, and the beer is plenty, everything else is just a luxury. Internet is hard to come by though, especially when we camp wherever we can sneak in unnoticed, which is why it has been a few weeks since i wrote on this "blog". This blog is very new to me, but i really enjoy it because its like a permanent journal that i can always look back on. The rain here in New Zealand has been pretty bad, we have done a few river trips since our big 5 day at the beginning of our trip, but did get rained out of 2 of them. Yesterday on the news I saw that three tourists were swept away due to flash flooding on the west coast. Afterall it is still rainey season, and conditions can be tough. Just make sure you always camp up high even if it is a nice evening, never take a chance and camp down low on an island in the middle of the river. So after 4 days of rain in the town of Murchison, we decided to head way down south to the town of Queenstown, where we knew three of our friends from Jackson were hanging out before their expedition on the famous Milford Sound. There is a rain shadow effect inland near the middle of the country. That means most of the moisture coming from the ocean, the noreasters, drop most of the rain on the coasts and the mountains then suck up most of the rain thereafter. In the middle of the country you get beautiful blue bird days while the coasts are wet and miserable. Similar to the major deserts in the states, which are all located next to major mountain ranges. So when you head inland alot of the time you get beautiful weather.
After a few wild nights in Queenstown, Sky and I drove the road to Milford ourselves, which is one of the most beautiful roads on earth.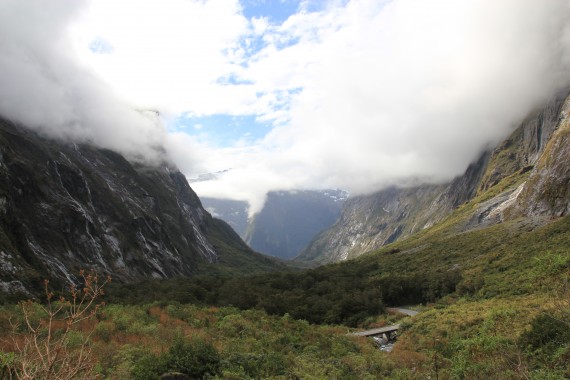 ..