Guides Trip 2014
Every year, after a long season of guiding, we are treated to a weekend of debauchery and over indulgence in beer, food, laughter and some much needed fishing.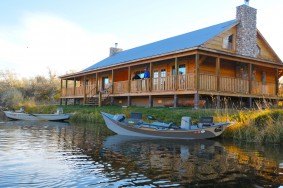 This year most of our a guides made it out including, Scott Smith, Trey Scharp, Tom Montgomery, Ben Brennan, Neil Chamberlin, Max Laprade,
Jeff Currier, and myself. This year the owners of the company that I work for, Grand Teton Fly Fishing rented us a house on the Big Horn river in Thermopolis, Wyoming. After a four hour drive from Jackson, we arrived and expected a quick turn around, dropping gear off, and packing the boats to go fishing. Well comfort and laziness set in and we sat in the boats for a while drinking beers and listening to music. Eventually we got to the river and put our boats in and ran our own shuttles. That evening we only floated 2 miles, and floated right to the house. During that evening float we were loving life. I was in the boat with Neil Chamberlin and Max Leprade and the fishing was nuts.  That night we made our way to the Safari Club, one of our favorite hangouts in
Thermopolis, to watch the World Series and to enjoy a massive dinner and games of pool and drinks. The next morning we were up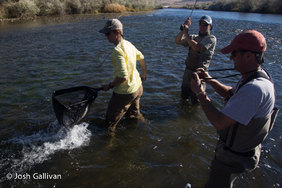 relatively early considering our boats were tied up to the deck of the house. I jumped in the boat that morning with Jeff Currier and Tom Montgomery. The wind started blowing bugs off the water almost immediately, but not until I landed 2 nice
rainbows. The mid day Lull set in and thats when we were able to sit back and enjoy a few drinks and catch up with old friends (my good buddy Marty Manoni just happened to be on the river that day) and furthermore, trade fishing/guiding stories from the long summer now behind us. Fishing went well in to Dark that day. We made numerous stops along the way to barge up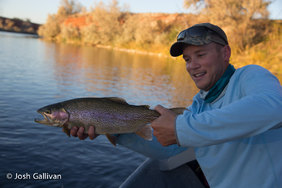 and mix up more bloody marys and smoke cigars and drink beer. Luckily for us the wind died down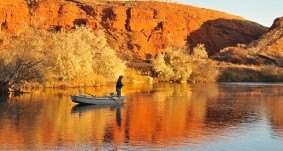 and we were able really beat them up on dry flies. I continued the day in the boat with Tom and Trey and we each took turns on the oars and quietly enjoyed the beauty of fishing with friends. Tom and I even got out and posed together in our best Guide/Client pose! That night we got back to the cabin and our fearless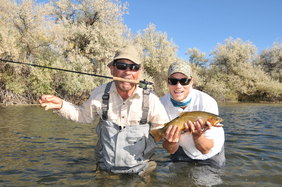 leader Scott Smith had some amazing burgers on the grill and we decided to stay at the cabin and eat and drink at home. We tied one on that night and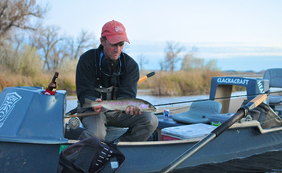 had a wood chopping contest, and eventually a casting competition, which turned into casting line with our hands. I won of course and taught these boys a few things about a proper double haul.
Was a slow start the next morning and you can guess why. Today was a short float considering half of us had to drive back to jackson that night. The wind howled and I was fortunate enought to share the boat with Jeff Currier and Neil Chamberlin. The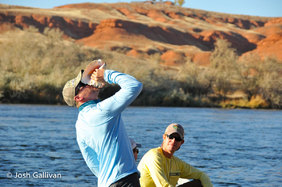 usually calm glassy big horn was a raging whitecap wind tunnel. Luckily Currier is a fabulous story teller, and I offered to row while he told stories
about permit in Belize, and tiger fish in Africa. When the float came to its end we said good buy to the remaining fellows who were heading back the the cabin on the river to make curry and to head back to the Safari Club to watch another world series game. We had to drive back to Jackson and it was approaching dark, and I had to be up the next morning at 5 to catch a flight to Puerto Rico!
Josh Gallivan
www.facebook.com/joshgallivanflyfishing
www.instagram.com/joshgallivan