One cast, one fish in a lifetime
When I got the offer to fish with Tony Entwistle and Peter Carty I said hell yes. Im sure there are so many people out there that wish they could push me aside and live in my shoes for a while doing all this traveling and dirt bag campervan lifestyle and fishing every day. Thats why I have to live every day to its fullest and chase cool adventures around, because you have to get what you can in this life. Wilderness is a necessity and were not getting any younger.
Tony and I were up early same as yesterday for coffee but decided to head to the swedish bakery this morning for a meat pie and sandwiches to go. Its good luck to eat a meat pie before fishing and most of the Americans love them. So we carried on down the road to meet Peter Carty who is one of the most famous fly tiers in the world. Anybody that needs an upper hand while casting to trout in your native waters should consider buying from him. Sometimes all it takes to catch that one fish is a slight variation in your fly pattern, something they have never seen before. He is a true master. When we met up with Pete we grabbed more coffee and had a while to drive yet. I enjoyed listening to their stories and thought, how lucky am I? When we parked finally we had a bit of a hike to get to our first pool and of course it was windy.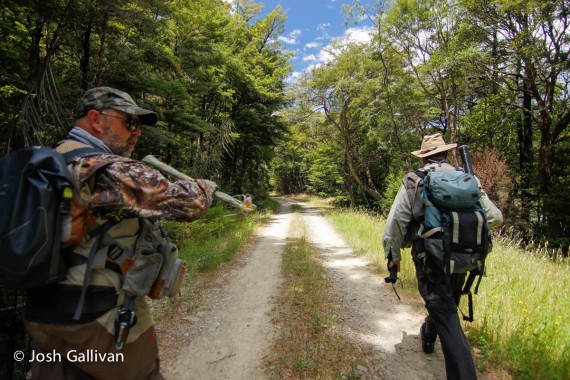 Of course Tony already had a fish picked out and it was my job to catch it. That didnt go very well considering the nasty headwind and I feel like they enjoyed watching me flog the water until I gave up or the fish spooked I cant remember. We made our way up the river and I dont have to go into too much detail but fishing was very spotty and we didnt actually catch a single fish and only saw two. It was just one of those dog days of summer with warm water temps and lots of wind and dust and cold beer waiting for us back at the truck so we started our way back. But life can change so quick. We walked past a beautiful looking pool and Tony suggested blind fishing it while they walked on. I couldnt be bothered and dont really like blind fishing in NZ and almost dismissed the pool my self. At this moment Tony and Peter were a few hundred feet ahead of me when I saw a black shape in the water and waded out and it looked fishy enough so I didnt switch flies like Tony suggested and laid a cast over the shadow. My indicator went under and to my astonishment I had hooked into something as big as a whale shark. At this moment I had my camera bag in one hand being so careless casting at a shadow, and I moved backwards out of the water and laid put my camera down and yelled at the boys way ahead of me. I had something big at the end of my line and didnt want to say anything, I just wanted to play the fish slowly and calmly and get this fish to the net. By this time Peter had run over and his voice had changed.

By the tone of his voice I could tell he knew this was a big big fish. He coached me and laid out a plan to somehow land this beast before the rapids he was heading towards. Shouts from all angles now as Tony was there coaching me too. Boy was I nervous. At that right moment when the fishes weight was against him I dropped my rod to the right leaning on him quite hard but still protecting the fine tippet keeping a bend in the rod. This motion made the fish swim right into the shallows and eventually right into Petes net. Thats when we all got very excited. This fish  was big but I didnt think he was 10 lbs. Peter weighed the fish at 10.25 lbs, a true beast of a brown trout and a bucket list fish breaking the 10 lb mark. Anglers come from all over the world to catch a 10 lb New Zealand brown trout on a fly rod and for most it never happens. This may be the only 10+ lb trout of my life, and certainly my biggest trout yet.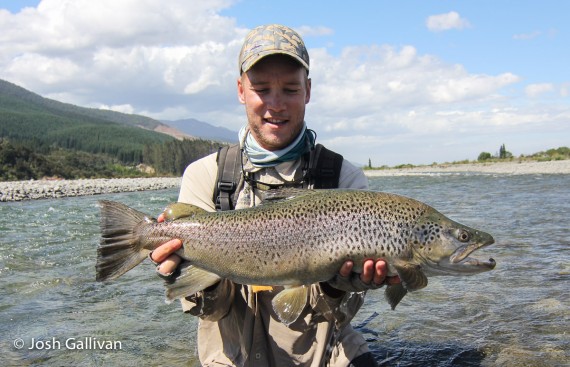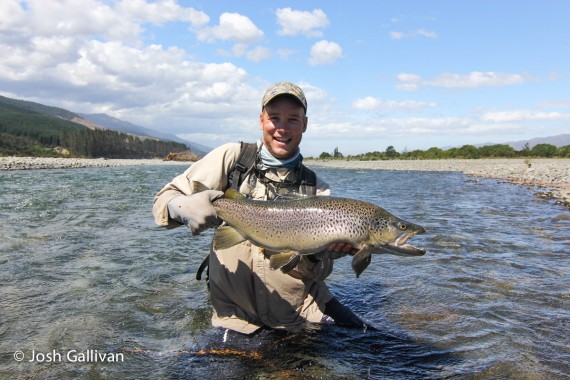 I wanted to just sit there on the river bank for the rest of the day and put my rod away and think. Eventually we made our way to the car after much celebration. After enjoying a few beers and a toast to a 10 lb fish drove off. We got all the way back to where we picked up Peter and I realized I had left my fly rod on the roof of the car when we drove off. Talk about a buzz kill. Tony and I drove all the way back to the spot and I was ready for the worst. I got out of the car and there it was laying in the grass without a scratch. Sometimes things work out in the best way. We got back to the house and drank 14 year old scotch too.
Josh Gallivan