Day 2 – When the Sailfish swam at me with his mouth open
I was so excited to hit the water again after all that insane topwater action from yesterday. Combine that with Jet lag and yup you guessed it, I didn't sleep much. It was ok though, as our guides were meeting us for breakfast at 4 am. I woke at 3, organized my photography gear, packed and organized from travel the day before, and paced around the lodge. Mike woke up and we slowly headed for breakfast.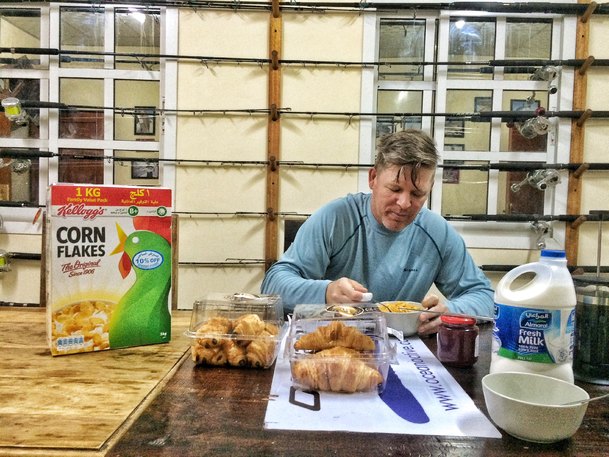 Mike brought his favorite Stumptown coffee with him all the way from Portland OR. I was in for a treat every morning as Mike's coffee making routine is his form of meditation. Sometimes a hot cup of coffee deeply enjoyed without hurry is the best thing in the world and it's common knowledge to just sit and drink and not have to talk about anything. Especially at 3:30 am. Our guides were excited with the weather forecast and so were we. I stepped outside and got punched in the face by a 100 degree heat blast. This country is literally the hottest place on earth. I couldn't believe how hot it was and it was only 4 am. We were in for it that day so I hoped there was supposed to be a little breeze. We hit the water about a half an hour before sun up, fucking stoked.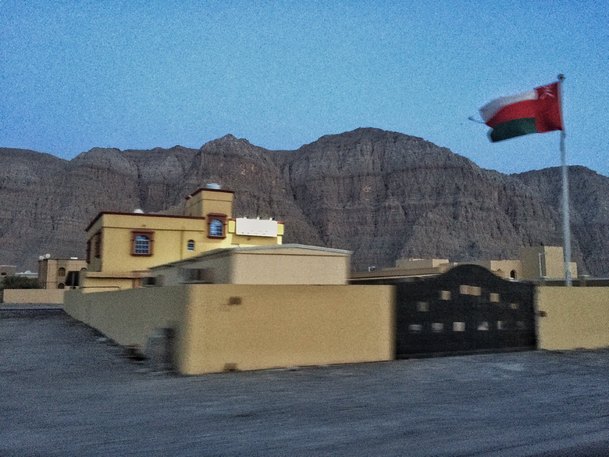 Our mission was to catch every god damn GT from Oman to Iran. From Muscat, to Musandam, the fish didn't stand a chance. We literally had about ten fly rods with us and enough flies, leaders, tippet, and bullshit to stock a small fly shop. We started the morning fishing structure with our 12 weights and floating lines. Big poppers are hard to throw on a 12 weight for hours on end but we tried like hell.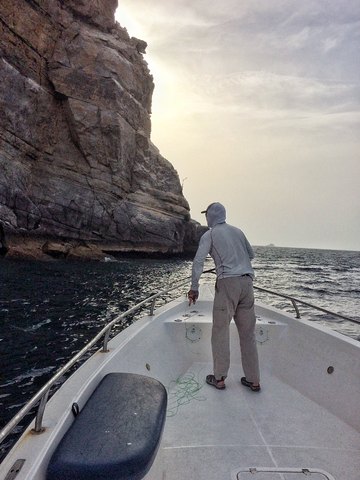 We decided to head out and look for Queenfish after about two hours of blind fishing the rocks. I did catch a small but stunning Peacock Grouper before our session was over. As I reeled this little guy in I realized the ocean is full of amazing fish. As fly fisherman we really only see about 5 %. Another species to add the the list.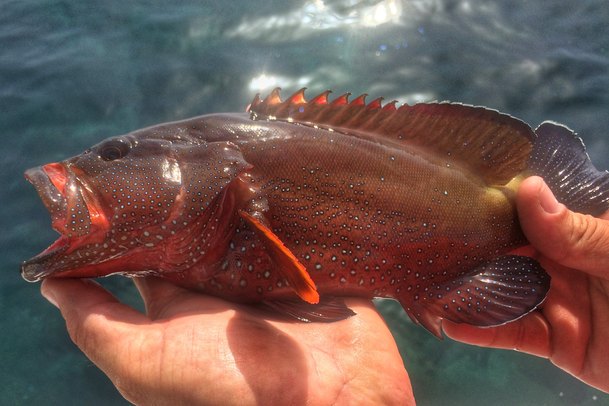 As we headed out to the blue water to look for the birds it all happened so quick. We came across a bait ball in the middle of nowhere that was loaded with about 20 Long Tail Tuna. These Tuna were so aggressive they were overshooting the bait by 6 feet. I could only imagine the scene playing out under the water. The tuna were probably coming from below the bait with so much speed that when they missed these micro anchovies they went airborne. They wouldn't let us get near them though. When fly fishing (the only way to fish) you have to get quite close to your prey and these tuna were not following the teaser. So quite a sight it was but unfortunately we decided to explore other avenues for success. But not before I caught one of these bad ass "Scads" as the locals were calling them, but I'm pretty sure it's just another Skipjack Tuna.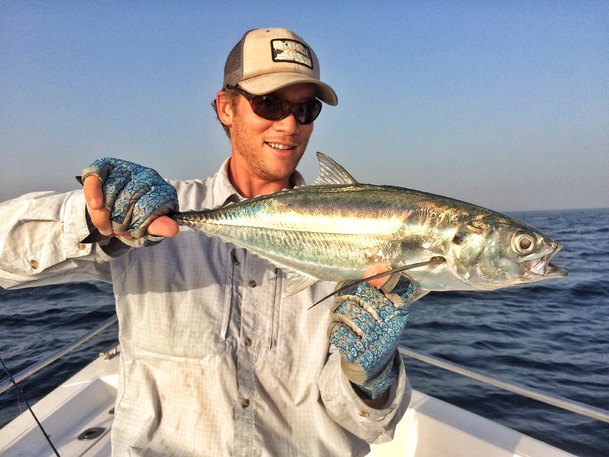 Or guides were legends. Our Captain's name was Cuan Courtman, a South African guy who has been working as a guide in Oman for a couple years. His first mate's name was Anura, a Sri Lankan native who was a true fisherman at heart. We headed for a few coral atoll's in the middle of nowhere that turned out to hold some of the biggest Queenfish of the trip. It was some of the most insane action I have ever seen with a fly rod in my hand. We didn't have to tease these fish in and almost every cast for about two hours we had gangs of Queenfish fighting over our flies. I hooked up first to a respectable Queenfish that went way down deep, then screamed up to the boat and was tail walking all over the place then jumping left and right and almost into the boat. It was a maddening session that put smiles on our faces for the rest of the day.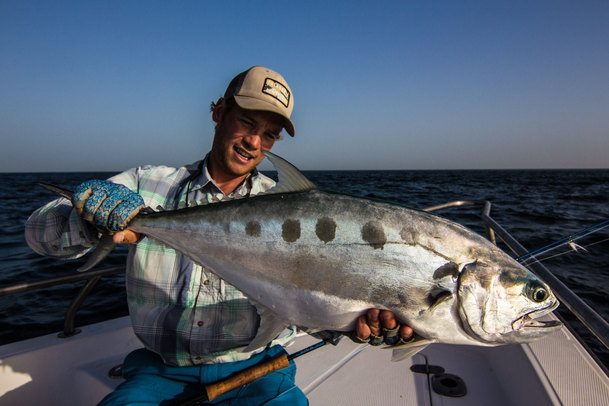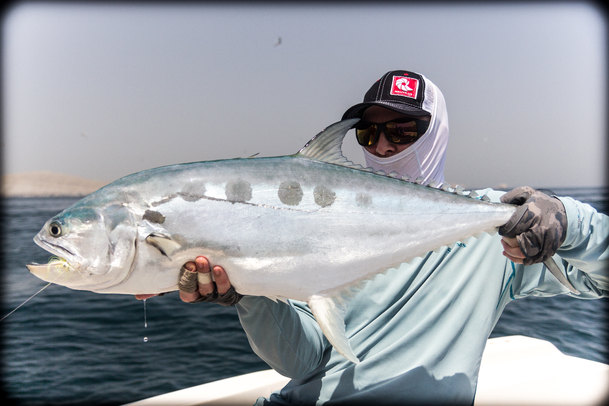 After all the craziness we took a break for lunch and smashed a few chicken sandwiches. I couldn't eat quick enough though as I really wanted to get back into the action. We found another Bait ball and this time Mike hooked up again into a beast of a Queenfish. I got bumped a few times but the Queenies seemed to elude me. I kept casting and casting into the black bait ball but nothing was happening. At this time Mike was just landing his fish and taking a few photos while I lost all hope of a hook up but kept casting. And just like that the party ended and the bait was consumed and all the apex predators disappeared into the depths and the ocean went still.

We blind fished a few coral heads for an elusive GT for an hour or so. As we approached a rock formation we could see bait at the head of it. And right there in front of the rock were two Milkfish swaying freely in the current. I couldn't believe my eyes. Milkfish are one of the prized game fish of the world and just seeing them is cool enough. The problem with them is that they eat algae blooms and don't look at shrimp, crab, or baitfish flies. I wasn't rigged up properly for them so turned my attention back to blind fishing.
Towards the end of the day we had an experience that I will never forget and only in Oman could this ever happen. There was a moment when bait was everywhere around us. I was casting left and right and catching Queenies the same. We were in the middle of two rock walls and who knows how deep the water was in between these two cliffs. All of the sudden our first mate on the boat Anura was shouting Sailfish! Sailfish! and to our astonishment there he was, a viscous sailfish swirling on the top destroying everything in his path. The fish was with in casting range of our boat but I had just put away the 12 weight with my bill fish fly and exchanged it for a smaller queenfish fly. I got so excited I did sort of a half assed cast to reposition my fly for a quick pick up and as I picked up to cast I hooked up on the teasing rod on the canopy behind me and wrapped my leader around it and had no chance of undoing it. Mike was in the middle of a fly change so he had no chance of a cast either. I was beside my self and upset. There he was a massive sailfish feeding with blind fury and all I had to do was put a fly in front of him and dead drift it. I saw the sailfish look over at me and give me the middle fin, he swam away leisurely and content, meanwhile I was exchanging a few harsh words with my self. I tried to laugh it off but ending up crying all the way back to the dock. It was too hot to continue so we went back to the lodge and had a South African Brie, or BBQ with lamb chops and sausage and corn and salad and all the things that make you feel better about yourself after a pitiful display on what not to do while a sailfish is literally 25 feet from you saying cast here you bloody American!
O well maybe tomorrow!