Day 5 – Bound for the Scuba
It was an early morning when we woke up to head to the airport to catch our flight to Sudan. I met Mike in the lobby for breakfast and we caught a ride from our go to taxi driver Sair, who had now become our friend. This was the start of something. It was a sudden kick in the eye and I couldn't believe where I was in the world. We were lucky to be flying out of terminal two, the most multi cultural terminal in the world. I call my self well traveled and have seen some shit and have travel memories that I will cherish for the rest of my life. For example, a bus ride in the back woods of Fiji where the guy sitting next to me offered me a sip of his cold drink in the blistering heat while the woman in front of us was carrying her goat and her chicken on her lap, or when I hired a few local fisherman to take me fishing for the day in the Cape Verde Islands off the West coast of Africa in a tiny wooden boat where we motored through 14 foot waves. I taught them how to fly fish that day without english. Or, when I was in the Caribbean lonely and depressed in "paradise" and a random stranger started chatting with me, he invited me over for cocktail hour on his yacht which turned into dinner and many more drinks which turned into a two week sailing trip around the Caribbean with he and his wife. It's moments like these when we are all equals.
As we passed through security and made our way to the terminal I split up from the group to have a look around. There was a smoking room full of muslim guys and I felt like bumming a cigarette just for conversations sake. I was instead intimidated for no reason and kept walking. I was told not to take pictures at all in the terminal as there were men traveling with women and your not allowed to take a picture of a woman under Sharia law so I kept my camera in my pack. At one point the flight to Kabul, Afghanistan boarded right in front of me. It was the closest I will ever get to that country being an American. Not that it's high on my list but I saw good people in that line. As one of the only white people in the terminal that day, lots of people were staring at me. I tried not to let it bother me and eventually I started looking back at them and they immediately got real shy and gave the most honest smile and at that moment I was looking into their souls. The truth is there are good people all over the world. I wondered what life had in store for them back in Kabul, what were they going back to, what did their houses look like, do they ever sit quietly and ponder how amazing this life is?
I was sort of sitting there quietly having a look around when two younger muslim guys wanted to talk to me. They found me so damn curious with my fishing hat and board shorts and flip flops. They just wanted to hold my hand and get to know me so that's exactly what they did. We exchanged a few looks and they couldn't speak english and eventually they just wanted to take pictures with me.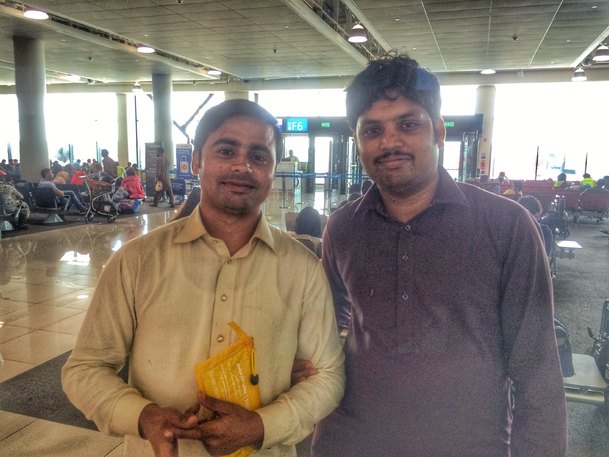 These boys were from Pakistan and they asked me in broken arabic/english what I thought of Islam. I didn't really have an answer and I didn't want to offend them so I just simply said I don't practice religion. I don't think they understood me and looked at each other a little funny and I don't think they even thought of that as an option but oh well, we took a few more pictures and then they wanted my email address. We waved goodbye and boarded our plane.
We flew directly West and traversed the desolate desert that is Saudi Arabia. We flew directly over Mecca And I wondered what the quality of life is for the Saudi's where the blood laws are still in effect. While eye for an eye and public beheadings are the norm down there, I'm just worried whether or not I will catch a GT on this trip. So we flew past Quatar, and Bahrain and across the Red Sea and finally landed at our little airport in Sudan where upon landing we flew over a plane that had recently crashed. We went through customs OK and again, no cameras allowed. We walked through a funny little security line where the communication was terrible and lots of people were standing around and finally we were asked to hand our passports over for the remainder of our stay in Sudan. I had been warned of this but still nothing can prepare you for the moment when you have to give away your identity to a nameless guy in an old sweaty airport who casually throws them in an old grocery bag full of holes and walks away. This is Africa.
After an unbelievable day we made it to the Scuba Libre. I can't wait to wade the flats tomorrow!