Day 6 – The one that got away
When we woke up on the morning of May 14, our first full day in Sudan our boat crew had prepared us a kick ass breakfast of crepes and nutella, good coffee, Sudanese flat bread, eggs, and fresh fruit. Our plan was to motor for a couple hours and get to a remote flat where we would spend the next two days. We destroyed our breakfast while the captain and crew were pulling the anchor and getting ready to set sail. While the boat was moving we went up to the top deck and a gear explosion happened. We were rigging up our 9 weights and our 12 weights with the utmost anticipation. Laying out gear, and organizing flies I didn't know what to expect.
We were lucky to have Stu and Fede with us. Stu is a native to Durban, South Africa. He is a guide for Tourette Fishing and specializes in custom fishing tours through out Africa. From Gabon to Lesotho Stu guides some of the most incredible fisheries in the world, always with a smile on his face. Fede, an Italian from Milan, has been exploring some of the most dodgy places on earth while we watch all the drama unfold on CNN from the comforts of our home. Fede has fished all over the world but specializes in catching GT's in the Middle East. He has fished and lived on the beach in Yemen, Eritrea, Djibouti and has incredible stories to tell. Both of these boys along with our incredible Sudanese boat crew made this trip an unforgettable experience for me.
I was lucky to be paired up with Russ and Mike L today. We jumped in the "fibers" and waved goodbye to the other team and motored about 20 minutes until we approached our first flat. We paralleled our first flat in order to get upwind and up sun so that we could properly wade with the sun behind us. I was drooling now as this is my favorite environment to fly fish in. There is nothing quite like walking a shallow sand flat with all of the world in front of you. Upon arrival we slowed the boat down to dodge coral bombies as we crept up to the flat. Fish were zipping left and right and I couldn't believe how alive this flat was. We immediatly saw turtles shooting out from the boat which is always good luck. I was standing up on the bow holding the bow line when I saw a massive shape hovering over a big patch of coral. "What's that!" I yelled as a massive GT spooked off of the flat and into deeper water. When seconds later a six foot Barracuda swam under the boat, I realized today was going to be a good day.
We jumped off the boat and started wading. Stu's rule of thumb was to have your 9 weight out in water shallower than your knees. If your wading in water deeper than your knees you should walk with your 12 weight as you may see a sixty pound GT at any moment. We jumped up on the cliffs to try an get a better look around when Stu immediatly saw our first Yellow Margin Triggerfish of the trip. This was a target species here in the Red Sea and I was so excited to see one. I had my 9 weight sage motive at the ready and I made a few casts to judge distance and finally landed my fly in the perfect spot and the triggerfish came over and pinned it in the sand. I kept stripping and was trying to come tight but the fish just kept chewing on it. I made a final strip set and hooked up.
To my amazement the fish that I was looking at was still sitting there undisturbed while my line was taking off towards the deeper water. A few seconds later we realized I had been deceived by one of his body guards, a beautiful bluefin trevally.
We split up after a while as the flat became more expansive and what happened next I will never forget. My eyes were not in tune with the salt and the sun and the varying flat which went from white sand to turtle grass to coral and back again. I was walking with my 9 weight and was casting at various triggerfish and was completley in tune with the beauty of this place by now. I was told what to do if you saw a GT and that is to toss your 9 weight to the side and because you have a floating line you will always be able to find it again. I had my 12 weight on my hip with a quick release system for easy accessibility. I ran this procedure throught my head a number of times and was sure that under the pressure of an incoming GT I would be able to toss my 9 weight and release the 12 and send the fly out there where it needed to be. Then, out of the corner of my eye in water no deeper than my knees a monster bluefin trevally was tearing twords me with his back out of the water looking for something to kill. Without hesitation I threw the 9 weight and unclipped the 12 like a fumbling idiot and tried to pull line off but my drag was cranked all the way down. Quickly, I released the drag and started my cast as the pissed off bluefin was within casting distance. I landed the fly a perfect 10 feet in front of him as he came speeding toward me and started stripping like never before. In my mind I was screaming holy shit holy shit but the bluefin must have seen me because he took off at a ninety degree angle from the fly, never to be seen again. I was shaking in disbelief. It all happened so fast I wasn't sure if I did something wrong. I went back and found my 9 weight and met up with the others. We agreed it was lunch time and headed back to the boat for an awesome feed. The other team was already there and couldn't wait to hear our stories.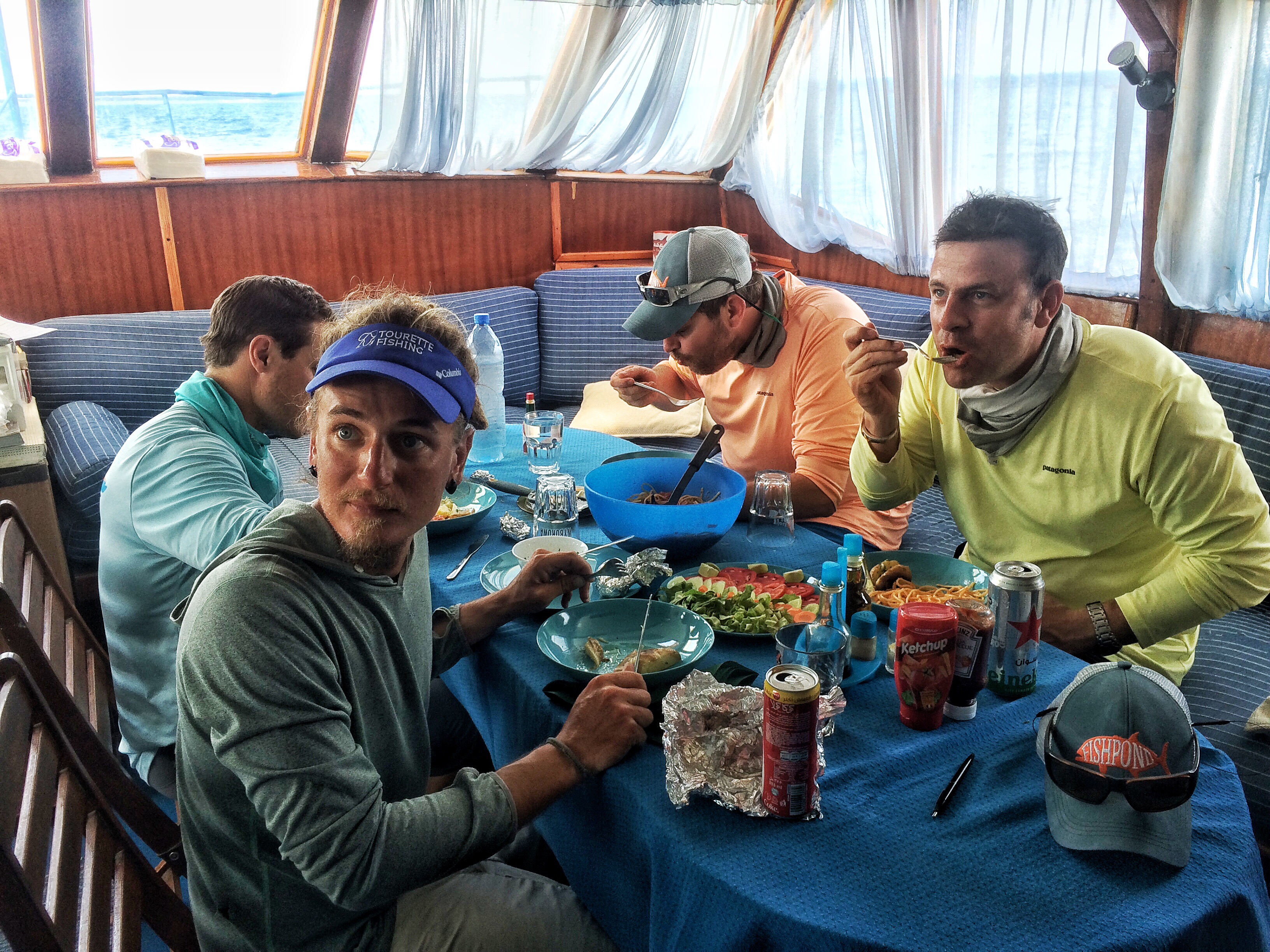 The other boys had incredible stories about their morning as well. We scarfed down our pasta and jumped back in the boats anxious for what the afternoon had in store for us. We motored back to the same flat to finish what we started that day. Russ, Stu and I were walking together having plenty of shots at triggerfish and just couldn't keep them on the hook. I was getting frustrated and couldn't figure out what was going on. Triggerfish have incredibly tough mouths and many times after a trigger would eat my fly I would strip set and the fish would break the hook with their crab munching teeth. I was used to seeing trigger fish now and was getting pretty good at spotting them.
Then it all happened so fast, Stu and I were walking together when a monster bonefish appeared in front of us. My heart jumped through my chest because bonefish are my favorite fish and this isn't a bonefish destination and it's so cool to see them hunting a flat. I laid out a soft perfect cast and the fish's body language changed and it came over to my fly and pinned it in the sand and it's tail went up in the air as if to wave goodbye and I crossed his eyes with a hook set. The record size bonefish broke my twenty pound tippet like it was nothing on its first run. I was so annoyed and my heart sank and I was so depressed I wanted to cry when all of the sudden Russ started yelling bonefish! bonefish! and as I looked up Russ had on a monster that was in the middle of his first run not 20 yards from me. Afterall, this is a team sport and I ran over to Russ and started coaching him like I do (guide's nature) and was telling him to be smart and light on his feet. Russ was gaining control of this fish now and we were moments away from landing it when the big bonefish took off on one more mini run and clipped Russ's tippet on a coral head. The fish had broken him off and now both of us were in a state of despair. We hugged it out and finally realized that no one had died so we decided to keep fishing.
The time had come for us to tease the edge of the flat. Teasing can produce the most amazing results. The idea behind teasing is for the guide to throw out a hookless teaser to get the fish excited and for them to chase the teaser onto the flats and within casting range while were ready with fly rods. As the teaser approaches, Stu pulls the teaser out of the water and we cast, hoping to land the flies right where the teaser was. We were standing in knee deep water on the edge of the reef when Stu threw out his first tease. He reeled it in as fast as he could and as it popped along the surface we saw something really big behind it flashing it. We casted into the abyss and not a second after my fly landed a fish smashed it and almost broke my 12 weight. I couldn't believe the power that that was at the end of my line. Withing seconds a big bohar snapper had taken me 30 feet down to the reef and was hiding in a hole in the coral. Lucky for me, my guide Stu was prepared for these situations and already had his mask and snorkel on. He dove down a little ways to scope the situation and popped back up for air. Through his mask and snorkel he mumbled that he sees the fish and that he sees the line and its about 10 meters down. He said he could get it but he would have to take a few breaths, so he hyper ventilated and went for it. The water was so clear I could see Stu way down there diving in and out of the coral. Seconds later my rod was bouncing again and I fought this bohar for another 30 seconds until finally I got a hand on his tail. This was one of the most stunning and powerful fish I have ever caught.
I had to take a break and by now our boat driver Matmoud was near us so I walked back to the boat and had a celebratory cigarette with him. It was the best cigarette I have ever had that didn't last long because as the next teaser was going out, Russ came tight to a fish that did the exact same thing. Stu dove the reef and 20 seconds later came up with Russ's incredible bohar. It was an unbelievable day.
We went back to the Scuba and had an incredible dinner with the boys. We were all so fortunate to be out there on the Red Sea that day. I don't think I have ever been that tired in my life. Only one problem, I couldn't stop thinking about the one that got away…