Day 7 – A day of redemption
My sinus infection was really catching up to me now and I was feeling beat down. The other boys knew I wasn't feeling good and they did their best to encourage me. As always our days started with good coffee, a little social time, re rigging shredded leaders, and generally trying to keep our calm while the Arabian sun beat us down with it's 110 degree backhand. I rose to the occasion though and thought of those January days when I was hating the -20 degree temps in Jackson Hole. The grass is always greener.
Our boat crew put on an awesome breakfast again and before long we were on the top deck suiting up for battle. The bohar snapper from yesterday had shredded my 150 pound flourocarbon leader and it needed replacing. I was lucky to fish with Mike and Russ again today but instead of Stu we were joined by Fede, the crazy Italian. We fished the same expansive flat as yesterday just further down. These guys at tourette fishing are conservation minded and won't fish the same flat twice in one tour, to encourage a healthy fish population and to keep the fishing pressure to a minimum. They also mandate barbless hooks which I think is genius. Hopefully this fishery will be around for a long while.
With the slight wind building and the line of the 12 weight buzzing in my ear I felt like I was on mushrooms as we walked one of the most remote flats in the world. The contrast of the white sand flats to the turquoise water and finally to the drop off where the pelagic fish of the world lived. This was it, this was where I needed to be, walking a flat with the sun on my shoulders, I knew everything was going to be alright. I thought about all of the turmoil in the world, mostly happening in all the neighbouring countries of Sudan. I felt extremely lucky to be wading that flat that day with my friends by my side, all with abstract thoughts. I certainly don't have anything figured out and at that moment it was OK. I kept walking.
It was mid afternoon and I couldn't buy a fish. I was having no luck with the infamous triggerfish and they really tested my ability as an angler. My casts were tactical, my strips were slow and deliberate, and my presentaion was perfect. I just couldn't hook these bastards. With the strongest jaws and massive teeth these triggerfish just kept bending and crushing my hooks. I was fishing the best saltwater hooks made (owner) and these triggerfish were bending them inward and destroying them left and right. I went through five flies on "hooked" trigger fish and was very dissapointed. Meanwhile, the other boys were getting amazing footage of Mike and his triggerfish success. He caught three triggerfish while I was pissing in the wind.
Then the fish gods or Allah or some other diety was looking out for me because what happened next I will remember for the rest of my life. It was three in the afternoon and we had recently returned to the flat after lunch. I was walking with Fede talking about the mysteries of life and fly fishing. The wind was down a bit, and the sun was at a perfect angle behind us. I had just retied a fly after a triggerfish mangled my last. I tried something different and instead of fishing a crab I thought I would try what's called a crazy charlie which is a small shrimp pattern used for bonefish. My reasoning was that maybe the triggerfish would not chew on it as much and instead inhale it more and not bend the hook. We were looking off into the distance for trigger fish, carrying a big loop of line behind me I was ready for anything. Then, out of literally nowhere I saw a big shape 20 feet in front of me swimming leisurely twords us. I knew what it was immediatley and was happy to great an old friend and yelled bonefish! bonefish! and literlally blacked everything out of my mind. I knew there was a task at hand that needed my full attention and I was going to catch this fish. I landed the fly super soft with a belgiun cast learned from my friend Tony Entwistle in New Zealand, three feet in front of this toad. I kept my rod tip very low in the water and Fede wasn't saying anything now and the world stopped around us. The bonefish perked up and swam at my fly. He then pinned it in the sand and while I kept sliding and stripping my line his tail went up out of the water and I felt tension on my line. I gave him a firm strip set and the bonefish realized what he had done trying to fuck with me and blew up right in front of us. With a swift kick of his tail and an explosive wall of water behind him he had taken out all of my slack and was ripping line off the reel like never before. Afterall, these are African bones and are generally much tougher and scrappier fighters than other bonefish of the world (naturally). So I let him run and kept my rod high to avoid any coral fragments in the water. Fede was shouting commands at me all the time and Mike and Russ were near us doing the same thing. I more or less blocked them out of my mind as I was dancing with this beautiful fish now and loving every minute. During a moment of silence Fede and I both looked at the coral head to our right and realized if we didn't get there first then the fish would wrap us around these bombies and shred the leader. With no words we both started running at the coral heads but before we could get there the fish made his final stand. He swam in between the coral and wrapped my leader every which way. I was looking at the fish in a right angle to my line while my line was around several bombies I thought there was no way this fish was going to stay on. I was able to unwrap my line and seconds later Fede netted this eight pound bone fish. Truly an African brute.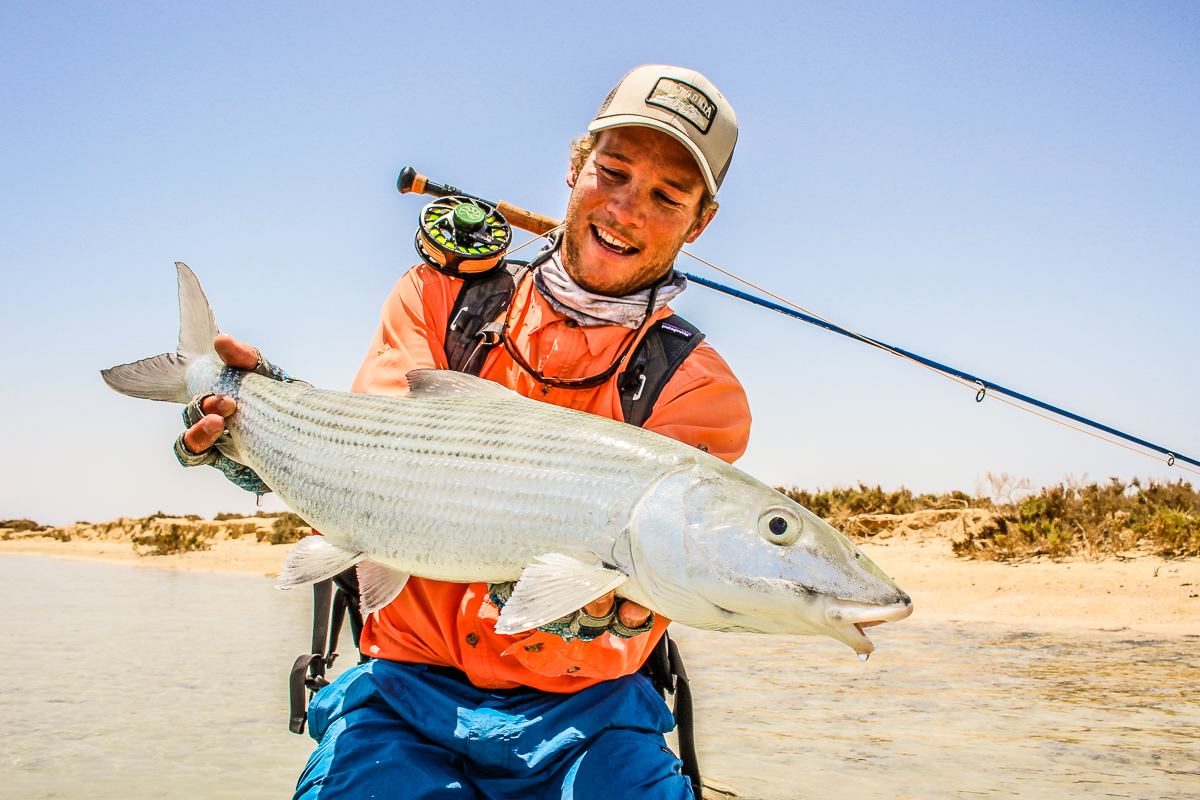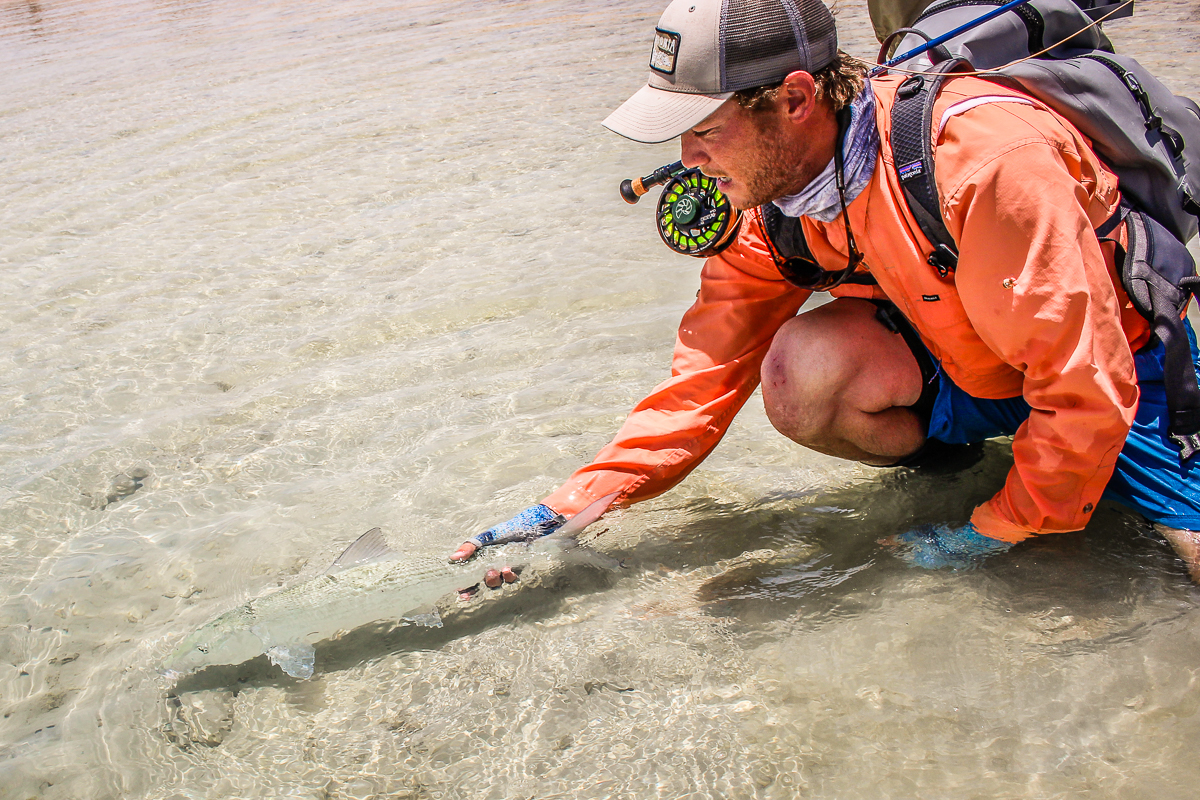 Time was all mine now as I high fived everyone and hugged and replayed the scene in my mind a dozen times. I thanked Fede and the boys and was in a state of giddy excitement/shock. Bonefish are my favorite saltwater fish on the flats with their cunning tactics and elusive behavior. I thought of the last time I caught a bonefish which was in the Caribbean 3 years ago. I lived in a hammock on a deserted island for 17 days and ate bread and sardines and whatever else I could afford. I caught BIG bonefish everyday on that island and truly found paradise there. Time waits for no man I guess.
An hour later we decided to tease the edge as the sun was too low for us to efficiently sight fish the flats. We formed our line as Fede tossed out the tease. As the teaser bounced it's way in I made a perfect cast directly behind the teaser and smash! I got trollied by a proper bohar snapper again. I tried to stand my ground and do battle with this beast and didn't want to give him an inch but again, the fish went straight down to the reef and schooled me. Lucky for all of us the guides on the nubian flats are some of the finest in the world. With no hesitation Fede grabbed his mask and snorkel and dove the reef and came up with this bohar in his hand!
After an unbelievable session we made it back to the boat and learned that the other boys had kept a snapper for dinner! We enjoyed a snapper feast that night and reminisced on our amazing day. My bonefish would go down in history as the largest Sudanese bonefish yet landed on the Scuba Libre.