Fly Fishing in the Turks and Caicos
After Panama I flew back to Atlanta for one day to hang out with my friend Brian Shinall before getting on a flight early the next morning to meet up with Jess in the Turks and Caicos. We had an insane two weeks where we bone fished every day, literally drove every dirt road you could find on the island, tiptoed around sharks, dove for lobsters, swam with big barracuda, got stuck in waist deep mud, broke off huge bonefish, casted at shadows, cleaned up at bingo night, went out for rainy morning breakfasts when the island had no power, went cave spelunking, visited our favorite beach bar nearly every day, looked for snook, ate fresh conch, looked for tarpon, bought fresh fish from the locals, got to know people by their first names, hitchhiked from the flats, rum, plantains, beans and rice, BBQ's at Miss D's, sat outside and looked at the stars at night.
Our daily routine was to just wake up and make coffee and sit around for a good hour while we made breakfast and got our day started. Our place had an outdoor shower and toilet and a little BBQ pit where we could just relax and drink rum and listen to our island music. I was delighted when the first morning I was woken up by the roosters of first light. When we first arrived we had to suffer through three days of heavy rains which prompted us to explore the island from top to bottom. We literally drove every road you could take and had a great time trying to make the most of our situation.
At times we felt like we were the only ones on earth so felt no shame in mixing up a couple rum punches to go, and enjoyed finding sketchy dirt roads to drink and drive on. When the first clear day came we walked out to one of the most beautiful flats I have ever seen in my life. It just went on and on forever and I knew the possibilities that day were endless. It was only a matter of minutes until we spooked the first school of 20+ bones that were hovering over some darker grass so were harder to see. That day was the single best day of bone fishing I have ever had. There were fish all around us. I started to get frustrated as we were moving too quickly and starting to spook fish. Lots of times we would see big beautiful schools tailing on the horizon while spooking fish only yards away while in pursuit. It was one of the top fishing days of my life.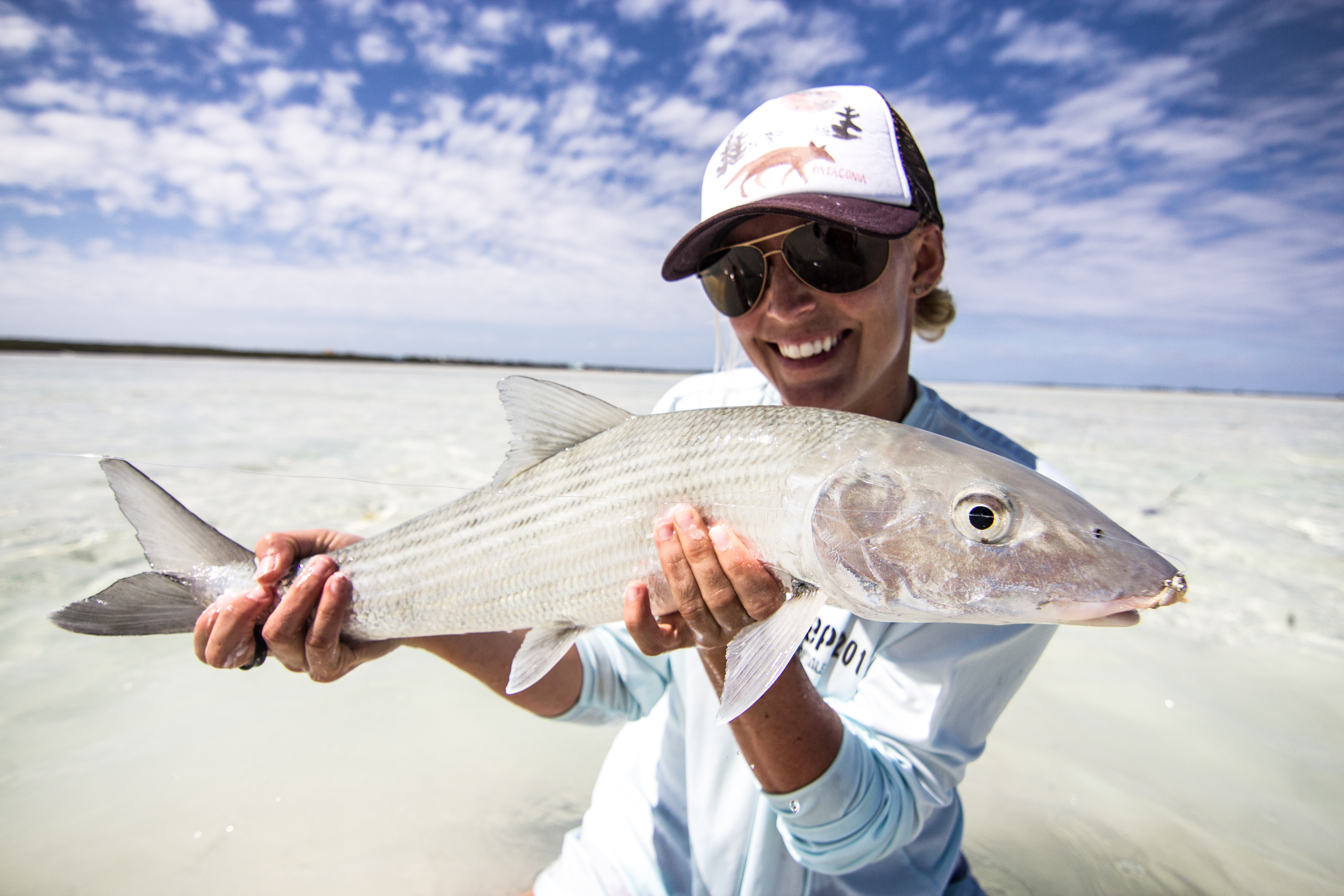 Jess became an incredible angler that week. I saw her spot bonefish, execute a perfect cast, strip set like a boss, and land many respectable bones. On one instance I made a perfect cast at an incoming bonefish and while I hooked the fish I noticed a coil in my line and as the fish took off on its first run a big ball of knotted fly line ran through all the guides. I knew I was screwed until Jess came to the rescue. She grabbed the rod and played the fish while I was able to undo the line while she finished the fight and reeled the fish in. That night we finished up our session as the sun was setting. It was a beautiful night as there were schools of bonefish tailing in the setting sun. Far off in the distance you could see tails sticking up waving at you and even Jess started seeing them all around us.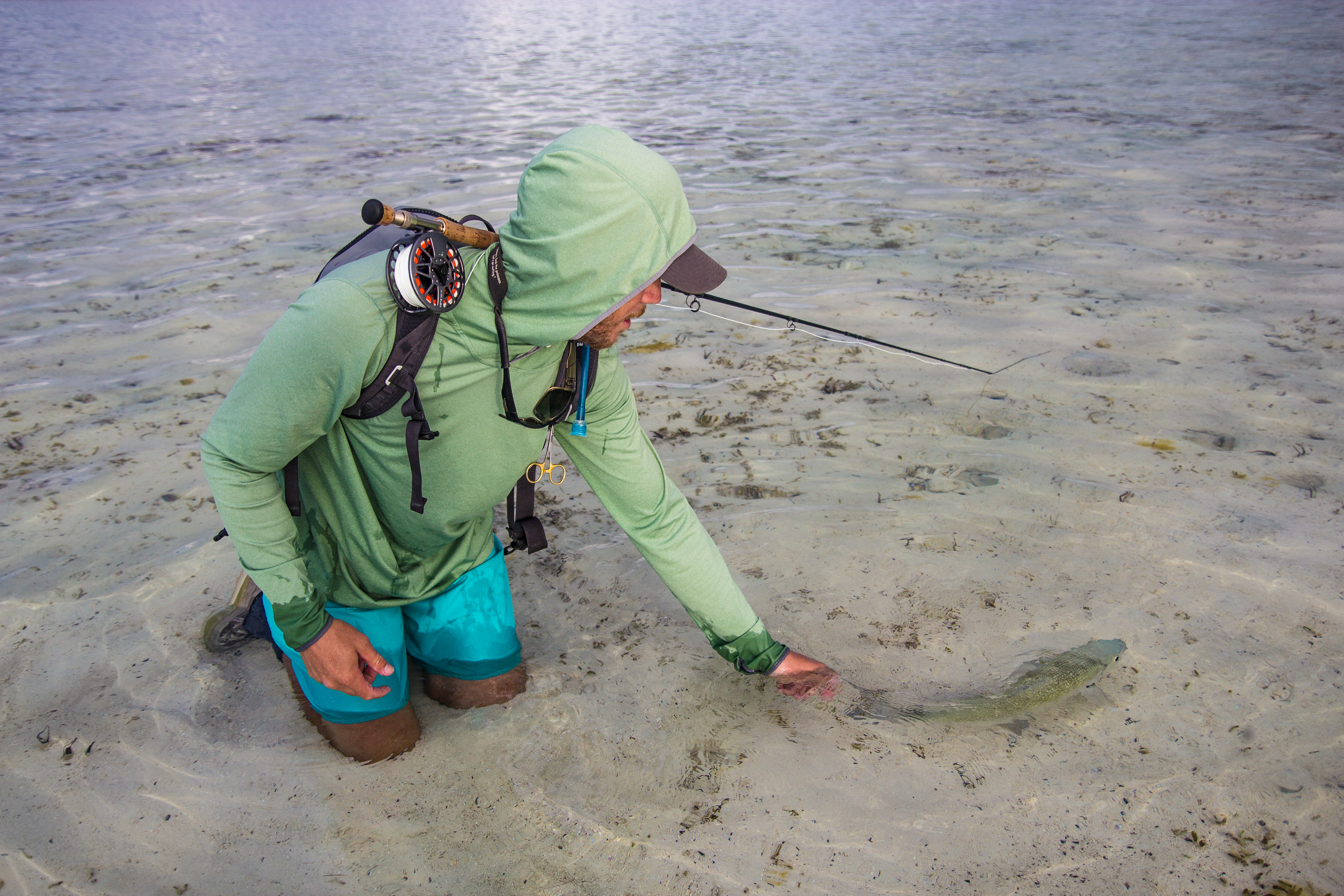 We got ahold of a couple kayaks which allowed us to explore more remote flats. They had these little one pound anchors that we could just kick off at any time. I got pretty good at standing up in mine and would go way up wind and just drift down looking for bones on the horizon. It was such an incredible place to be. We only saw other people twice in two weeks.
One day we snorkeled way out from the beach. We were seeing lots of fish and the habitat seemed untouched. Jess decided to swim back on her own while I explored a little further. I came upon a few bigger coral heads and decided to have a look around for lobsters. I dove down and cleared my ears and immediately saw a big lobster stuck in the rocks. It had not a care in the world and didn't even notice me so I went up for air took a few deep breaths and dove again, this time trying to grab the lobster. In one swift backwards kick of its tail it was gone, sucked back into its hole. I kept looking around for more and saw at least 5 more lobsters. All of which eluded me. From that point on I was on a mission to find us lobster dinner. So the next day in between the right bone fishing tides, we went back to the same place. This time I was totally prepared and brought gloves. I took Jess out to the places I had been the previous days, and there they were, lobsters just stacked in the rocks. I took a deep breath and dove down and grabbed the first one I saw. Jess couldn't believe what was happening when I came up with a huge lobster. We brought a mesh bag that jess was swimming around with so I dove back down and grabbed another. We had the most delicious home cooked meal of lobster tail and fried plantains and salad that night.
One day we found the most insane spot ever to just sit back and read books and periodically grab the rods and hunt a few fish. I was out on the flat by my self walking around and had already caught 6 bonefish for the morning. In between bones I saw a boxfish coming straight at me. These fish are incredibly beautiful and hard to catch. I didn't think much of it but threw my fly anyway. Well the fish lit up and swam at my fly very fast and crushed it. I couldn't believe it when I landed this beautiful fish.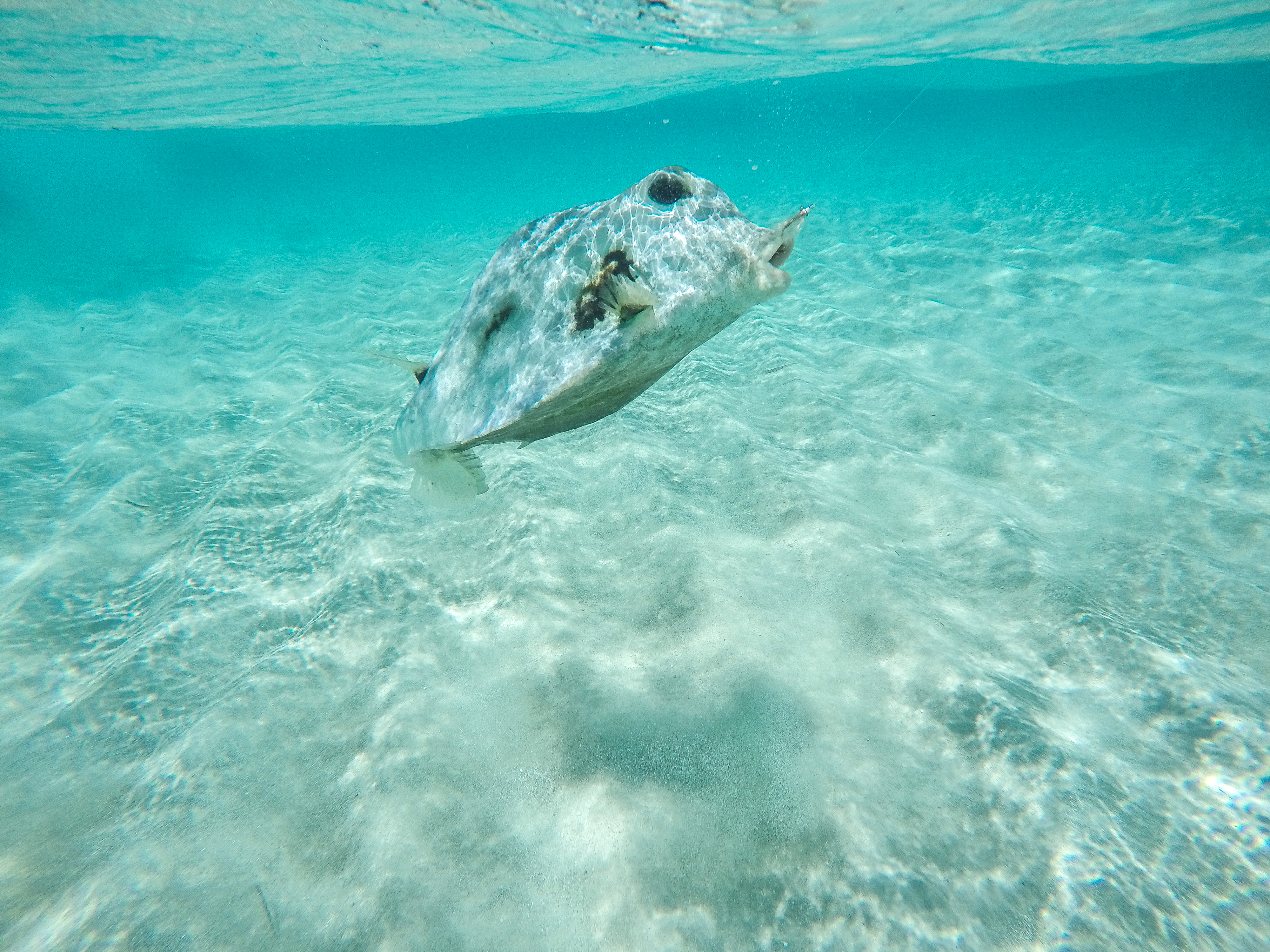 On the way home we got stuck in NYC for a night and had a great time. We wandered into this ramen shop called Ivan Ramen which we learned was somewhat famous and featured on Netflix. We then found an insanely cool bar where we met the bartender/owner named Carlos. Carlos and I became friends immediately when we sized each other up and he noticed my Patagonia gear and I noticed his Simms shirt and fly fishing hat which led to a four hour drinking session which eventually turned into Carlos locking the doors while the three of us proceeded to drink almost the rest of the night. We traded some great stories about the Caribbean and he told us about his Long Island striped bass fly fishing obsession. One day I may head back to NYC just to fish with him as his love for fishing was so contagious. If your in NYC and want to chat fishing with a great guy that serves up a mean cocktail check out the Black Crescent. The following day Jess and I went to the 9/11 memorial and had a sobering time there.  After NYC we got stuck in Cincinnati for two whole days. There wasn't shit to do there so one day we found ourselves at a Dave and Busters and played arcade games and drank beers for a solid four hours. Then finally we found ourselves en route to Jackson Hole.
If you would like to join me on the bone fishing trip of a lifetime, get in touch with me! I have one spot open on a bone fishing trip to the Abaco Lodge This November 11-16, 2017. It's going to be a great trip but also a rowdy one with not much time for sleeping. It will be a total group size of 8, with 7 already signed up.  Here are a few logistics of the trip –
WHAT'S INCLUDED
Four days bone fishing in the Bahamas (shared boat) one guide per two anglers
Private room with A/C
All inclusive meals and alcohol (expect fine wines, cocktails, local beer, lobster tail, fresh fish, etc.)
Airport transfers
Expert casting tuition as I will be joining the trip as well
WHAT'S NOT INCLUDED
International airfare
Terminal tackle (a few flies, leaders, tippet)
Gratuities for lodge staff and guides
A small departure tax
Medical and trip insurance
SPECIES
Let me know if you would like more information on this trip (joshgallivan@gmail.com). It is sure to be a great time for total beginners and seasoned fly fisherman alike.